Another 27 Liebherrs for Al Faris
By Alex Dahm23 January 2023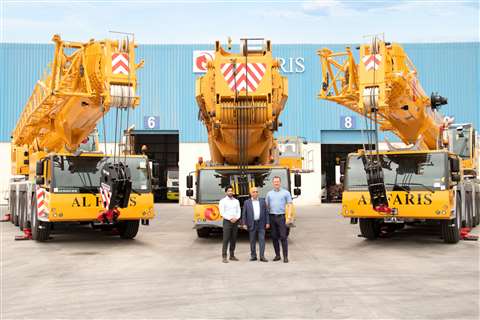 Leading crane and transport specialist Al Faris has ordered another 27 new mobile cranes from Liebherr for delivery in 2023 and 2024.
The Dubai, United Arab Emirates-based company took delivery of 24 new mobile cranes in lifting capacities from 110 to 700 tonnes in 2022. Four of the units were the 500 tonne capacity LTM 1500-8.1 wheeled mobile telescopic crane, a particular favourite of Al Faris which owns 15 of them. "The LTM 1500-8.1 is my absolute favourite crane from Ehingen," said Hillary Pinto, Al Faris managing partner.
The four are the last production units of this outgoing model. Liebherr sold more than 600 of them around the world in a production run of almost 20 years. It is replaced by the 700 tonne capacity LTM 1650-8.1, also part of the latest order.
Order for 27 new cranes
The new order also includes six more 300 tonne capacity LTM 1300-6.3 wheeled mobile telescopic cranes. Keonne Pinto, an Al Faris shareholder, explained, "The concept of the LTM 1300-6.3 with its 90 metre telescopic boom combined with compact dimensions is perfect for universal operations here in the Middle East, especially in the energy sector. This type of crane is eagerly awaited in the UAE and Saudi Arabia."
Al Faris has 460 Liebherr cranes in its fleet, all the way up from the 30 tonne LTM 1030-2.1 to the 1,200 tonne LTM 11200-9.1 in the wheeled mobile crane lineup. Its Liebherr crawler cranes range from the 350 tonne capacity LR 1350 to the 1,000 tonne LR 11000. Hillary Pinto said "Liebherr is continuously optimising its after-sales service, which is so immensely important for crane rental companies."