Another Hiab crane and Volvo truck for C&S Transport
By Alex Dahm12 September 2022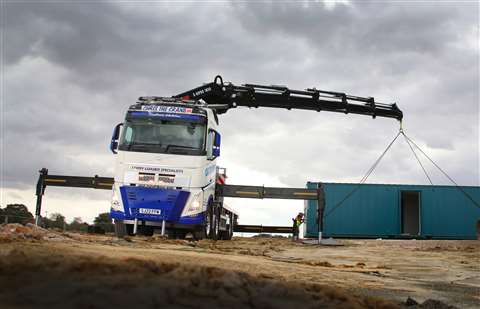 Portable building transport specialist C&S Transport in the UK has added a new Volvo truck and loader crane to its fleet.
The four axle Volvo FH 460 rigid truck is mounted with a Hiab X-HiPro 1058 E-8 hydraulic loader crane behind the cab. Both were supplied by MV Commercial.
C&S specified NATO front legs for the truck that allow the crane to slew through a full 360 degrees. The truck also has a high-spec cabin, Kelsa bars and stainless steel toolboxes, MV said.
The Hiab X-HiPro 1058 E-8 lifts 18,000 kg at a 4 metre radius. At its maximum outreach of 19.4 metres it will lift 3,450 kg. It gives the company the ability to do heavy lifting jobs at long range. A winch is also fitted.
Owner's view
Matt Lassey, co-owner of C&S Transport, said, "The crane offers more reach than our other Hiabs enabling heavy lifting and, with its 360 degree lifting capability, it allows us to operate in places that many other companies won't venture.
"We've definitely won more business. A lot of our rivals don't have this type of vehicle so we can undertake tasks they can't. It's a big advantage.
"We can also be quicker and more efficient completing jobs. For instance, if we're just doing lifts on one site, we often park the truck in one position and move it all from there. Before, you'd have to load everything on and keep moving the truck.
"The crane's lifting capacity really saves us time and we can get more work done in a day."
Lassey has worked with MV Commercial for more than 10 years. "I've had trucks from MV Commercial for a long time now. What I like about them is that they offer the whole package. They arrange the painting and livery and finalise all aspects of the detailed specification including laser lights and alloy wheels.
"The trucks really look the part and have helped win more work. People notice us more, so it's very good for our business."
The C&S Transport vehicle fleet also includes three more Volvos with Hiab cranes, a DAF flatbed and an Isuzu 3.5-tonne Grafter.