Another Spierings crane for Wiesbauer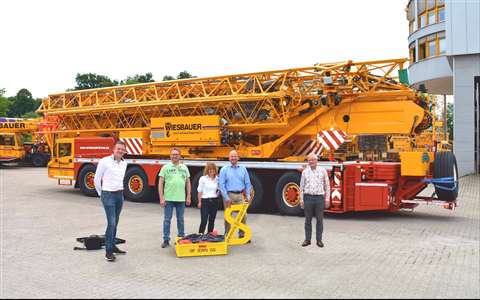 Manufacturer Spierings has delivered the 250th unit built of its SK1265-AT6 Mighty Tiny mobile folding tower crane to Wiesbauer.
German crane rental specialist Wiesbauer already has a fleet that includes several Spierings cranes. Wiesbauer was one of Spierings' first customers in Germany and its first unit was a SK477-AT4.
Thomas Wiesbauer commented, "We are delighted with the 250th SK1265-AT6 from Spierings. It is a reliable crane that can no longer be ignored in our crane park. It is a great honour to have the 250th in our possession. Thanks to the ballast system, we can drive with a 60- and 72-tonne licence, which makes the crane even more flexible to use in the various German states. In the coming years we will see an even further shift in the lifting industry to mobile tower cranes. Our customers are increasingly recognising the benefits that make this new crane a welcome addition to our crane fleet."
The new 10 tonne capacity SK1265-AT6 Mighty Tiny offers a 60 metre maximum lifting height and it lifts 1,700 kg at the end of its jib. On its six axle carrier it weighs 72 tonnes and carries all its counterweight and jib on 12 tonnes per axle, Spierings said. Wiesbauer opted for a 10 tonne per axle capability too where the all-up weight is 60 tonnes as a result of some counterweight being removed. Spierings said this is "a much requested option in Germany making the crane even more versatile and more flexible to use."
Power is from a Stage V diesel engine to Euro 6b in the carrier and the gearbox is the latest type ZF TraXon. Later in 2020, Spierings said it will introduce a hybrid drive system for the upper crane. The SK1265-AT6 and SK597-AT4 will be able to operate from a 32 amp mains power connection. A 25 kW-h lithium battery will be fitted to stabilise the power demand from the grid.