Another Tadano for BBL
By Alex Dahm18 November 2019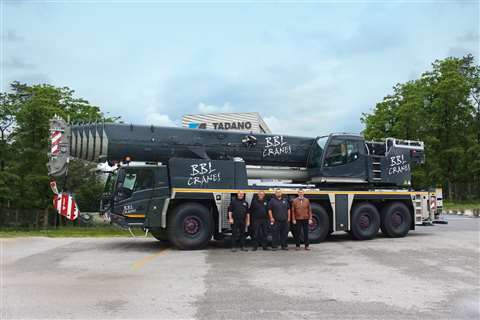 German tower crane specialist BBL has added a new 220 tonne capacity Tadano all terrain crane to its fleet.
The five axle ATF 220G-5 will mainly be used to help erect and dismantle the 300-strong fleet of tower cranes. It was delivered just in time for the company's 30th anniversary celebrations.
Commenting on his choice, Ralf Britz, BBL managing director, said, "We recently made the decision to add a 220 model to our fleet, and there were three key reasons behind this choice: the main boom length, the excellent lifting capacity at a height of 68 metres, and the ability to save on transport costs throughout Germany on account of the outstanding lifting capacity with little to no counterweight."
Britz expressed high praise for his Tadano cranes, "To this day, not a single crane has broken down, and that's saying something, given we have been working together for nine years now."
The new 220 is the company's fourth Tadano and its first job was part of BBL's 30th Anniversary celebrations. It was used to lift some of the 450 visitors up to 90 metres in a gondola to give them a panoramic view of the site. BBL plans to keep the crane for about three years, by which time it will have covered 180,000 km and run for 5,000 hours.
BBL was founded in 1989 and has several depots in the Saarland region. It has 150 employees and, in addition to the fleet of cranes, it has 280 pieces of construction machinery and 130 trucks. The tower cranes are BBL-developed Wotan models, all built in Germany.