Another UK nuclear project stalls
By Sandy Guthrie18 January 2019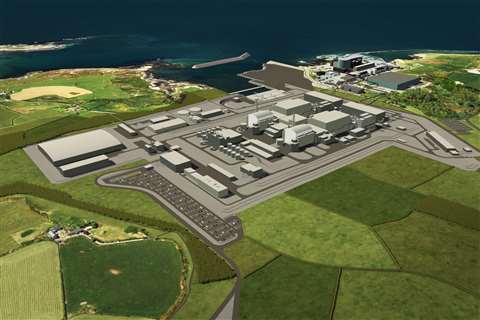 Japan's Hitachi has suspended work on the UK's nuclear power station at Wylfa Newydd on Anglesey Island in north-west Wales, although the company is reportedly stressing that the £13 billion (€14.8 billion) project has not stopped permanently.
Horizon Nuclear Power (HNP), a subsidiary of Hitachi and a power generation development company in the UK, announced that it would suspend its UK nuclear development programme, following a decision taken by its parent company.
Horizon is developing the Wylfa Newydd nuclear plant, and has a second UK site at Oldbury on Severn in South Gloucestershire.
Three months ago, another Japanese company, Toshiba, revealed that it was withdrawing from the £15 billion (€17.0 billion) Moorside nuclear power station plan on the West Cumbria coast in the UK.
This week, Horizon informed the UK government of the decision taken at the Hitachi Board meeting on 17 January not to continue with the current programme of activities.
Duncan Hawthorne, CEO of HNP said, "We have made very strong progress on all aspects of the project's development, including the UK design of our tried and tested reactor, supply chain development and, especially, the building of a very capable organisation of talented and committed people.
"We have been in close discussions with the UK government, in co-operation with the government of Japan, on the financing and associated commercial arrangements for our project for some years now."
He added, "I am very sorry to say that despite the best efforts of everyone involved we've not been able to reach an agreement to the satisfaction of all concerned."
He said that as a result it would be suspending the development of the Wylfa Newydd project, as well as work related to Oldbury, until a solution could be found.
"In the meantime, we will take steps to reduce our presence but keep the option to resume development in future."
Toshiaki Higashihara, president and CEO of Hitachi, said, "Since Hitachi acquired Horizon Nuclear Power Limited in 2012, we have been stepping utmost efforts to supply clean energy which does not emit CO2 by constructing nuclear power stations with two units of ABWR (advanced boiling water reactor) which complies with the UK regulations and cost requirement, based on the reactor which has an extensive construction and operation track record in Japan."
He said that in 2017, ABWR for the UK had been technologically certified by receiving generic design assessment approval from the UK regulatory authority.
"Following that, in 2018, we have officially started discussions with the UK government over the financial structure. We are extremely grateful for the UK government's various supports and proposals, and the Japanese government's co-operation during this time.
"However, Hitachi has decided to suspend the Horizon Project from the viewpoint of its economic rationality as a private enterprise, as it is now clear that more time is needed to develop a financial structure for the Horizon Project."
Greg Clark, the UK government's Secretary of State for Business Energy & Industrial Strategy, told Parliament, "Nuclear has an important role to play, as part of a diverse energy mix, but it must be at a price that is fair to electricity bill payers and to taxpayers.
"We will work closely with Hitachi and the industry, to ensure that we find the best means of financing these and other new nuclear projects."
A spokesman for Hitachi has told BBC Wales that the project has not stopped, but activities were being halted until it could be restarted, providing the right conditions were in place and the finance was there.