Anti-collision installation
By Christian Shelton20 August 2019
France-headquartered anti-collision system manufacturer SMIE has installed its Wi-Fi-based ProSite anti-collision system at the Daivões hydroelectric power station job site in Portugal.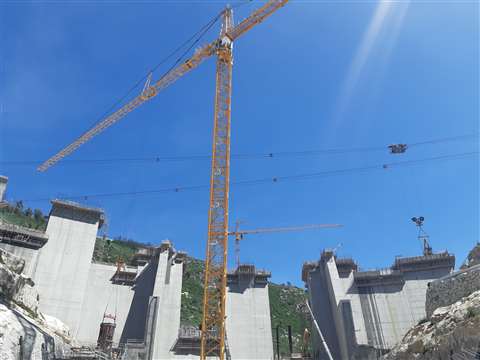 At the job site two Blondin devices were being used in close proximity to two tower cranes
According to SMIE, the job site was complex with two tower cranes being used alongside two Blondin devices. Because of this SMIE said traditional anti-collision solutions would have been expensive. It said its ProSite system, however, is able to manage complex job sites without custom hardware or software engineering which helped keep costs down.
"This was a very interesting installation and one that should have come with significant costs. Custom anti-collision solutions are by their nature expensive but here at Daivoes we were able to use a standard ProSITE system which kept the costs within normal parameters.
"The solution was beautifully simple. We had ProSite running on a tablet, that could be used by the Blondin operator to create a buffer zone between the two tower cranes that already had their own zones and anti-collision systems. If a crane was operating within the zone, the driver would receive a message asking them to move immediately."