Anton Schick adds 160 tonne all terrain
By Laura Hatton23 December 2015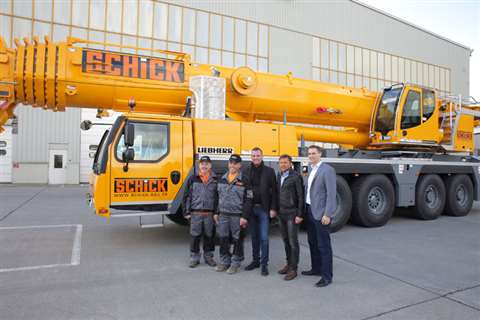 Building contractor Anton Schick has taken delivery of a new LTM 1160-5.2 mobile crane with VarioBase.
The handover was carried out at the Liebherr factory in Ehingen, Germany. Anton Schick, company owner, said, "Liebherr is the industry technology leader. The LTM 1160-5.2 with VarioBase means we have invested in the most modern crane in this class.
"Since we bought our first Liebherr mobile crane around 40 years ago we have always been very satisfied with the machines. That is why we always go back to Liebherr when we buy a new crane," Schick added.
The new LTM 1160-5.2 mobile crane will be used for assembling prefabricated concrete components throughout Germany, Switzerland and Austria. "Its high load moment and 62 metre telescopic boom makes the LTM 1160-5.2 perfect for erecting our tower cranes. The crane has the ideal dimensions for this work," Schick said.
The company's fleet includes more than 25 tower cranes, among them 17 top slewing cranes with load moments of 71 to 250 tonne-metres.