Anything but Simple
By Lindsey Anderson12 December 2013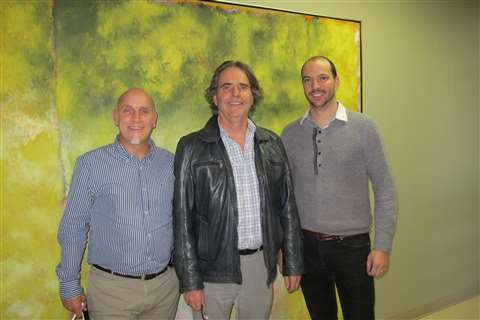 "Ten years ago, the main reasons people did business with a company were availability, service and price," laments André Véronneau, president and CEO of Simplex Equipment Rental. "Now it is: price, price, price. 'We don't care about service.'"
Then again, 10 years ago, Montreal-based Simplex Equipment Rental didn't have nearly the amount of competition as it does now.
Founded in 1907 by Louis Henry Véronneau, Simplex Equipment Rental has remained a family owned and operated business, and now spreads across most of Quebec with 40 branches and 650 employees. In 2012, the company pulled in $75 million in revenues and it expects 2013 to be around the same figure. The company owns a total of 55,000 pieces of equipment, ranging from floor sanders to aerial work platforms, and roughly 4,500 units make up the "big equipment." Véronneau says Simplex's three main types of rental equipment are boom lifts, scissor lifts and lift trucks.
In 2012, Simplex spent about $12 million on CapEx and for 2013, it aims to buy $15 million worth of equipment. Véronneau says the company has $150 million worth of equipment, with booms accounting for roughly $48 million, scissors at $33 million and lift trucks at $30 million.
The company plans to invest more into its core, "money-making" equipment – those booms, scissors and lift trucks – and de-invest in earth moving equipment.
"The [earth-moving] sector is not worth the investment," Véronneau says. "The money is not there for us and it's a slower sector that we are looking at getting out of. We will use the money from earth moving to invest into a more profitable sector."
While the company aims to increase its market share of lift equipment in Quebec, it also is looking to expand its footprint with goals of opening 20 new depots in the next two years.
"We want to concentrate on the Montreal and Quebec market," Véronneau says. "We're not over the whole territory and we would like to do that. There are some very important parts of the region where we aren't now and we feel we can offer more to those markets. We want to be at 65 branches."
A 44 percent increase in locations might seem like a leap, but with aggressive competition from mid-sized companies like Hewitt Equipment, Lou-Tec and Komatsu pressing against Simplex, the time is now.
"We want to grow," Véronneau says. "We need more locations, so now we are focusing on improving our productivity and making sure our processes are in line."
Pricing
Over the last decade, Simplex has worked to raise its rental rates by six percent, but Véronneau admits prices have gone down across the board and competition is "very, very high."
In 1997, United Rentals came into Quebec. "They bought our major competitor," Véronneau says. "But since then, we don't feel any other big rental company competition. They do what they have to do and we do what we have to do."
While competition might not be a big lion in the grass for Simplex, it is instead in the form of smaller and mid-sized players; companies willing to play the game. While the number of independent and smaller depots has increased significantly across Québec, the demand for equipment has remained the same resulting in price wars.
"This is why pricing is off," Véronneau says. "People can ask for low, low prices" because if they don't get it from Simplex, they'll get it from somewhere else.
"People in this market right now can pay lower rates than what they did 10 years ago for the same equipment," Véronneau says. "The discount in pricing is 20 percent more than 10 years ago."
But there's an even bigger predator in the field that's affected pricing – the mafia.
Between 2006 and 2011, Quebec construction companies and contractors took part in a scheme to rig the bids on public work projects. According to court papers and news reports, the system involved companies that would land city contracts and no company would underbid the other. Before each bidding process, the "winner" of the contract was already decided and over a dozen companies "played by the rules." The entire system was overseen by the Mob, who collected a cash fee from the "winning" bidder.
According to the Huffington Post, companies were technically given the right to bid, but if they weren't a part of the "club," they would never get a contract nor would they make profit.
At the time I visited Simplex, the entire city seemed to be under construction. From bridges and overpasses to roads and highways, barely a mile would pass before another series of orange safety cones dotted the horizon. Despite this activity, Véronneau says the impact of the inquiry has been far and wide.
"The general inquiry to look at all construction activity – the infiltration of organized crime in construction – has been going on for 18 months now," Véronneau says. "It has slowed down demand, especially in Montreal, because that's where it started. Everyone is nervous. It isn't clean. It's big and it's hurting the market."
Company-wide updates
In order to organize its business, Simplex has started a major, company-wide overhaul of its enterprise resource planning (ERP) system. The company's prior system tipped the scale at 30 years old and Véronneau wants all systems up-to-date. The new ERP will streamline Simplex's assets, services, departments, personnel, administrative, transport, freight and more.
"We waited too long to update our ERP," Véronneau says. "We are now taking this opportunity to improve our own processes so we're doing the best we can. We are using the best of the best, state-of-the-art equipment. This is why we stopped opening branches for a little bit; we wanted to have better processes."
Simplex is a "few months" into its reorganization and says it has about six to eight more months to go before it is up and running like a well-oiled machine. Véronneau says once the system is bug-free, the entire company (650 people) will be trained properly on how to utilize the ERP.
"We have heard bad stories of people trying to implement a new system and it was a nightmare," he says. "This is why we hired an IT specialist – to be sure the system is going to be well-received."
Longevity
Simplex is working on "what's best for us," Véronneau says. "We were doing so many things and it was very successful at one point, but when it started to be not-so-profitable, we thought, 'Well, what are we doing that's not very good for us?'"
With the restructuring and re-focusing efforts now underway, Véronneau and his team, which includes his son Euclide Véronneau, are watching the market closely.
"We've been in business for 106 years," Véronneau says. "We've adapted ad now it's time for us to adapt again."
While there are no global ambitions at the helm of these plans – Véronneau laughs when asked if they want to jump the pond or visit Brazil – he says the company's fate lies in the hands of his children. "My focus is to be very strong in the Quebec market," he says. "It's up to Euclide and his sister to choose another way."
The company would like to eventually have a system set in place that allows customers to secure large pieces of equipment to rent via their website, like a car rental company. Right now, "rental is not like the theater where you can reserve and have a seat at a certain time." It also would like to implement barcode scanning technology, which would allow customers to see where pieces are and if they are in proximity to said equipment.
"Our network is important, because our customers can say that wherever they go, they can find a Simplex close by," Véronneau says. "You have to have a great relationship with your customers. Stay honest with them. The spirit of how we do business is to serve the customer, that's how we've been in business for over a century, because we have good relationships and it's a family business and also a business with values."
And those values stack up both externally and internally, Véronneau says - some of Simplex's mechanics have been with the company for over 30 years.
"These values have been put forth since the beginning and it's very important; more important than making money," Véronneau says.
But back to money – toward the end of our conversation, I ask Véronneau if he has any plans to sell the company. "Each month I refuse a selling offer," Véronneau says. "Ten years ago it was each week I refused one. But no, I have no plans to sell.
"A business is like a pot, each generation, it grows and grows."