Apollo sales for Mouvers
By Alex Dahm05 January 2018
Industrial load moving equipment manufacturer Mouvers has delivered further units of its Apollo series powered machinery moving equipment to customers in France and Germany.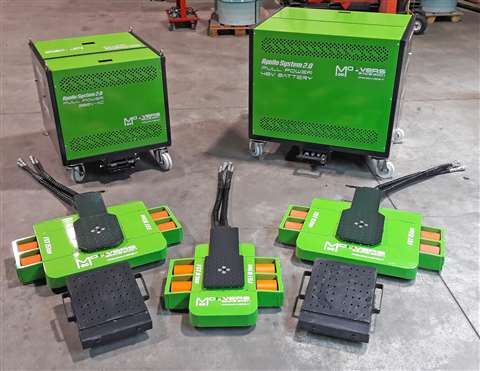 The first part of the latest purchase order for Mouvers Apollo System 2.0 units to go to French company Bovis
French group Bovis has been using Apollo machines for years, accumulating six units that are distributed around its depots. The latest order for the Italian manufacturer adds another four. It includes 15 tonne payload self propelled units with rear trolley.
German company Dornseiff has bought its second Apollo unit, following delivery of the first in 2015, because it was so reliable, Mouvers said.
The idea of the Apollo System 2.0 is that the components can be connected and combined to reach the desired payload and performance level. Two power packs, the Full Power 48 Volt (DC battery) and Full Power 400 V (three-phase AC), can be connected to any of the FST series self propelled dollies, including the FST 8 and FST 15 as shown in the picture. The FST 8 has a payload of 8 tonnes and can move a gross weight of 24 tonnes. FST 15 has a 15 tonne payload and can move up to 45 tonnes.
All Apollo power packs have proportional speed control, fine speed adjustment, and radio remote control. They have an hydraulic circuit with load-sensing piston pump for optimal energy consumption. The FST trolleys are all-wheel drive and have the load support plate assembled on roller bearings for optimal traction and ground contact, Roberto Pellegrino, Mouvers sales manager, explained. The company supplies a wheel bogie assembly on tilting supports, with wheels assembled on roller bearings. There is also a multi-hole contact plate for a perfect "fit and fix" with the load to be moved.
Improvements to the system 2.0 Apollo over the previous version include increased power, at 5.5 kW, proportional drive, a new remote control, an oil cooler, plus a phase detector with phase switch.