Appointments at IMT
By Laura Hatton18 June 2015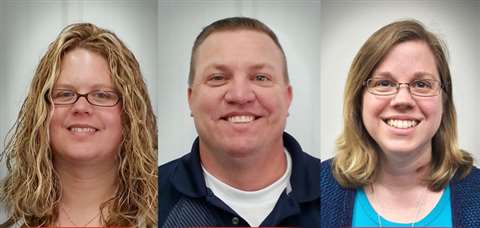 Iowa Mold Tooling (IMT), a US manufacturer of truck mounted cranes, service vehicles, hydraulic loaders and air compressors, has made three new appointments at the company.
New to the sales team is Shay Linahon, who has joined IMT as an inside sales representative for fleet accounts. Linahon will assist with the promotion and administration of national and fleet accounts. She previously worked at Graham Wood Doors, leading a team responsible for responding to customers' technical questions.
Also new to the team is Schad West. West will lead initiatives and training of Continuous Improvement Events (CIE) for operations, He will also work to integrate the Oshkosh Operating System (OOS). West previously worked for Crowne Group as senior manager of continuous improvement. He has also held the position of manufacturing resources manager for Hagie Manufacturing.
Bridget Wolf has been hired as a senior customer service associate. Prior to joining IMT, Wolf worked as a customer service representative for Graham Wood Doors in Mason City, Iowa.
Jim Hasty, IMT general manager, said, "Our three new hires will help IMT continue to strengthen its core business. These personnel moves enhance our ability to meet customer needs and continue implementing operational improvements that will benefit IMT and our customers."