AquaDeck supports Wanderland exhibition
By Helen Wright06 May 2016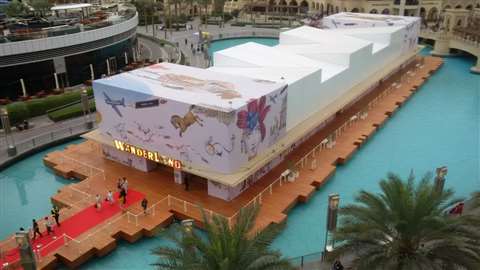 Floating pontoons have been used to create a platform to support a 270 ton building as part of the Wanderland exhibition in UAE.
The AquaDeck pontoons – from Access Terrain - were designed to provide a versatile access system for temporary works on or around water. Used independently or in conjunction with temporary access mats, each AquaDeck pontoon unit is connected to the adjacent units by a simple pin connection, which once rotated and locked into place, prevents rotation or ejection of the connecting pin.
Access Terrain director Steve Delaney said the Wanderland project in the UAE was a challenge that highlighted the versatility of the product.
"The project was to build a floating platform to be able to hold a 270 ton floating building for Wanderland which was an exhibition for Hermes in the UAE spread over 2500m2," he said.
"Only a single layer of cubes were used. The event was held in the Burj lake and was in place for a month. One of the difficulties was to give enough buoyancy to cope with all the movement of construction and people and keep everything stable. I'm happy to say the AquaDeck passed the test.
"It really highlights what can be done with the product and what a great rental product it is."
Click on the image in this article to view a gallery of the build.