Aquajet moves up with new Aqua Cutter
By Steve Ducker08 June 2017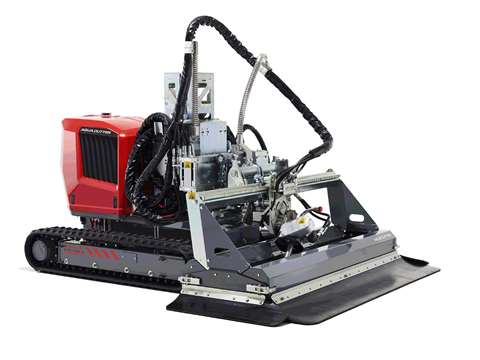 Hydrodemolition specialist Aquajet has introduced the Aqua Cutter 710V robot – the largest of its kind and described as offering overhead reach as high as 7 m (23 ft).
It comes equipped with Aquajet's ceramic nozzles and is suitable for a range of concrete removal tasks.
"We designed the 710V to give customers the ability to accomplish more work, even in hard to reach areas," said managing director Roger Simonsson.
"The robot's extended reach allows contactors to get at and remove concrete in area other robots simply cannot."
The 2,300 kg (5,070 lb) machine uses 14,500 to 40,000 psi water jets to remove as much as 1 cu m (35 cu ft) of concrete per hour. Contractors adjust the robot's stroke length to control the depth of cuts and vary the pressure of the water jet depending on whether they are removing loose, deteriorated concrete of lowering the sound concrete to give a pre-determined depth.
Operators can also remote control the 710V from a safe distance, either wirelessly or with a hard wire, to communicate with the robot's wheeled power control module.