AR Demolition invests in Kleemann machines
By Leila Steed27 November 2019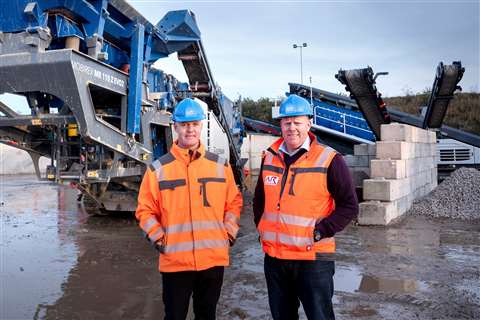 AR Demolition has invested in new crushing and screening plant for its sister aggregates recycling company, AR Aggregates.
The demolition contractor purchased two Kleemann machines, an MR 110 Z EVO 2 impact crusher and an MS 953 EVO screening plant, in a move to make improvements to AR Aggregate's safety and productivity performance.
The track-mounted MR 110 Z EVO 2 crusher, which is designed for processing blasted natural stone, asphalt and demolition waste, features a Tier 3/Stage IIIA diesel engine and an input capacity of 350 t/hr.
With feed capacities of up to 500 t/hr, Kleemann's MS 953 EVO screening plant has a hopper capacity of 8 cu m (282 cu ft) and a triple-deck vibration.
At a cost of £800,000 (US$1.03 million), AR Demolition said the new equipment would also help the company to realise the value of recycled construction waste products.
Last year AR Aggregates recycled 94% of all demolition waste arisings. Around 180,000 t of the recycled material was used on construction, infrastructure and civil engineering projects.
Richard Dolman, co -founder of AR Demolition, said: "Demolition is an industry which has a unique view on the construction methods of the past. This, in turn, can help contractors like us critique the present and make important recommendations for the future, particularly where sustainability is concerned.
"Design for deconstruction would be the ideal going forward into the future. Most buildings we demolish were constructed using older building techniques and materials, whereas modern construction often uses techniques which will actually preclude recycling in the future.
He added: "I would therefore urge all involved in the construction process to consider the end of a building's life, as well as its design for the time when it remains standing."