Are online aggregators the future of equipment rental?
Providing new rental marketplaces for construction equipment, could online aggregators be transforming the equipment rental landscape? Belinda Smart reports.
Online "aggregators" in consumer industries such as travel and accommodation - think booking.com - are universally accepted; now the B2B space for construction equipment rental is catching up.
Munich-based tech start-up Klarx was founded in Germany in 2015, expanding into Austria in 2019; BigRentz, the US online rental portal, raised US$15 million in 2020 from private investors led by Japan's Itochu Corp, the Japanese trading company that is part owner of Hitachi CM).
New online platforms have been springing up globally for some years, with big name ownership and, in some cases, sizeable investment.
More recently, French platform Tracktor announced it had raised €12m with AXA Venture Partners (AVP), Bpifrance through its Digital Venture fund, and historic investors (Kerala Ventures managed by Antoine Freysz, BTP Capital Investissement, and entrepreneurs Pierre Kosciusko-Morizet, Pierre Krings, Xavier Niel and Pascal Casanova).
A statement on the funding said the Tracktor's platform "frees its clients of all usual constraints to renting, giving them access to negotiated prices with more than 400 professional renters across France, and centralising all their rentals to give them more visibility on their expenses."
Like many aggregators, Tracktor has functions including quoting, comparing prices, and handling invoicing – supported by automated, digitalised processes.
It says the new funding will support the development of a mobile app and a management tool so users can centralise their rental activity and digitalise their internal processes.
To date, Tracktor has attracted more than 3,500 construction and industry small to medium businesses. It says it expects to triple its revenues in 2022 and is eyeing expansion cross Europe from 2023.
What is the aggregator business model?
At its most basic, the rental industry aggregator model is straightforward; aggregators connect those looking for equipment to those who can supply it.
Platforms can follow a decentralised model, where product owners set the price and terms for renting the product, and the platform owner allows the product owner to list, matches the lessor and lessee and facilitates the transaction. In a centralised model, the platform owns the inventory of the products and sets the price/terms.
A hybrid model sees the asset owner providing a service, with the price and terms decided by the platform. Ownership and risks are decentralised while standardisation and service quality are centralised.
Whatever form aggregators take, their purpose is that they connect suppliers and consumers and simplify transactions.
They also have the potential to create serious scale; BigRentz is understood to boast a network spanning 7,500 rental yards. Through an online network, businesses can expand their rental yards without owning equipment or yards themselves; suppliers are able to access up-to-date data for their target location.
Digitisation of the rental process
Many rental aggregators are aiming for more than simply matching supply with demand.
Italian based Rentmas was founded in January 2020. "The goal was to maximise the utilisation of construction machines implementing the principles of the sharing economy on one hand, and on the other to improve efficiency of the rental process through digitalisation," founder and CEO Manuel Niederstätter tells IRN.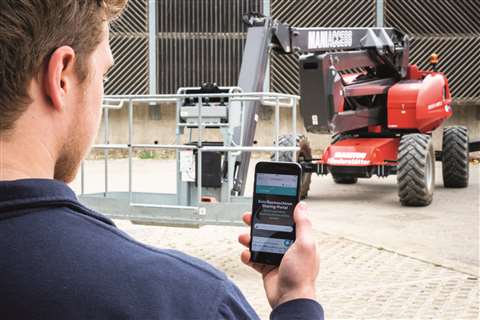 "Rentmas hires machines from the owner and rents them out. This makes the process fast and simple, and we take care of the necessary details including payment, documents, contracts, and so on."
Rentmas keeps a percentage of the arranged turnover, meaning the renter only pays for the Rentmas services in the event of a successful order, he says.
Rentmas has "grown constantly since 2020," he says, with further growth expected in the Italian market in 2022, as well as a push into Austria and Germany.
Machine owners are "highly interested in the Rentmas concept and the number of those who are willing to be partners and put their machine on Rentmas is increasing rapidly," he adds.
For rental companies, Niederstätter says the main benefit is that they gain access to new technologies and digital innovation previously inaccessible to traditional business.
"The process is digitalised and functions mostly automatically, without needing too many resources to manage the data within the system. The rental company has still full control of prices and the rental process is fully transparent."
Rate and review rental companies
UK based Get My Equipment (GME) was set up in 2020 by CEO Stephen Lewin and COO Siddarth Ragoowanshi. It currently covers London and the Southeast of the UK but has plans to expand across the UK in the near term.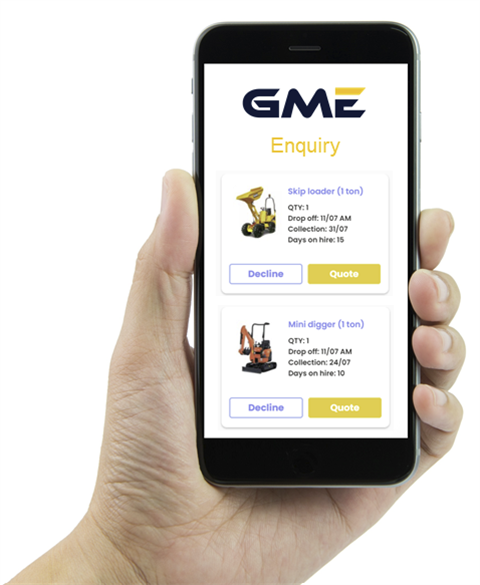 GME allows contractors to receive a range of quotes from rental suppliers and enables users to rate and review suppliers, which Lewin says fosters valuable transparency and trust in the platform.
Rental companies on-boarded by GME have included Mr Plant Hire, based in Enfield, London, Hire4Lower, which operates in central London, and Star Platforms, an access specialist based in Luton and serving London and the South of England.
With a revenue stream from a flat commission on each transaction to the supplier, GME also recently closed a funding round with venture capital provider Fuel Ventures totalling £350,000.
The money will fund the addition of new features including a "view per site" function rather than per order for customers – a value-add for project planning.
For suppliers, the updated platform will offer a more detailed "per customer" view that makes it easier to manage equipment rentals.
GME will also shortly launch a new mobile app enabling equipment searching and ordering.
Lewin tells IRN aggregators "also enable a new sales channel for the supplier and reduce the cost of selling for rental companies, and they widen the reach and network within an industry that is highly fragmented, connecting suppliers with a wider range of customers."
Simplifying rental orders
The 'Easy' rental online platform was founded in 2020 and is managed by Rentuu, a cloud-based platform.

Part of the easyGroup of brands and backed by investment from the group and Sir Stelios Haji-Ioannou, founder of the easyJet airline, it was established to simplify ordering for customers and streamline operations for rental businesses, such as stock management, order enquiries and automated payments.
Director Andrea Guzzoni points out that Easy Hire is not strictly a marketplace or aggregator.
Instead, the Easy platform and franchise network provide independent rental companies with a franchise model "that focuses on technology, partnerships and the marketing and branding support of a huge European brand in protected territories," he tells IRN.
"Easy Hire partners with existing independent hire companies, and the reason why that works is because we've invested seven figures into our technology stack; we've invested seven figures into our marketing, and we have a very widely recognisable brand all across Europe."
"For an independent to be able to achieve that same level of recognition, especially to acquire a new business or to make that level of investment into an engineering team is incredibly challenging, it's not even feasible for most. So, we allow them to operate exactly as they would in their local market."
"We give customers access to tools and equipment; making tool hire as easy as booking a hotel or hiring a car online.
"We offer real-time stock availability, online ID verification, automatic carbon offsetting, smart auto-suggestions, and a complete turn-key digital solution and ecosystem for independent owned rental/hire companies to compete.
He's cautious about the contribution of aggregators; "rental is not pure e-commerce; rental is a service."
"There is a relationship between the rental company and the client that is based on trust, efficiency, and quality of service. An aggregator very often dilutes the real power and offering of rental companies by emphasising only pricing, which leads to a race to the bottom that is detrimental for the industry."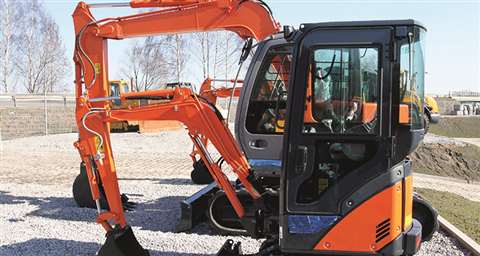 "It's difficult for online rental aggregators to create long-term value for their partners. On the other hand, we are building the technology backbone for the industry in direct partnership with existing rental companies to make them the protagonists of the new age and customer expectations that the rental industry is facing."
Do online aggregators have a role in rental?
GME's Siddarth Ragoowanshi says the company's mission is to change the perception of aggregators as purely price-driven.
"That's the thing we want to move away from. We are not about aggregating, then picking the lowest price and selling to the customer.
"Rather, the customer is empowered to select the supplier, using tools including reviews and ratings."
And he believes the aggregator model as a whole is evolving. "I think GME and our competitors are on the early stages of a journey; many aggregators are increasingly focusing on adding value for their users," he says.
The accountability of aggregator platforms is also evolving and is continually evaluated at GME, he tells IRN.
He says aggregators with a well-executed strategy have a role to play in the equipment rental sector, offering transparency on price and quality of service.
"For example, we already do credit checks for customers and make their documentation accessible as a minimum. When a supplier quotes to a customer, they can access their documents, so they know how they treat equipment and whether they pay on time; but this is an area where we will continue to add value."
"The advantage of digitalisation is that it allows businesses to change the way they do things. It does have the potential to be a democratising platform."