Armoured rescue crane from Liebherr
By Laura Hatton19 June 2014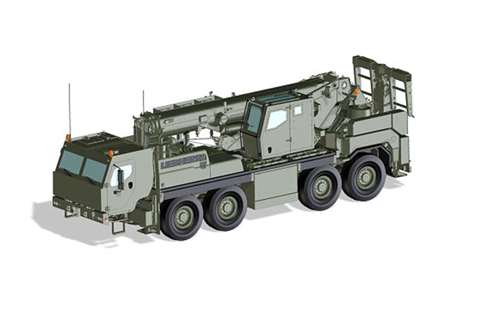 Liebherr-Werk Ehingen has designed an armoured rescue crane vehicle for the German Army.
The G-BKF is for repair and handling support for rescue, recovery and emergency aid. Capcity is 20 tonnes and it has a 20.9 metre telescopic boom. It is mounted on a 4-axle all terrain crane chassis. It has all-wheel steering and is powered by a Liebherr D946TI diesel engine. There are two winches and it has a 16 tonne towing capacity. Crane control functions can be operated either from the cab or via remote control.
Focus points in the design phase included the protection of passengers with, for example, armoured cabins for driving and crane operation. The designs were achieved with help from Rheinmetall Defence, a specialist in military technology.
"Transparent armour has been enhanced to ensure that it offers ballistic protection and meets the visibility requirements of the Road Traffic Act," the manufacturer said. The protection has been verified to STANAG 4569/ AEP 55.