Articulating loaders: knuckle down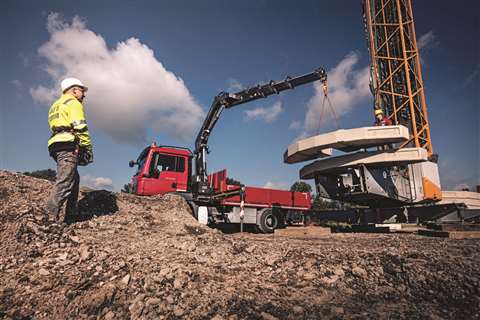 The versatility and mobility of hydraulic loader, or articulating, cranes is central to their popularity. They can perform several different kinds of jobs in a day, they need little time to be ready for operation, and they can have a range of attachments, including grabs, pallet forks, winches and various manipulators.
Their manoeuvrability means they increasingly find application in city centres, where space is restricted and other sites where space is at a premium. Thanks to these attributes, loader cranes are universally popular yet the current economic climate means that manufacturers are experiencing fluctuations in demand around the world.
Global markets
German loader crane manufacturer Atlas reports that its domestic market remains one of its biggest, where it is well supported by a good dealer network. The company says that, due to a positive economic situation, it does not foresee this changing over the next 12 months. The company also reports having a good market share in Canada, another place it believes will remain stable over the next 12 months thanks to the large demand for its V-boom crane models. It says that these cranes are often used for drywall handling and foundation construction and have won a loyal following in Canada.
Atlas expects the USA to become one of its busiest markets. An importer has been appointed based in Tiffin, Ohio, and this generated much interest at the ConExpo trade show earlier in the year, Atlas says. Finally, Atlas says that, despite not yet having fully recovered from the recent economic crisis, Spain is a market it relies upon. It says that its dealer there is particularly experienced in serving the recycling industry with hooklifts and cranes for waste collection and it expects its market share to increase further.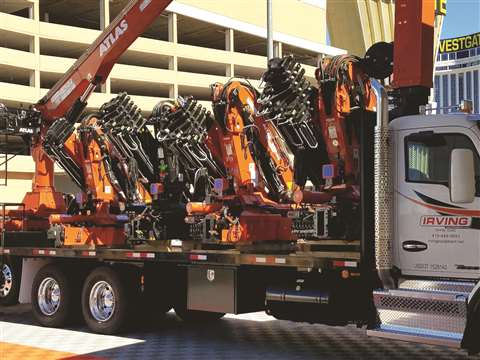 Austrian hydraulic lifting, loading and handling solutions manufacturer Palfinger also says that Germany has been the biggest market for its loader cranes. It recently sold four new units to German heavy lifting and transportation specialist Schmidbauer - three from its PK 92002 SH series and one from the PK 65002 SH series. The new loader cranes will expand the fleet at four of Schmidbauer's 20-plus locations: Nuremberg; Oberndorf; Munich; and at Fricke-Schmidbauer in Braunschweig.
Hermann Setzmüller, head of purchasing at Schmidbauer, explains the reasons behind the procurement of the new cranes, "For years now, we've been in constant need of loader cranes that can be used anywhere. Customers frequently ask us for this type of crane, whether for roof installation, assembling pre-fabricated building elements, or construction site equipment. Now that we've acquired these new cranes, we can offer our customers the latest equipment with the highest level of technology."
Werner Schmidbauer, Schmidbauer Group managing director, adds, "We opted for the Palfinger vehicle concept for a number of reasons. The products are safe and high quality with an outstanding price-performance ratio. As a medium-sized company, Palfinger's partnership-orientated approach plays a big role as well. Effective co-operation between everyone involved means that we now have an excellent product version with real added value for our customers."
Palfinger also says it is also seeing improvements in the south of Europe, especially in Spain, and in Italy, which it says is catching up slowly. Palfinger reports it is also doing well in Russia where the local market is well served by two companies providing Palfinger products. China, although potentially one of Palfinger's biggest markets in Asia, isn't fulfilling the high expectations it had for this area, the company reports. And although the UK is in the top ten of Palfinger's largest markets, the company says it is showing weakness since the Brexit decision.
Having said that, Scottish haulier Galt Transport has just acquired four new Scania R-series trucks, all of which have Palfinger cranes. The cranes were supplied and fitted by Scottish lifting and access equipment supplier Outreach. The new trucks comprise: two Scania R490s with Palfinger PK 78000-D cranes; and two rigid R450s. The two 8x2 rigid vehicles have Palfinger PK65002-E cranes with a hoist attachment. They have the capacity to lift 3.2 tonnes to a radius of 16.6 m. A fly jib can be added, which can lift up to 0.8 tonnes tp a radius of 28 m. The fly jib also makes this weight and reach achievable at a distance of 12 m from crane centre with the ability to lower the load straight down to ground level using the hoist. As such, the haulier says they are now the longest reaching lorry-mounted cranes in its fleet.
Andrew Galt, operations director, comments, "These new eight wheelers combine durability with payload capacity. The fly jib not only gives the vehicle a greater working radius but also gives the crane further articulation, allowing items to be lifted on to roofs more easily. The hoist will allow items to be lowered straight down which is also an advantage of this crane specification." The units also have an additional stabiliser installed at the front of the vehicle, giving greater support to the crane when operating over the front of the cab when the fly jib is in operation.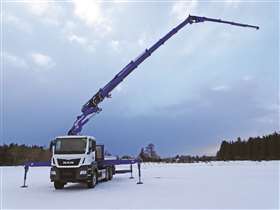 New products
New from Cormach in Italy is the 6000 E series. Models are available with up to eight extensions plus a jib with up to four extensions on that. The provisional lifting chart for the 60000 E4 A.S.C. Plus with four hydraulic extensions shows a capacity of 4,070 kg at 11.39 m horizontal outreach. At the other end of the scale, the 60000 E8F64 A.S.C. Plus lifts 980 kg at 20.59 metres outreach to the end of the main boom. Also, from the provisional chart, capacity at the full 30.43 m reach to the end of the fully extended boom and its four-section jib is 460 kg. The jib has a reverse angle capability of up to 10 degrees. On the 60000 E8 A.S.C. Plus, with eight extensions, the provisional chart shows that it will lift 1,640 kg with the boom horizontal at the full extension of 20.21 m. Vertical reach is close to 24 m.
Swedish loader crane manufacturer Hiab reports that the market for 20 tonne-metre class articulating loader cranes is growing. As a result, the company says it has produced 24 new or updated models for this sector and developed new technology including Crane Tip Control (CTC) and Hiab Frameworks.
CTC is designed to minimise the complexity of co-ordinating the crane for the operator, says Hiab. The crane operator controls the behaviour of the crane tip instead of each crane function (slewing, first boom, second boom, extensions). In effect the crane is controlled using only three levers — slewing, horizontal movement and vertical movement. The operator can activate or deactivate the feature themselves by pressing a button on the hand controller. The crane then switches between CTC and normal crane mode. "CTC makes the crane operation easier and more efficient," says Marcus Rösth, manager of control systems at Hiab. "The operators can benefit from the CTC feature by making the job safer, take on more advanced jobs and get more lifts done during the day."
Hiab Frameworks is a modular system that provides the customer with a pre-manufactured, ready-to-install subframe that matches their chosen truck. The patented installation package offers a standardised solution for heavy crane sub-frames and is complete with pump, tanks and auxiliary stabilisers. "With Hiab Frameworks the installation time can be reduced up to 75 percent," adds Marcel Boxem, director of heavy loader cranes at Hiab. "This means that the crane is ready for use much faster, which is a great benefit for installers, bodybuilders and our end customers." The new installation package is a completely bolted system where stress calculations have been made beforehand. "Basically anyone could install the crane safely and fast," Boxem continues. At present Hiab Frameworks is available for several Hiab heavy-range crane models and for truck brands Volvo, Renault, Scania and DAF.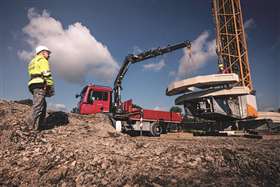 Italian loader crane manufacturer Fassi has two new models which it says it is in the process of launching in the US market. First is the F600SE.44, primarily a wallboard crane that Fassi claims will be the tallest wallboard crane in the USA. It has extensions on the main boom, in addition to those on the secondary arm, enabling it to have a maximum load moment rating of up to 392.26 kNm and a hydraulic outreach of up to 30.48 m.
To minimise the crane's overall dimensions, the jacks on the telescopic extensions are positioned inside of each arm. It is controlled via an FX901 control system which has a 7" (178 mm) touchscreen colour display that allows the operator to view detailed information about the crane's operation, including stabilisation conditions. It also features digital RCH / RCS remote control and the new V7 radio control units as standard, while Automatic Dynamic Control (ADC) verifies all the crane's functions and maximises the speed of movement in accordance with the load.
The F600SE.44 is also integrated with Fassi's own patented Internet of Cranes (IoC) system, which manages all available information about the unit's operation in real time, enabling the crane's operator (or service centre) to remotely manage its operation and efficiency.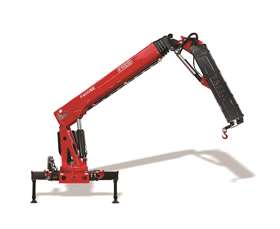 Second from Fassi is the F120BCM.1 corner mounted crane (which is also available in .22 and .23 versions) which can be used as auxiliary equipment on medium or light-duty vehicles involved in maintenance work in the utilities sector. According to Fassi, the F120BCM.1 has a completely de-centralised column in relation to the base, which frees up space on the chassis, consequently speeding up ascent and descent times during operation. A link between the articulated main and secondary booms maintains a constant lifting moment and ensures better crane performances, in terms of both dynamic lifting and static capacity, says Fassi. The crane is made from high strength steel and has fewer welds for greater strength. It also has the Fassi Multi Power Extension System (MPES) for fast extension and retraction of the telescopic booms. Fassi's FX200 electronic control system can also be specified, enabling the operator to be informed about the load condition of the crane and block in case it is overloaded. The system is available with an analogue radio. A lifting moment limiting device version (called 'W') can be supplied for countries with very cold climates.