Asbestos protection with Condor
By Euan Youdale25 June 2018
At 62m high, the so-called 'Bed towers' at the University Clinic in Münster are a well-known feature on the skyline of the city, located in the Westphalia region of northwestern Germany.
To conform to modern civil engineering and energy requirements, the facade was extensively renovated. This included an energy-saving makeover and a matt-white coating. First of all, however, extensive concreting and asbestos clearance work was needed. The scaffolding company Condor from Münster was entrusted with the assembly work and protective scaffolding, as well as enclosing the site.
The job involved challenges, said Peter Engelhardt, site manager, "The work and protective scaffolding, some 50m high, began 20m up. We were however unable to use the roof of the adjacent building as a scaffolding erection area due to its insufficient load-bearing capacity. This is why the scaffolding foundation used steel beams." Faster and safer access to the site was created by a platform stairtower.
The enclosure too was built by the Condor team using a supplementary part from the Layher construction kit. "We were commissioned with enclosing the site for the asbestos clearance work. Keder tarpaulins had been planned for this originally, but the atmospheric negative pressure needed between facade and enclosure for asbestos clearance could not be generated with sufficient constancy using keder tarpaulins – particularly when you consider the height of the enclosure", added Engelhardt. "We were able to persuade our client to use a system solution, the Protect System from Layher."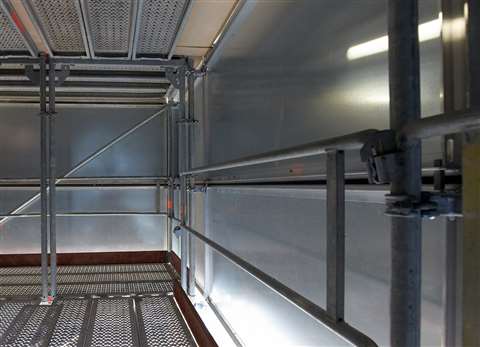 The Protect System from Layher consists of tight cassette elements that are easy to fit to scaffolding. It means no adjusting work like cutting, sawing or drilling is needed at the site. A wide variety of solutions is also available for special requirements. These can be access elements like lockable doors, light cassettes for work in daylight conditions or corner elements. In this way, the dust-proof enclosure system caters for the stringent requirements of contemporary environmental protection, noise prevention, weatherproofing and bystander safety – regardless of whether it's for demolition work causing dust, for corrosion prevention measures using a high proportion of blasting material, or for asbestos clearance. It can also be used for temporary noise control walls. Noise emissions are reduced by up to 26 dB.
"With the dust-tight Protect cassettes, it proved possible not only to protect the building from the weather during the work, but also to effectively prevent any contamination of the environment, and in so doing conform to statutory requirements", explained Engelhardt. "At the same time, the adjacent clinic building and above all its patients were protected from construction site noise thanks to their excellent noise insulation properties. And since the cassette elements can be suspended quickly and easily from the Layher scaffolding systems and matching corner elements are available, economical assembly was also assured."