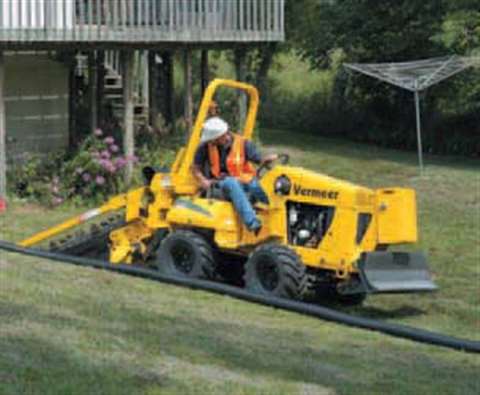 Everyone in the rental business, wherever in the world, should experience a week at the Rental Show. It would be difficult to find a better 'primer' on US business culture than the American Rental Association's annual jamboree: all US rental life is here, from the multi-billion national rental giants and big name manufacturers, to 'mom and pop' rental store owners and local sales reps. Exhibitors and visitors represent every conceivable sector of the equipment rental sector: if you haven't found a new product at the Rental Show you haven't looked.
This year's event – switched from New Orleans to Atlanta when it became clear that the Katrina-ravaged city would not have recovered sufficiently – takes place at a still-buoyant time for US rental, with spending on equipment at a high and the much-reported slow down in residential construction seemingly yet to have a major impact on the demand for rental equipment.
700 exhibitors
Over 700 exhibitors will be doing their best to attract some of the investment dollars in Atlanta, and dozens will be showing new equipment that will help prise open some wallets.
The aerial platform sector, in particular, sees several important new launches. Aichi USA uses the show as the official re-launch of its US business: the company will be importing both truck mounted platforms and the heavy duty crawler mounted telescopic booms that have an enviable reputation for reliability and durability.
JLG, now under Oshkosh ownership, uses the show to launch its new 1230ES vertical mast boom – a straight-on competitor to the well-established will be at the show, and editorial and sales staff from the magazine will be attending the event.
UpRight TM12 model – and Genie Industries will have the first sighting of the new Z-40N, a narrow articulating boom offering 46 ft 5 in (14,1 m) working height and 22 ft 8 in (6,9 m) outreach. It will be under 1,5 m wide and will weigh in at 15230 lb (6900 kg).
Also in the aerials sector will be production versions of Skyjack's new range of telescoping, self-propelled booms (prototypes were seen at last year's show); the latest of Bil-Jax's new range of trailer mounted platforms, the 22622T telescopic model; a wide range of machines from Haulotte Group of France; and a new lightweight scissor lift from Custom Equipment.
The UK's Niftylift also has new self-propelled articulating models to show North American buyers, while UpRight Powered Access – now under the UK ownership of Tanfield Group and having recently announced plans to open a major manufacturing facility in the US UpRight TM12 model – and Genie.
New Spiders
Also making their debuts in the US will be two small Hinowa tracked 'spider' type aerial platforms. Hinowa is now represented in North America by Reachmaster Inc. France's Haulotte, meanwhile, will show its new big booms, as well as three Dino Lift trailer mounted aerial platforms, which it will now sell in North America.
Small and compact site equipment is the other mainstay of the Rental Show, and here there will be plenty of new launched from companies including Belle Group, Multiquip, Ingersoll Rand (IR), Terex, Godwin, Ditch Witch and Vermeer.
IR shows several of the extended range of PowerSource mobile generators, with seven new models in the 94 kW to 570 kVA range augmenting the existing line from 10 kVA to 125 kVA. The gensets have an up to 30% smaller footprint than their predecessors; are lighter; have greater fuel storage capacities; and feature environmental skidbases.
One of IR's competitors in the genset scene is Multiquip, although the Californian-based company will use the show to update not its power products but its vibratory rollers, with new tandem and combination in the 1,5-5 US ton weight class following its agreement to act as exclusive dealer for Ammann's Rammax rollers in North America and several Latin American and Caribbean nations. There are 10 diesel models in the new AR range, with centrifugal forces ranging from 2925 lb (13 kN) on the AR-16 to 10790 lb (48 kN) on the AR-40. The AR Series will carry the MQ/Rammax brand name.
Terex Corp, in addition to its Genie aerial platforms, will show a new site dumper, the PT2000, and also a trailer with carrying capacity of 30000 lb (13920 kg), the HFT-70RS, designed for hauling rental equipment.
New compact equipment on show will include Ditch Witch's new 420sx vibratory plough, a ride-on version of the walk-along 410sx. This features a dual-speed attachment drive, an operator's console that moves with the operator, and a fold-down ROPS system. "We've improved the headshaft design of the trencher attachment and added a bigger auger", says Brent Bolay, Ditch Witch's product manager, the improvements in productivity and spoils handling make the 420sx a true production trencher."
Ride on trencher
Vermeer, meanwhile, says its new RT350 riding trencher is "the ideal machine for rental centres that cater to weekend do-it-yourself customers and contractors tackling smaller projects." It is a step-up in size from the walk-behind trenchers.
Atlanta will also see a host of new pumps and other, more specialist rental equipment. For example, Godwin Pumps will introduce a new line of portable, petrol powered Wet-Prime pumps, capable of operating with heads of 15 m to 87 m and with maximum flows of 37 to 96 m3/hr. Electric Eel will show a new range of eight portable high pressure water jetters, including both electric and petrol driven models.
There will be the usual selection of rental software companies at the show, including Wynne Systems, Result Group – which recently announced winning the contract to supply Volvo Rents worldwide – and Solutions by Computer. The latter will showcase its new Enlighten system which gives users a "dynamic, multidimensional view" of information on customers, rental inventory and transactions, with data appearing in numerical or graphical format.
This year's show also sees a change to the way that the show floor is organised, with the heavy and light construction and general tool exhibits in Hall B at the Georgia World Congress Center, connected via a skywalk to party and event exhibits in Hall C.
"With the expansion [of the show], we have a unique opportunity to create a destination-driven atmosphere that will be a first for our attendees," says Allison Box, ARA vice president of association services. "The party and special event department will be designed as a party unto itself, specifically set for those attendees in the party market."
Enjoy the experience.