ATs take it in their stride
By Euan Youdale08 July 2008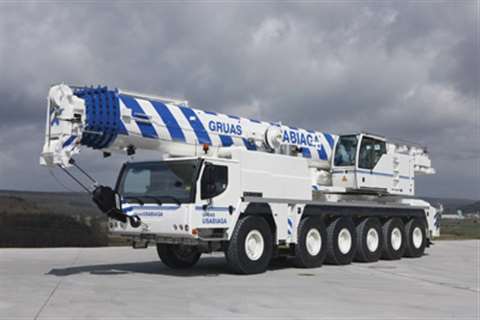 Manufacturers of all terrain cranes have been celebrating another successful year as demand increases, despite setbacks in residential construction in the US and parts of Europe.
At Liebherr in Germany production of all terrains continues apace with 1,600 manufactured in 2007. This amounts to a 43% share of the global AT market, according to Christoph Kleiner, Liebherr-Werk Ehingen managing director.
The division, which also manufactures high capacity crawler cranes, had a worldwide turnover of €1.632 billion (US$2.236 billion) in the 2007 financial year, with €97 million ($133 million) of that coming from the North American market.
"Our production companies' manufacturing capacity is fully utilised and we are expecting further sales growth for 2008 as a whole. Bottlenecks will, however, continue to pose a logistical challenge in terms of the timely provision of the necessary materials and components," comments Kleiner.
A similar tale is true at Terex Cranes which reported a 26% sales increase in the first quarter of 2008 compared to the same period last year. That amounts to a US$131.4 million growth to $632.2 million. "Very strong global demand, particularly for large crawler cranes and mobile telescopic cranes, continued to drive robust sales and order activity," says the company.
Supply constraints, however, particularly in Europe, and capacity limitations, in terms of welding and assembly space, extended delivery lead times.
High level
Christian Schorr-Golsong, Terex Cranes marketing director, says Europe is traditionally the strongest market for ATs with that situation showing no signs of changing. "The EU is the driver for the growth, and in the usually strong markets demand stays on a high level."
In the US, the market for medium-sized ATs is slowing, adds Schorr-Golsong, while the larger machines are facing high demand. "This is because of the jobs they are used in. Wind power, refineries and power stations are demanding high lifting capacities and hence large cranes. There is a shortage of these large cranes which is driving the demand up. A similar situation is true with Asia. But in the US and the UK, and also now in Spain, we see a slowdown in the real estate market." Schorr-Golsong continues.
This, he says, effects the small and medium sized models. "It's compensated by activities in the civil engineering and infrastructure in Europe but not that much in the US."
However, Link-Belt, based in the US, has a more positive story when it comes to the country's AT market. "Based on conversations with our customers, the AT market in which we participate is still strong and we see no decline in the next twelve months. Our ability to produce ATs for our customers is hampered only by limitations in the supply chain," comments Rick Curnutte Link-Belt product manager, telescopic boom cranes.
In Saudi Arabia the launch of a government-funded 15-year US$ 624 billion investment programme is also likely to spell a rich future for all terrains. Schorr-Golsong says about 80 Terex Demag all terrains were sold in Saudi in 2006, with a similar figure in 2007. That is expected to increase to 90 machines in 2008.
Versatile
China, is, of course, another growth market. But for the likes of XCMG it aims to increase its exports of all terrains. Toni Peng, XCMG sales manager, told IC that some XCMG all terrain cranes already have CE certification, including the 200 tonne capacity QAY200, and the company is working on others. It means that the cranes can be sold in Europe, but it is also intended as a wider standard indicator or reference point for the level of quality of design, manufacture and quality control.
Globally, all types of mobile cranes are selling well, adds Wolfgang Beringer, head of sales promotion at Liebherr-Werk Ehingen, "But the AT crane is still favoured by the crane hiring companies, as it is the most versatile and it has the best load capacities. The main features users require in all terrains are load capacity, boom length and manoeuvrability."
A notable addition to Liebherr's AT stable in 2008 was the 150 tonne capacity, 6-axle LTM 1150-6.1, launched at April's SMOPyC exhibition in Spain.
The crane offers a 66 m telescopic boom, the longest in its class. It has a maximum hook height of 93 m and maximum radius of 76 m with extensions and a double swingaway jib.
"At a boom length of 60 m the crane can lift up to 11 tonnes and is, therefore, ideally designed for the assembly of tower cranes," said the company. At full reach the boom can lift 7.7 tonnes. For assembly jobs, a second winch and a 2.9 m jib are available, as is a boom nose.
Another advantage, says Liebherr, is the crane's ability to carry 15 tonnes of counterweight with an axle load of 12 tonnes and a gross vehicle weight of 72 tonnes, making it a true taxi crane, commented the company.
Counterweight
Using the 15 tonne maximum transportable counterweight the machine can lift up to 11 tonnes. "By this Liebherr extends the concept of the 'all-in cranes' up to six axles and introduces the strongest crane of this design principle to the market."
The carrier is 13.5 m long and the LTM 1150-6.1 has a turning radius of 11 m, which is only slightly larger than its five axle contemporaries in the 150 to 160 tonne capacity class. This performance is possible thanks to "the compact axle grouping and the active rear axle steering which was developed by Liebherr and has proven its reliability on numerous other LTM models."
All six axles are steered, meaning they do not need to be lifted for crab steering.
Carrier width is 2.75 m with 14.00 and 16.00 tyres. Outrigger spreads of 8.3, 6.8, 5.4 and 2.75 m are available as standard.
Beringer adds, "Many markets wish to carry as much ballast as possible on the crane within the legal axle loads. And the demand in all markets is for longer telescopic booms. The LTM 1150-6.1 sold very well, even before it was presented to customers. The main market will be Europe, but we also have orders from the US, South Africa and several other countries."
Powerful
In October last year Terex Demag in Germany, launched the 300 tonne capacity AC 300/6 telescopic wheeled mobile crane. The manufacturer claims it is the most powerful mobile crane in its class and is suitable to be used as an alternative to 140 tonne capacity cranes and above.
The six-axle machine, with a 64 m main boom and maximum load moment of 951 tonne-metres, fills the gap between the AC 250-1 and the AC 350. According to the manufacturer the 125.7 m system length is the longest of any six-axle mobile crane. Superlift is optional.
"This jack-of-all-trades has an extraordinarily wide range. In the 140 tonne to 220 tonne class, with a partial counterweight, [it can be used] as an alternative to medium and large five axle mobile cranes. In the 200 tonne to 300 tonne range, it is by far the most powerful crane of its class at this time, both regarding its main boom and its different extensions. Even 400 tonne jobs can be taken on with this crane - a territory that, for all intents and purposes, belongs to much larger machines," said a spokesperson.
Flexibility is also an asset when it comes to two of Manitowoc's latest products; the 170 tonne GMK5170 and the 100 tonne capacity GMK5095.
The GMK5170 was shown for the first time internationally at March's ConExpo exhibition in the US, where the machine is designated GMK5225 and has a 225 US ton capacity.
It boasts the strongest load chart in the 200 to 230 ton class and also has the longest boom in its class at 210 feet (64m), says the company.
Range
"Of course, customers want strength and reach, but they also want a crane that is easy to move, easy to set-up and can cover a wide range of applications. We have built all of those considerations into the GMK5225," says Andreas Cremer, regional product manager for Grove all-terrain cranes in the Americas.
The machine has a maximum tip height of 328 feet (100 m) with jib extensions. It has axle spacings specifically designed for the US market. It also has a choice of four outrigger width settings.
Grove also displayed its five-axle GMK5095 at the Las Vegas show for the first time in the US, where it is designated GMK5115 and has a 115 ton capacity.
David Birkhauser, senior vice president sales for Manitowoc Americas, says the crane also offers strength and flexibility.
"The GMK5115 combines great reach with the strongest load chart in its class. This crane is also about flexibility, whether it's on site or on the road. The crane is perfectly suited to rental fleets and with Grove's strong reputation in the five-axle class; we feel it is guaranteed success in the North American market."
The GMK5115 has a 197 foot (60 m) seven section main boom that features Grove's Megaform boom and Twin-lock pinning system. Tip heights are up to 272 foot (83 m) with hydraulic luffing bi-fold swingaway with an 11 foot (3.4 m) heavy-duty jib for more demanding lift duties.
As with many Grove all-terrain cranes, users can operate the GMK5115 as either a 'Taxi' crane for mobility or a 'Maxi' crane for larger lifts.