Attachments: Perfect match
By Thomas Allen11 June 2020
The all-important interface between machine and attachment is the focus of Sweden-based manufacturer Engcon, which refers to its tiltrotators as an excavator's 'flexible wrist'.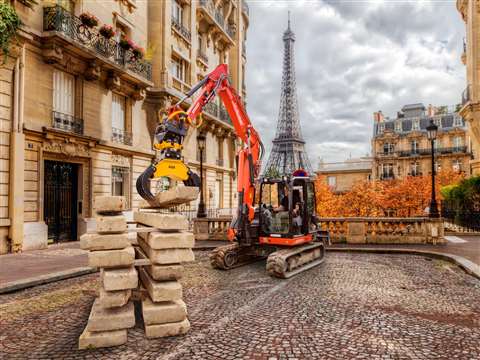 Although the Nordic countries are the stronghold of the tiltrotator, its growing popularity elsewhere is illustrated by Engcon's significant sales growth in France in recent years. Between 2015 and 2019, sales have increased by 400%, with record sales reported in 2019.
Patrick Régnier, Sales Manager at Engcon's French subsidiary, says, "A number of industry innovators have managed to influence the profile and take up of our products, which is seen in the 2019 results."
Engcon recently upgraded its DC2 proportional digging control system with improved compatibility and new functions.
For all brands
Originally launched in 2012, along with an associated mobile App that gives remote access to an excavator's control system, the DC2 system works with all excavator brands and in addition to controlling Engcon's tiltrotators it can also control an excavator's wheels and boom functions.
The App has been updated to be more intuitive to use and it can now be accessed on the latest versions of Android and other smartphones.
When installing DC2 on an excavator, all control systems need to be calibrated. Previously, this was handled by an on-site service technician, but now it can be done remotely by connecting the driver's smartphone directly to support staff.
Troubleshooting is also made easier; Engcon's support team can identify a machine fault remotely and send out a technician with the appropriate parts, if necessary. In many cases, though, the problem can be solved remotely without sending a technician.
Remote support
Tomas Wall, Product Manager at Engcon Control Systems, says, "Remote support with remote control is a smart and time-saving feature that allows a service technician to troubleshoot via the mobile network and the driver's smartphone. This provides great benefits and time savings in
The new DC2 has initially been released only for Swedish users to ensure that the new App works as expected before being released more widely.
Recognising the growing demand for tiltrotators, Caterpillar Work Tools has launched a TiltRotate System (TRS) for Cat Next Gen mini excavators, available worldwide.
The new TRS6 and TRS8 models allow attached work tools, such as buckets, forks, grapples and brooms, to rotate 360˚ and tilt 40˚ side-to-side, making it easier to reach work areas without having to move the excavator.
Two interfaces
The TRS models have two interfaces: a top interface that connects the TRS to the carrier machine, and a bottom interface that connects various work tools to the TRS.
The four configurations for the TRS6 allow the user to choose between an S-Type hydraulic-coupler or pin-on top interface, and whether to equip the TRS with an integral grapple. All TRS6 models use an S-Type hydraulic coupler for the bottom interface.
Meanwhile, the four configurations for the TRS8 model allow an S-Type coupler to be selected for both the top and bottom interfaces or a pin-on top interface and pin-grabber coupler bottom interface. There is also the option to have an integral grapple.
Smart attachments
Caterpillar has also introduced three new Cat Smart attachments – a dozer blade, grader blade and backhoe – designed to enhance the versatility of a range of D3 Series Cat skid steer loaders, compact tracked loaders, and rough-terrain loaders.
With the control systems on the new attachments, a given machine's standard controls can be adapted to match the Smart attachments' control needs.
Selecting the attachment-control mode changes the machine's standard joystick functions so that the left joystick continues to control travel, while the right joystick operates attachment functions.
Caterpillar also offers pin grabber couplers that are designed to enable operators to change tools in a matter of seconds rather than minutes.
With the recent addition of the VB and HB sizes of pin grabber couplers, there is now a coupler for every size of Cat excavator, from the 311 to the 390. Excavators of similar sizes can share attachments.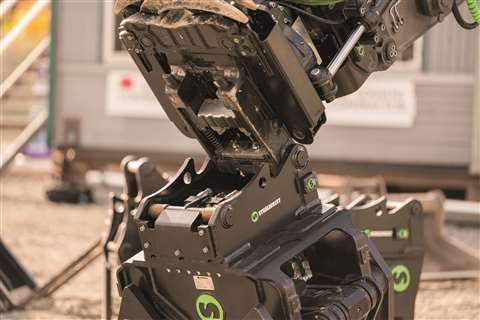 Cooperation agreement
Inmalo, a leading supplier of hydraulic excavator attachments in the UK, has signed a cooperation agreement with Steelwrist for the supply of fully automatic couplers and attachment interfaces.
Demand for fully automatic coupler systems in the UK has been growing for some time, and Inmalo will now be offering the range of quick couplers and attachment adaptors from the Steelwrist SQ product line. The SQ system is suitable for all types of excavator.
Inmalo director Charles Polak says, "We chose Steelwrist due to their leading product innovation, safety features and compatibility across the broadest range of attachments and carriers."
Steelwrist quick couplers are known for safety features such as Front Pin Lock, robust steel cast design, and allowing the customer to change hydraulic-powered work tools in seconds without leaving the cab.
Steelwrist CEO Stefan Stockhaus says, "We see rapid growth for our fully automatic coupler systems on all our markets. With Inmalo now joining the SQ fully automatic coupler train, we can give the UK demolition sector increased access to efficient solutions and great support."
The agreement includes the possibility for Inmalo to offer SQ fully automatic interface for demolition tools and Steelwrist SQ quick couplers for excavators.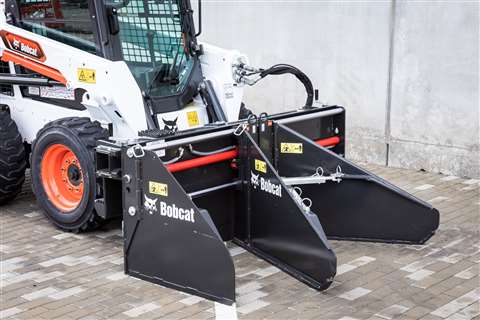 Roadwork demand
To meet increasing demand for road construction and maintenance equipment in the Europe, Middle East and Africa (EMEA) region, Bobcat has expanded its Road Products portfolio with the launch of the new Bobcat Soil and Asphalt Spreader attachment.
It is approved for use on all Bobcast skidsteer loaders from the S450 to the S850/H, all Bobcat compact tracked loaders, and the A770/H all-wheel steer loader.
Designed to save time and labour costs, the Bobcat Soil and Asphalt Spreader can be used to lay asphalt and other materials to create pavements; widen and repair existing roads; backfill, pave over and cover trenches; and lay sub-base materials.
The attachment has an offset feature that allows it to lay asphalt without the loader needing to pass over the spread material, ensuring an unblemished and smoother finish.
With an operating weight of 675kg, the Soil and Asphalt Spreader has a lightweight design that makes it easy to transport. It is also designed to be low-maintenance.
It has a standard operating width of 190cm but is also available at 196cm wide.
Allu looks to the future
Allu Innovation and Research Centre will operate as a separate corporate entity alongside other group companies, but independent from the existing manufacturing, production and general operational structure.
It will form the cornerstone of Allu's ongoing research and development programme and the company envisages that, following successful testing and fine-tuning, applicable new innovations will be incorporated into new Allu products which will subsequently be introduced to market.
The new company will be headed by Markku Jonninen, Allu Group founder and chairman of the board.
The company has also named the new Managing Director of Allu Finland. Peter Grönholm, who will join on July 1, has extensive experience in sales, marketing and supply chain management, and as a Managing Director of international organisations in Finland, the Nordic countries and the US.
He is currently Vice President, Supply Chain and Operations in Germany for Cavotec Group, a supplier of industrial equipment.
"Our strategy is for profitable growth, earnings and internationalisation," says Jonninen.
He adds, "Peter is a result and solution-focused, well-thought-off team player, in addition to which he has achieved great results with strong leadership skills. Peter's experience in international business also played a significant role in the selection."
Remote monitoring
Sandvik-owned manufacturer Rammer has launched an upgraded line of hammer attachments with built-in remote monitoring capabilities.
The company says it is the first in the industry to include the monitoring device, the RD3, which works in tandem with the Sandvik-developed 'My Fleet' telematics service.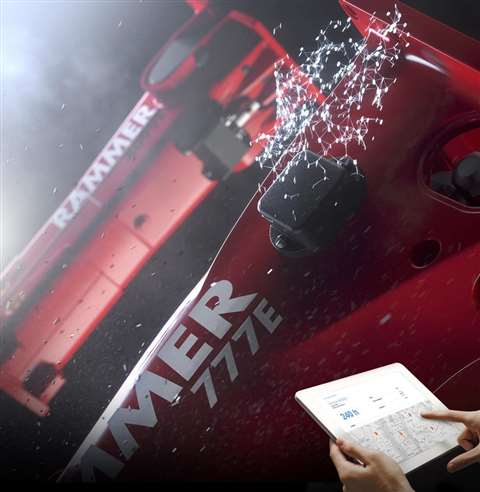 Customers can choose a flush box or surface type mounting for the RD3, depending on the attachment's housing.
Combining the data from MyFleet Telematics and data accessed through Rammer's Ramdata system, customers are given visibility of where the hammer is, when it is operating, and how much and what it is producing, as well as being able to monitor service intervals.
The total operating hours of new hammers can be monitored through the system, while an 'hour meter' system allows for more accurate invoicing for rental companies and/or contractors, as well as helping with valuations on hammers to be sold or traded.
Rammer says the combination of the RD3 monitoring device and MyFleet telematics service is set to become a key component for rental companies, allowing greater "total utilisation" of the equipment.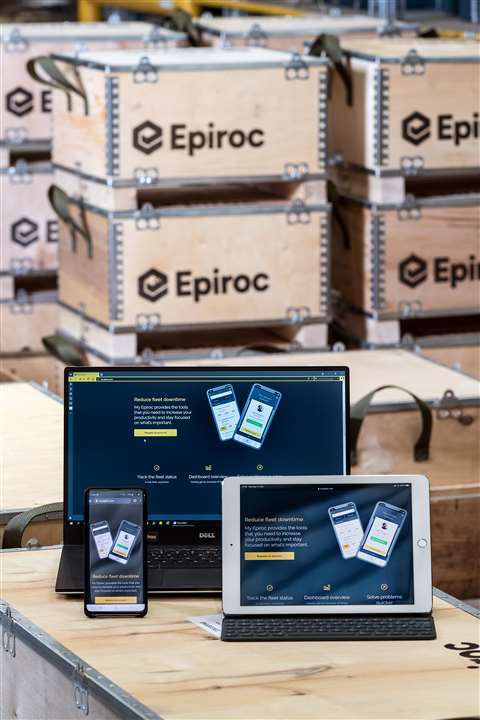 Epiroc is also offering a remote monitoring device for its premium range of breakers and drum cutters now. It is called HATCON (Hydraulic Attachment Tools Connectivity).
Available factory-mounted or as a retrofit kit, the device allows owners to keep track of the location and operating hours of their attachments. Via the cloud-based platform My Epiroc, customers are given an overview of their fleet and notifications about service and wear parts, and they can create task lists.
Torsten Ahr, Vice President Marketing Hydraulic Attachment Tools Epiroc, said, "You'll always know where your tools are, what they do, when they need service or if any tool is running more than the other – it basically keeps you ahead. And with My Epiroc, everything from scheduling services to identifying faults and finding new solutions will be much faster and easier."