Attachments: Specific and versatile tools
By Jenny Lescohier22 October 2020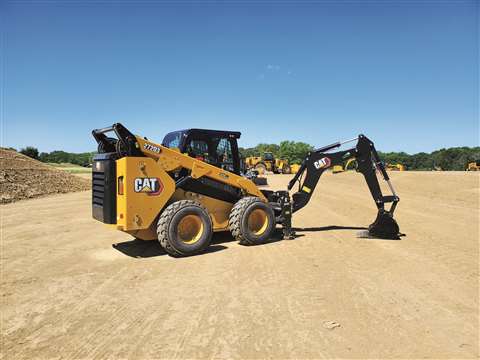 Similar to the multi-tool that some people keep in their pocket or equipment belt, equipment attachments for construction machinery are only as good as their real-world, everyday usefulness and, perhaps more importantly, the ease with which they can be employed.
Original equipment manufacturers (OEMs) are making great strides in simplifying attachment use. Many 'smart' attachments on the market today can sense the machine they're being linked to and adjust accordingly. Among other benefits, this allows one work tool to be used across a fleet of different tool carriers.
Coupler systems have improved greatly as well. Standardisation efforts began decades ago but new efforts are being made all the time to further simplify the use of attachments across carriers.
Machine recognition in today's attachments
The ability of today's attachments to intelligently know the type of carrier they're linking up with is a game changer. This is because it relieves the operator of a great deal of time-consuming guesswork and potential error.
Three new Cat SMART attachments – the Dozer Blade, Grader Blade, and Backhoe – are designed to increase the versatility of D3 Series Cat skid steer loaders, compact track loaders, and multi terrain loaders. The control systems for the new attachments allow adaption of the machine's standard controls to match the recognized SMART Attachments' control needs.
The D3 Series host machine recognises the attachment and unlocks special display screens that allow the operator to select how the blade is controlled. Selecting the attachment-control mode changes the standard joystick functions and allows the left joystick to control travel, while the right joystick operates blade functions.
The new Cat GB120 and GB124 SMART Grader Blade attachments are available for Cat D3- Series Skid Steer Loaders and Compact Track Loaders. Like the SMART Dozer Blade attachment, the D3 host machine recognizes the grader blade and unlocks special display screens that provide options for attachment control, allowing the joysticks to be repurposed to perform attachment functions.
Finally, the new Cat BH130 SMART Backhoe Attachment is compatible with Cat 3-ton excavator attachments, and its auxiliary-hydraulic system allows pairing with hydro-mechanical work tools, including hammers, thumbs, augers, and vibratory compactors. The backhoe also hydraulically shifts side-to-side to allow digging adjacent to buildings and footers, and integrated stabilisers provide a solid digging platform.
The backhoe features integrated electro-hydraulic controls, which are operated using the host machine's joysticks.
Industry standards for attachments
Open-S is a new standard for fully automatic quick couplers for excavators. Launched on 1 October 2020, it aims to allow machine operators to combine machine couplers, tiltrotators and tools from different manufacturers who are in compliance with the standard and be confident that they will be compatible with each other. Products that comply with the standard are marked 'Open-S.'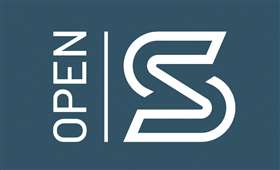 "Open standards make everyday life easier, whether it's plugs for electrical sockets, computer connectors or excavator quick couplers," states Stefan Stockhaus, CEO for Steelwrist AB. "Open-S also builds on the independent and established standard that already exists for quick couplers, the S Standard."
Together with Anders Jonsson, CEO for Rototilt Group AB, these rival companies are the initiators of Open-S.
"We believe in healthy competition, where the industry's players compete to have the best products," says Jonsson. "We don't want to lock customers into a closed interface. When customers buy a tiltrotator from Rototilt, they should feel confident that any hydraulic tool that complies with the Open-S standard will fit the tiltrotator."
The standard is based on the idea of giving freedom to end-customers to choose their preferred equipment, with reliable safety solutions, and to enable them to benefit from continued technological development.
"Because we have agreed on how to connect the products, customers can freely choose from the product portfolio from the manufacturers that comply with the standard," explains Jonsson from Rototilt. "It clearer what fits together and which warranty provisions apply."
Open-S is owned and managed by an independent organisation, Open-S Alliance, which is led by a council of engineers from the member companies, currently tiltrotator manufacturers Steelwrist and Rototilt.
"Interchangeability is the point," says Stockhaus. "Any reputable manufacturer who believes in the usefulness of a common standard is welcome. We are already in talks with more manufacturers who want to join in the Open-S standard."
Stay in your seat
Having to repeatedly climb in and out of a machine's cab throughout the regular work day is a significant cause of fatigue, which can lead to productivity losses and hazards. With this in mind, OEMs aim to mitigate this issue.
"Leaving the cab to switch out hydraulic attachments can eat up the most productive times of operators' days," notes Britta Kopp, marketing manager, attachments, Bobcat. The company make more than 80 tools for equipment such as compact loaders, compact and large excavators, compact tractors, utility products and telehandlers.
"By using the Bob-Dock attachment mounting system to quickly change out hydraulic attachments by pressing a switch, they can keep their productivity high. Operators can change most hydraulic attachments without having to step outside of the cab to remove or connect hoses."
When utilising the Bob-Dock system to connect an attachment, an operator must line up their loader with the attachment's Bob-Dock adapter plate.
The operator then presses the Power Bob-Tach switch inside the cab. The Bob-Tach system then secures the attachment, while the Bob-Dock system automatically connects the hydraulics. The attachment is then ready to use.
"The Bob-Dock attachment mounting system is made up of two primary parts: The adapter plate that is mounted to the attachment, and the patented floating coupler block that is built into the Bob-Tach element," Kopp explains. "The Bob-Dock system connects operators' auxiliary hydraulics while the Bob-Tach system secures the attachment – all with the flip of a switch."
It's cold outside
John Deere unveiled its new CP18E, CP24E and CP30E cold planers to assist operators who work on street repairs, leveling uneven pavement, texturing pavement and cleaning around larger milling machines. The new tools are compatible with John Deere skid steers and compact track loaders, as well as equipment offered by competitors.
"The E-Series cold planers are new solutions for our customers seeking more efficiency on the job by enabling all cold planer functions to be controlled from within the machine's cab," says Jessica Hill, program manager, global attachments at John Deere.
"The attachments deliver value to our customers through increased productivity and uptime, while maintaining low daily operating costs."
The cold planers are equipped with a heavy-duty planetary drive system that delivers high torque speed for the most demanding jobs. The planetary drive system is a wheel drive, which allows the operator to remove the side plate when the attachment works next to a curb, making it suitable for use in tight spaces.
Through complete in-cab controls, operators can maneuver the cold planer depth, tilt and side shift to increase overall productivity. Rear spoil clearance that reaches up to 9 inches (229mm) helps minimise material that is pushed back into the cut.
A visible case pressure reservoir was added to the three models to provide a visual indicator of high case pressure. If there is high case pressure, the reservoir will fill with oil and will give an indication to shut down the system.
Like all aspects of the construction industry, the segment of attachments is constantly evolving. This includes the attachments themselves and how they are used, the technology embedded into them and even the standardisation between different companies that is beginning to emerge.
The right tool for the job
Largest fleet of Epiroc hydraulic breakers in Indian limestone quarry
With a count of 17 tools, Birla Cements in Chittorgarh, India is home to the world´s largest fleet of Epiroc HB 10000 heavy breakers. Used
in its limestone mining operations in Western India, the breakers are said to be up and running 24 hours a day, seven days a week.
Headquartered in Kolkata, Birla Cements is part of the M.P. Birla Group, with cement production in seven locations in India. The company's limestone mining operation is located near the city of Chittogarh, which is home to the historic Chittor Fort.
Since the Chittor Fort is a UNESCO World Heritage site, no conventional mining activities are allowed within a radius of 10km. Therefore, Birla Cements opted for blast-free mining using rig-mounted heavy hydraulic breakers for primary rock excavation. For this purpose, they invested in a total of 17 Epiroc HB 10000 heavy breakers and have five HB 10000s on order.
In 2015, Birla Cements was looking for a reliable breaker which could work for 3,500 hours without major breakdowns. Epiroc introduced the company to the HB 10000, which has power generated in a single impact between piston and working tool that corresponds to a weight force of around 760 metric tons and impact frequency of up to 380 blows per minute.
To optimise the HB 10000 for the specific task of primary rock excavation, the customer discussed certain upgrades with Epiroc's design engineers. These included features like double ContiLube II for enhanced lubrication, easy-to-fix split wear bushings and modified flange seals to withstand the high temperatures.
The terrain on the mining site near Chittogarh is compact strata, with compressive strength of 100-160 megapascal (MPa). The rig-mounted hydraulic breakers work three shifts continuously with production at more than 15,000 tons per day.
Within the scope of Birla Cements' maintenance and spare parts contract, Epiroc is on hand to ensure trouble-free operation with minimum machine downtime. The contract includes repair and maintenance support, with people available 24/7 to ensure availability and maintain productivity.
Simplifying for excavation safety
QSC locking system supplied on all tiltrotators with Engcon system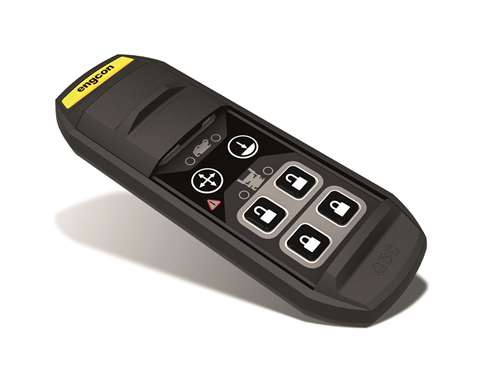 Engcon is now offering its locking system, the Quick Hitch Standard Control (QSC), as standard on all tiltrotators with Engcon's control system.
The current system for controlling the bucket lock under the tiltrotator will be replaced with Engcon's standardised locking panel, directing the driver's actions by means of an alert system to ensure correct positioning. In this way, Engcon aims to simplify the handling of the bucket lock – the hitch control function is standardised, regardless of the make and model of the excavator. This minimises the risk of dropped or swinging tools.
"We usually compare it to what if the gas and brake pedals in a car had different placements depending on what brand it is," explains Martin Engström, product manager at Engcon. "In this case, if an operator changes from one excavator to another and can operate it the same way, the risk of making mistakes with serious consequences is greatly minimised."
In addition to the standardisation of the locking procedure, it is also impossible to activate the bucket lock under the tiltrotator while the bucket is hanging in midair – a safety function that is unique to Engcon's locking solution.
"This reduces the greatest risk that a bucket or a tool is accidentally dropped when up
in the air, which can prevent both injuries and deaths," says Engström.
The QSC locking system, together with Engcon's quick hitch Q-Safe, also has an audio visual warning system with sound and light alarms if the bucket is connected incorrectly. A safety function that locks the excavator's turning movements, further increasing safety, can also be ordered as an accessory.
Bobcat's new backhoe attachment
A range of dig depths, reach and hook-up systems are available
Bobcat has launched a new generation attachment for the company's skid-steer and compact track loaders that aims to convert a Bobcat
loader into an excavator.
The new backhoe attachment is available in four configurations – the two Versatile (V) B32V and B35V models and the two Standard (S) B32S and B35S models – that offer a choice of digging depths, reach and hook-up systems.
The largest model in the range offers a maximum dig depth of 3.3m and a maximum reach of 4m. Unlike the Standard models, the Versatile versions can be equipped with additional hydraulic attachments such as augers and breakers.
"We are seeing increased demand for the backhoe attachment and have added even more versatility with the Versatile V versions," says Daniele Paciotti, product line manager, attachments, Bobcat in Europe, the Middle East and Africa.
"They have a double-acting auxiliary line that allows more attachments to be used with the backhoe attachment, including Bobcat hydraulic attachments such as augers, breakers and tilt buckets."
The new generation backhoe attachment is compatible with seven different families of Bobcat attachments, comprising over 30 different tools.