Auctions and used equipment: Second-hand news
By Sandy Guthrie02 September 2015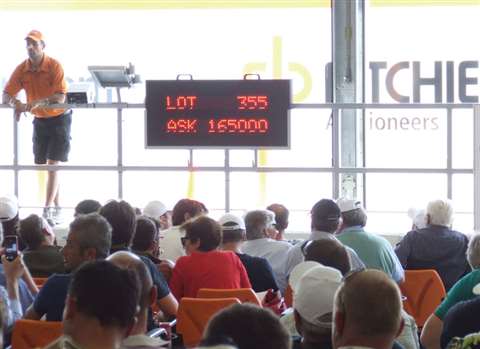 Time have changed for the used equipment market in many ways, not only in the methods of buying and selling, but also in where a machine can be sold and what a potential buyer is looking for.
As one experienced construction machinery expert put it, "Twenty years ago, you could see the market was pretty much 'I know what I need, and I know what it will cost, more or less'. Through the years you see that the decision making is changing."
There are many reasons for these changes, and he cited total cost of ownership, or lifecycle cost, as one.
"Price is no longer dominant," he said. "More dominant is how much the machine costs during its life – that's what everybody is talking about. Yes, you still need to know what you want, but now you are you going to look at the other parameters – repair and maintenance, residual value, availability, fuel."
He added, "Residual value becomes the most important parameter in total cost of ownership."
He said there was an algorithm to work out residual value, but he felt it was still a case of gazing into a crystal ball. The "age" of a machine can be worked out in two ways, he said – "for example, five years or 20,000 hours. Also, the younger the machine, the greater the impact of the hours. You don't care if a machine of nine or ten years has 10,000 hours. You do care if a machine of one and a half or two years has 10,000 hours."
Another major impact on the used machinery market has been emissions regulations. In simple terms, it is hard to sell a used machine to a lesser regulated market if the necessary fuel is not available.
The answer to this has been de-tiering kits. Volvo Construction Equipment, for example, has launched kits which allow machines fitted with European Stage IIIB-compliant engines to be de-tiered for sale as used machines in lesser regulated markets.
The modification is necessary, as diesel with very low sulphur content tends not to be available outside highly regulated markets like Europe, Japan and the US. Ultra-low sulphur diesel is essential for equipment fitted with Stage IIIB and higher emissions control systems.
Earlier this year, Caterpillar's Tier 4 dealer readiness manager Mary Roethler said that her company had started an awareness programme among dealers on emissions legislation.
She said the company has focused on how equipment with Tier 4/Stage IV engines could be operated in lesser regulated markets through de-tiering.
Last autumn, the company announced its first de-tiering kits for its engines.
The way forward
For Moriaki Kadoya, CEO and chairman of the management board at Hitachi Construction Machinery (Europe), "De-tiering is the way forward."
He said the reliability of engines was very important. "It reflects on us," he said.
The used market was hit by the world financial crisis in 2008 – along with the rest of the construction machinery market.
Nicola Nicelli, vice president of sales, Southern Europe, at Ritchie Bros Auctioneers, said, "Now we are moving in the right direction – from minus to plus.
"For Ritchie Bros, it is good when the market is at the top, or going down. The worst is when it is uncertain. Our strategy has been to diversify. Over the past few years, companies have not bought anything, but now as the economies pick up, they are looking to renew."
He added, "This year, the first quarter was good, but one semester is not enough."
He pointed out that 2007 had been huge. "We will never reach those levels again. It is a different world now."
In July, Ritchie Bros held its 15th and largest-ever auction in the UK, selling multi-million pounds worth of equipment at its site in Donington Park, Leicestershire.
The unreserved public auction also set new site records for number of bidders, at more than 900, and sellers, over 120.
Rupert Craven, sales director for UK and Ireland, said the quality and selection of equipment helped attract bidders from 50 countries.
He said, "With record attendance for this auction, we experienced competitive bidding both onsite and online. It's encouraging to see that even with the strong pound, our UK auctions continue to attract competitive bidders from across Europe and the rest of the world."
Approximately 50% of the equipment in the Donington Park auction was sold to buyers outside the UK. Online buyers purchased 40% of the equipment.
Just over a year ago, online marketplace Proxibid expanded its interests into the UK, opening an office in London.
It entered into a partnership with Moffat Group, global publisher of Resale Weekly and Farmers Resale, in conjunction with Moffat Consulting & Technology.
In the 12 months since it started in the UK, the company has grown its client base across many sectors, including used machinery and equipment. It said this was demonstrated most recently with Proxibid hosting the online bidding for Thimbleby & Shorland's Hewden August Auction. Over 275 lots were featured in the auction, which included Caterpillar and JCB equipment.
The company said this was a pattern it wanted to replicate over the coming 12 months, particularly as it continues to produce strong sales for clients in the used plant and equipment sector.
Ryan Downs, president and CEO of Proxibid, said, "Used plant and construction equipment sales have experienced a boom in the US and the UK, due to the fact that during the recession, manufacturers produced less new equipment.
"Now, as the economy continues to grow, so too does demand for high quality equipment, and the result is that the used equipment market is reaping the benefit."
The company offered more than $1.7 billion (€1.52 billion) worth of inventory, including heavy trucks, plant and construction equipment through its Marketplace in 2014, and Downs said he believed much of Proxibid's success was down to its approach to online security which he said benefited buyers and sellers alike.
"What makes Proxibid unique is our comprehensive risk management system. It monitors the Marketplace for fraud 24/7, and ensures only credible sellers gain access.
"All buyers are vetted by our own bank-quality risk mitigation tool before participating in a sale, and our payment solution ensures all Proxibid-powered transactions are secure, making us one of the safest places to transact online."
At the end of last year, online used heavy equipment marketplace IronPlanet announced a merger with Cat Auction Services – an alliance of Caterpillar and several of its independent Cat dealers.
Gregory Owens, IronPlanet chairman and CEO, said then, "The power of IronPlanet's technology, multiple marketplace formats and global buyer base coupled with Cat Auction Services' live, onsite auction format and deep equipment expertise will provide the most powerful and complete suite of auction remarketing tools in the industry."
Gary Trettel, Cat Auction Services, president and CEO, said, "The live auction format from Cat Auction Services, along with IronPlanet's online marketplaces, will give our customers the innovative solutions they are looking for to meet their inventory management requirements."
Customer base
IronPlanet said it had over a million registered users, while Cat Auction Services – which was started in 2008 to give Cat dealers another distribution channel for used equipment sales – had a strong customer base.
The companies said they would offer live and online auctions backed by a full range of support services to provide a better, more flexible customer experience.
This summer, IronPlanet hosted its first online auction of European-based surplus US military equipment from the US Defence Logistics Agency (DLA) at an auction that drew over 40,000 visitors from when the bidding opened to the close of the last item on the final day. It was attended by registered users from 115 countries.
The equipment included trucks, trailers, forklifts, construction and agricultural equipment, and more.
Jeff Holmes, IronPlanet's vice president of government solutions, said, "Considering this was our first auction for DLA equipment out of Europe, the results are great and the demand for this equipment surpassed our expectations. We look forward to offering more government surplus equipment to satisfy this demand further in future auctions."
Also in the UK, Euro Auctions held what it believed was the largest one-owner sale in the UK so far this year, for Ashtead Plant Hire (A-Plant). It sold over 800 lots at its site in Leeds, West Yorkshire, with customers bidding from over 40 worldwide countries.
Euro Auctions said that with plant and machinery now seen as a global commodity, and with the worldwide reach that Euro Auctions had, the sale attracted international attention with over 33% of the bidding activity online.
The company has acquired a new permanent auction site in Zaragoza, Spain, which saw its first auction earlier this year.
Sector and company specific ways of buying use equipment are being introduced all the time.
Last year, for example, Volvo Construction Equipment introduced an app which was designed to give customers instant access to the entire stock of its used equipment.
The app – for the EMEA (Europe, Middle East and Africa) region – is available for free download from the AppStore, and contains details of all used equipment available.
Also, Terex Trucks has partnered with Machinery Trader to develop a hosted used trucks website which enables dealers to upload and advertise pre-owned trucks and construction equipment.
Features on the website include an equipment search function, a dealer locator and a tool to receive free shipping and financing quotes. Dealers are able to upload product images, descriptions and specifications, and can be contacted using a secure online contact form.
Italian auction
The international nature of the construction machinery auction business can be illustrated by figures from Ritchie Bros' auction at its Caorso, Italy, site in May, which attracted more than 1,300 registered bidders, including 680 online bidders, from 69 countries.
There were over 460 buyers – of which more than 90 were online – and 210 sellers.
The fact that 1,640 lots were sold gives some indication of the speed of the process. Of those, 43% went to online bidders.
There is a sense of theatre, as the bid catchers at the front drum up and take the bids, and the auctioneers' high-speed patter gives the occasion an almost surreal feeling.
Outside, a small army of drivers bring the machines from the waiting area and move them one by one across in front of the potential buyers. A basic price goes up on the screens, and it is lowered until the first bid. Then it starts to rise. At the same time, virtual bid catchers are at the head office in Breda, the Netherlands, linked to the auction.
As the online bids are made, the catchers at the site and in Breda bring them to the attention of whichever of the band of auctioneers is in his booth to the side of the building.
Nicola Nicelli, vice president for sales, Southern Europe, said that there were some 45 Ritchie Bros auction sites around the world.
"Caorso is a medium sized one," he said. "Of the machines for sale here today, 80 to 90% of them are Italian, and 100% of them will be sold.
"We have a reputation for our knowledge of the market. We can produce customers, and so it is not a gamble for the seller."
He added that it was about trust between the company and the buyer. "They can buy with confidence."
He said Ritchie Bros had the best model. "We have no reserve price. In my opinion, reserves kill the auction."
In 2014, a total of US$4.2 billion (€3.8 billion) worth of equipment was sold at Ritchie Bros, including US$1.8 billion (€1.6 billion) in online sales.
Ritchie said that online bidding made it easier for the buyer to join, but ultimately it benefited sellers too as having on-site and online bidders under one roof expanded the reach further and intensified bidding activity.
It said that online bidders won on approximately 50% of the items sold at its auctions globally. Often people that bid online have inspected the items they are interested in before the auction day – or they have arranged an inspection by a local mechanic or technician.
The principle of online bidding is similar to bidding in person at the auction site, as bidders hear the auctioneer and see the asking prices on the bidding interface.
When a bid is made, it goes instantly into the system and instead of the bid catcher standing at the front, a clerk in Breda will be shouting "yup" to the auctioneer at the auction location so he will know there is an online bid.
Auctioneers
Ritchie has a travelling team of auctioneers, and one of them, Greg Rollo, admitted that you had to be a certain type to be able to do the job. "I'm a specialist at making it as seamless as possible," he said. "I've been an auctioneer for 35 years, and with Ritchie Bros for seventeen or eighteen years." The travelling auctioneers cover everywhere except the
US. Bid catchers at the front work on a section of the audience, cajoling bids and shouting "yup" when one is indicated. The auctioneer, placed in a booth to the side and with a non-stop delivery, responds to this, and the screens at the front show the latest bid.
"Lots are unreserved," said Rollo. "It's transparent – it's a neat system that works well. We focus the world on one item. It's a powerful tool, and there is nothing like it." The auctioneers spend a relatively short, but adrenalin-filled, spell in the box before being replaced by a colleague for a rest.