Autonomous forklifts from Hyundai
By Andy Brown16 April 2019
Hyundai Construction Equipment (HCE) has become the first Korean-based company to develop driverless autonomous forklift trucks.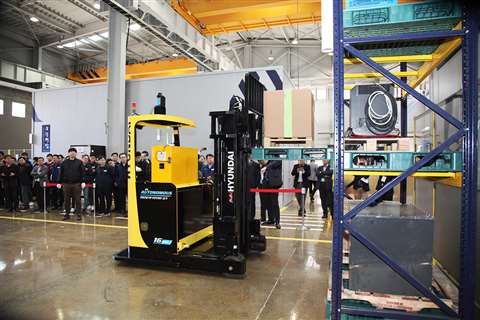 HCE recently held a product launching event where it unveiled and demonstrated its newly developed autonomous forklift, as well as related technologies.
According to the company, the autonomous forklift can determine optimal routes and can be remotely controlled using a routing control system HCE developed along with it.
It also has a vehicle control system that features 2D safety laser scanners that can perceive the surroundings of the vehicle and detect obstacles in the direction of the vehicle path to prevent contact with them.
Autonomous forklifts are said to speed up productivity and logistical process and reduce the risk of accidents on industrial spaces when they move along the planned path.
"As the market environment increasingly requires improved operational efficiency, automated and unmanned solutions for logistics processes are attracting a growing level of attention and demand," said an official of HCE.
According to US research and consulting company MarketsandMarkets' recent report, the global market for automated guided vehicles (AGVs), including autonomous forklifts, is estimated to grow from US$1.86 billion in 2018 to US$2.74 billion by 2023.