Despe
Country Italy
Project Alto Tower Paris
Client Bouygues Batiment Ile de France
The decontruction of this 15-storey high tower took place in an almost surreal context. Despe was right in the heart of Paris, in the city's financial and commercial district. The Tour Alto which had to be deconstructed to make room for a new, higher and more modern tower, had another building attached to it. In front was the Melia hotel. Despe could not close any of the roads because it was in the hub of the city, the building site was non-existent and the client gave a very short deadline to finish the job.
Erith Contractors
Country United Kingdom
Project 4-6 Stanhope Gate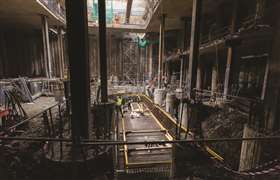 Client Clivedale
Erith undertook a hybrid top down bottom up basement Installation as the principal contractor on behalf of Clivedale Ventures in the heart of London's Mayfair adjacent to the Dorchester Apartments in Stanhope Gate.
Owing to the sensitive nature and location of the project, Erith produced construction methodologies that would allow for the most efficient programme and logistics.
Mainline Demolition and Georgiou Group
Country Australia
Project Old Mandurah Traffic Bridge Replacement
Client Main Roads WA and City of Mandurah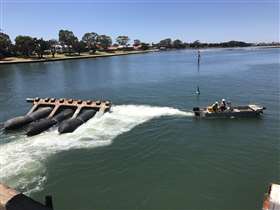 The Old Mandurah Bridge demolition, a 192 m (630 ft) 23-span structure, offered a multiple challenge opportunity for Mainline and Georgiou to harness experience and innovation, applied in a live waterway environment.
The aged condition of the structure, the rapid, variable tidal flows of the estuary, the live traffic and active inner urban shorelines presented many operational challenges.
Priestly Demolition
Country Canada
Project Morningside Bridge
Client Toronto Zenith Construction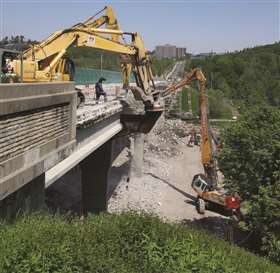 Toronto Zenith contracted Priestly to remove the Morningside Bridge in Toronto over two phases. The bridge is six spans, four spans of 30.48 m (100 ft), and two spans of 25.91 m (85 ft). The bridge averages more than 30 m above the ground and river below.
Demolition & Recycling International wishes to thank all the awards judges for their time and effort analysing this year's entries. Look out for a feature on them in the September-October issue of D&Ri
The World Demolition Awards are part of the World Demolition Summit, which is organised in cooperation with the European Demolition Association and with the support of the National Demolition Association of the USA. Headline sponsor is Volvo Construction Equipment.
The awards ceremony takes place at the Aviva Stadium in Dublin, Ireland on Thursday 8 November. For more details please visit www.demolitionsummit.com