Awards shortlist: Collaboration
Ginlee Construction, MCD-MTC Joint Venture
Country Singapore
Project Demolition of South Crystal Pavilion, Marina Bay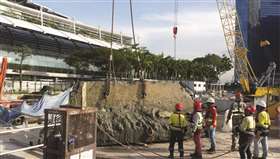 The South Crystal Pavilion was especially challenging as the building was a standalone structure connected to the basement of the Marina Bay Sands retail plaza.
Ginlee's entry shows how risks were managed during underwater demolition for submerged structures and how proximity, connectivity and huge structures posed a challenge to the demolition works.
Kiewit/Manson, Caltrans, Bluegrass Concrete Cutting, Contract Drilling & Blasting, Silverado Contractors, Environmental Science Associates, Ventura Consulting Group
Country USA
Project San Francisco to Oakland Bay Bridge East Span Removal
In April 2016, Caltrans awarded the Phase 2 contract for removal of foundations at Piers E4 through to E18 of the original San Francisco-Oakland Bay Bridge to Kiewit/Manson, a joint venture. The scope included demolition of 15 in-water reinforced-concrete foundations, using a combination of mechanical methods and blasting. The work was contracted to take place over three years within numerous imposed environmental schedule restrictions.
McMahon Services, Flinders Power, Precision Demolition
Country Australia
Project Augusta Power Stations Decommissioning and Ash Storage Area Rehabilitation Project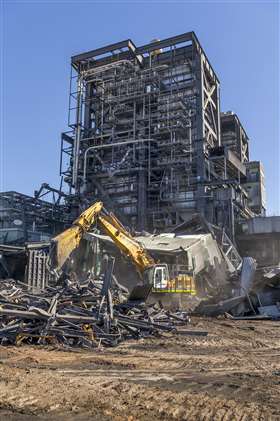 From 1954 the 850MW Augusta Power Stations provided reliable generation to the South Australian and National Electricity Market. On May 9, 2016 Augusta Power Station ceased generating power because the stations were no longer competitive in the market, which had seen a dramatic increase in renewables.
Before the closure, Flinders Power, a division of Alinta Energy responsible for operating Augusta Power Stations, undertook a lengthy process of planning and delivery of the decommissioning and rehabilitation works.
Priestly Demolition
Country Canada
Project Providence Care Hospital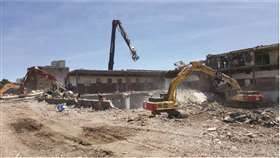 Priestly said that this project was a success for all involved due to communication. Each day, its team leaders, sub-trades, client representatives, and consultants would meet for a 15-minute discussion regarding progress, issues, achievements, and resolutions to any problems.
This allowed the company to be proactive during this project, rather than reactive.
Demolition & Recycling International wishes to thank all the awards judges for their time and effort analysing this year's entries. Look out for a feature on them in the September-October issue of D&Ri
The World Demolition Awards are part of the World Demolition Summit, which is organised in cooperation with the European Demolition Association and with the support of the National Demolition Association of the USA. Headline sponsor is Volvo Construction Equipment.
The awards ceremony takes place at the Aviva Stadium in Dublin, Ireland on Thursday 8 November. For more details please visit www.demolitionsummit.com