Awards shortlist: Contract under $1m
Delta Group
Country Australia
Project Gold Coast Monorail
Client Probuild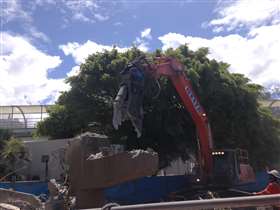 In preparation for the 2018 Commonwealth Games on Australia's Gold Coast, a decision was made to demolish the iconic 30-year-old Monorail and to make way for a A$1 billion (US$720 million) expansion of Jupiter's Casino.
In total, Delta deployed a workforce of up to 10 labourers over two shifts at peak to complete its work on time and on budget.
Despe
Country Italy
Project Apple Store – Apple Cinema Milan
Client Siceprevit – Apple
Apple was about to complete the construction of its new megastore in the heart of Milan, not far from the Duomo, in one of the most famous commercial areas of the world. The construction company called Despe to demolish the five theatres of the Apollo cinema located 15 m (49 ft) below ground, without making any undue noise, vibration or dust and making sure not to disturb the shops and commercial activities all around the piazza below which the cinema had been built.
Priestly Demolition
Country Canada
Project Port Bruce Bridge Emergency Collapse
Client County of Elgin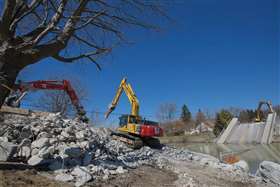 Fast moving floodwaters caused the collapse of the Imperial Road Bridge over Catfish Creek in Port Bruce, taking an unsuspecting tow truck driver crossing the bridge down with it into the fast-moving waters below. Once the truck and driver were removed to safety and the dust settled, it was clear the removal of the collapsed bridge was going to be environmentally sensitive, dangerous, and complicated.
TCE Contracting
Country Australia
Project Burwood Lighthouse Basement Car Park Removal
Client Alliance Project Group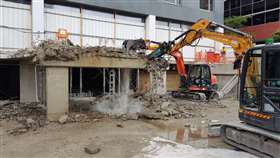 TCE Contracting was engaged to demolish an existing three-level basement car park of 600 sq m (6,500 sq ft) surrounded by and attached to mid-rise commercial and residential buildings and adjacent to busy roadway and pedestrian pavements.
The project was both challenging and rewarding, the company was tested and through effective consultative planning and rigid inspection regimes it achieved its goals.
Demolition & Recycling International wishes to thank all the awards judges for their time and effort analysing this year's entries. Look out for a feature on them in the September-October issue of D&Ri
The World Demolition Awards are part of the World Demolition Summit, which is organised in cooperation with the European Demolition Association and with the support of the National Demolition Association of the USA. Headline sponsor is Volvo Construction Equipment.
The awards ceremony takes place at the Aviva Stadium in Dublin, Ireland on Thursday 8 November. For more details please visit www.demolitionsummit.com