Awards shortlists - Safety and Training
Today we are announcing the shortlists for the World Demolition Awards.
We have now reached the Safety and Training category shortlist.
Congratulations to: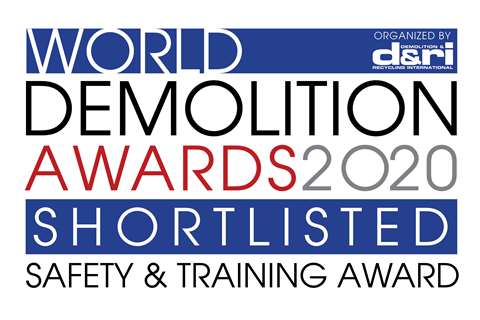 Brandenburg Industrial Service Co (USA) – which successfully completed the Challenge pilot programme executed by the Occupational Safety and Health Administration
Budget Demolition (Canada) – which achieved Certificate of Recognition health and safety accreditation after a five-year overhaul of its entire safety programme
Demoliciones Mitre (Argentina) – which gained B Corporation certification for its social and environmental performance
Priestly Demolition (Canada) – which achieved a Certificate of Recognition in Ontario in 2020 and has started bringing safety and training programmes in house for increased flexibility.
The World Demolition Awards take place on Thursday 12 November and are organised by Demolition & Recycling International in co-operation with the European Demolition Association and the National Demolition Association of the USA.
The headline sponsor is Volvo Construction Equipment.
To register for the World Demolition Summit please visit https://www.demolitionsummit.com/