Backhoe loader... and tractor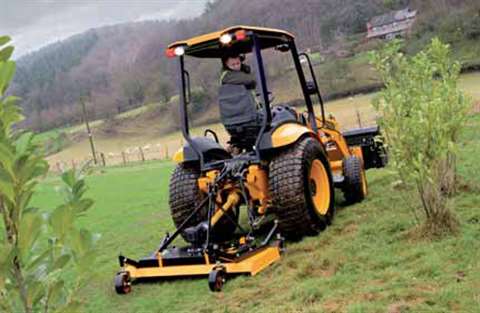 JCB says that one of the problems with industrial tractors is that they tend to be based on agricultural machines. Its new Midi CX model however has been designed for the rigours of construction work, and draws on the company's long experience in backhoe loaders.
Indeed, the machine is positioned in its backhoe range between the 1CX and 2CX models, and comes with a rear-mounted excavator arm. What is unusual – to European eyes at least – is that the backhoe is demountable, allowing the Midi CX to function as a simple tractor with just a front loader bucket. The decoupling process takes two minutes, and requires only one person.
The parallels with a tractor continue at the rear, with the option of a power take-off (PTO) allowing the use of a range of different attachments and tools once the excavator arm has been removed. This comes with a 'creep speed' function, which allows the PTO speed to be set independently of the machine's travel speed.
In addition to this, the Midi CX is compatible with attachments developed for other JCB machines of a similar size – its 2CX backhoe loader, 803 mini excavator and Robot range of skid steer loaders. As well as buckets, forks and breakers, these include tools such as augers, box scrapers, mowers, flails and hedge trimmers.
Weighing in at 4 tonnes, the Midi CX is powered by a 38 kW engine, driving all four wheels and delivering a top speed of 26 km/h.
The European version will be launched later in the year with joystick controls for the backhoe end as standard and the choice of a cab or canopy.
Bauma Launches
The Midi CX will be on show at Bauma later this month, alongside the new excavators, skid steer loaders, compact tracked loaders and a tandem roller featured in the extensive Show Guide in last month's CE.
In addition to these, the company will be showing a prototype compact telescopic handler, the 515-40, rated at 2 tonnes lift capacity and boasting a 4 m lift height (at which the maximum load is 1,5 tonnes).
The 403 and 404 meanwhile are new articulated compact wheeled loaders, with 28 kW and 35 kW engines respectively. The 403 has a top travel speed of 15 km/h, and a maximum dump height of 2,18 m. The 440 is faster with its 20 km/h top speed and provides a slightly higher dump height at 2,37 m.
Finally, in the mini excavator segment, JCB is launching the 8020 to compete in the popular 2 tonne class. It offers a 2,4 m dig depth and 2,75 m dump height and is a reduced-rather than zero-tailswing design.