Badin moves to Raimondi
By Alex Dahm04 February 2019
Tower crane manufacturer Raimondi Cranes in Italy has hired Cristian Badin as sales director.
Cristian Badin is responsible for developing new Raimondi distribution contracts, sourcing new clients, and the co-ordination of area managers and agents. His ten years of experience in tower cranes includes time at Terex Cranes. Badin reports to Mauro Masetti, Raimondi chief commercial officer.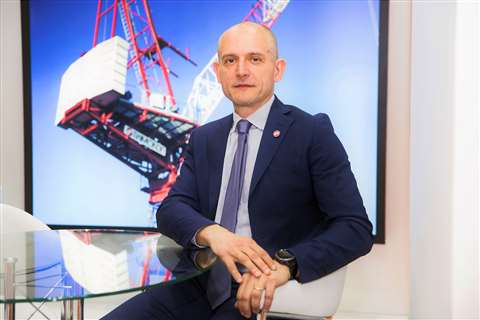 Masetti commented, "Cristian, with more than a decade of sales and business development experience in the tower cranes segment, is a hands-on, solution-orientated heavy lifting professional. I have worked closely with him for a number of years, and throughout that time I have noted his ability to carefully address client needs with practical and effective machine solutions."
Commenting on his move, Badin said, "Over the course of my career in tower cranes, there are words that I naturally associated with Raimondi Cranes: reliability, history, pride, and passion. Seeing the company's products perform has helped to nurture a strong respect for the brand, together with its recent innovations in design and engineering. When I realised it was time for me to move forward professionally, Raimondi was the instinctive evolution that I saw would best allow me to grow while drawing on my existing strengths."
Raimondi has enjoyed a period of rapid expansion and Masetti said Raimondi is looking for agents in Scandinavia, Netherlands and Belgium, plus Northern Germany and Eastern Europe, including Poland, Romania, Hungary, and the Czech Republic.
On product development, Masetti commented, "We are forging forward with three new product releases this year as well as confirming a number of on-ground activations that we expect to see remarkable results from, and Cristian will play an integral role in our goals for these measures."
The new luffing jib models will appeal to users in South Korea, United Kingdom, Canada and Middle East, among others, Masetti said. On the other new model, Masetti said, "We anticipate that our new topless tower will generate sales in Scandinavia, Germany, the United States, Canada, and Australia, again based on early discussions with our customers."