Balfour Beatty lands €217 million London project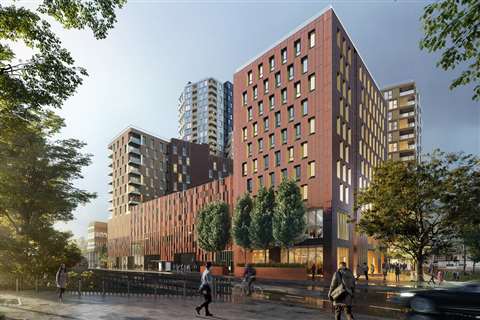 UK-based contractor Balfour Beatty has been awarded a €217 million contract on the Lewisham Gateway regeneration project in London.
The company will undertake the construction work on four mixed-use buildings, including 530 rental homes, 119 co-living units, a cinema, gym and office facilities, as well as retail and restaurant areas.
Overall, the Lewisham Gateway project will deliver up to 900 new homes.
Mechanical and engineering work on the site will be carried out by Balfour Beatty Kilpatrick, with piling works the responsibility of Balfour Beatty Ground Engineering.
The contract also calls for Balfour Beatty to establish green spaces, which will be accessible to the general public.
The company says it is committed to '25 by 2025', meaning it aims to reduce the level of its onsite construction work by 25%. In the case of the Lewisham Gateway, it will utilise modular construction techniques throughout, including the installation of prefabricated bathroom pods.
Graham Hill, managing director of Balfour Beatty's UK Construction Services business in London, said, "Our ability to offer a fully integrated solution for our customers, from ground engineering expertise and M&E capabilities through to main works construction will significantly contribute to the regeneration of Lewisham Gateway, leaving a lasting-legacy for years to come.
"All works will be delivered strictly adhering to Balfour Beatty's COVID-19 Site Operating Procedures, which are fully aligned to the latest UK Government guidelines to ensure the continued health, safety and wellbeing of all those who work for and with the company."