BAM reopens in UK and offers Euro update
By Mike Hayes01 April 2020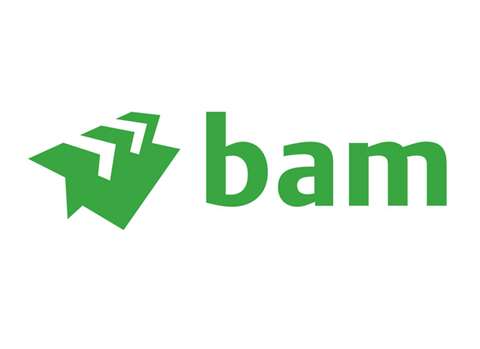 Dutch construction firm Royal BAM Group said it will restart work at a number of UK sites and has given an update on its sites elsewhere in Europe.
In the UK, this week, after a 48 hours 'pause', BAM Construct UK restarted work at some sites across the country following checks and agreements with project teams, clients and supply chain.
This includes existing projects critical to the national Covid-19 effort and the start on new projects to build emergency Covid-19 wards. The closed sites are predominantly in Scotland, London and the Midlands.
In the Netherlands and Germany, the majority of BAM's sites are still operating, although at a lower productivity level and with constraints on supplies and deliveries.
In Belgium, BAM's operating companies closed down most of their construction sites from 18 March to comply with government guidelines. These guidelines have now been extended to 19 April.
Work in the Republic of Ireland stopped on Monday at the request of the government. BAM said it was working with clients, fellow construction companies and trade organisation CIF to determine the impact this on the construction industry.
Frans den Houter, CFO and chair of BAM Group's the Executive Committee, said: 'Based on our solid backlog, and as long as it's safe and permitted, we do what we can to keep operations going to ensure business continuity, in the interest of our clients and society at large.
"Nevertheless, it is inevitable that our revenues and results will be materially impacted. We would like to thank all stakeholders for their ongoing commitment, support and adaptability during these fast changing and challenging times, especially on our sites and in our facility management business. This reinforces our confidence in the resilience of our Group."
BAM Construct UK Chief Executive James Wimpenny said: "Buildings are central to people's lives, and at this time they are also central to saving people's lives. These are the most extraordinary and concerning times for us all. We are all in this together, working hard to save lives and livelihoods. I want to thank everyone at BAM for everything they are doing to keep themselves and their families safe, and for responding so well to rapidly changing circumstances."
BAM said it was constantly monitoring the UK Government's guidelines for health and safety and would only open non-critical sites when it was safe to do so.
Responding to the pandemic, BAM announced it will be implementing a programme designed to reduce its costs and capital expenditure. The €0.02 per share dividend for shareholders has also been withdrawn from the agenda of the company's annual general meeting.