Banking on Liebherr construction crane in Frankfurt
By Ian Vallely07 December 2016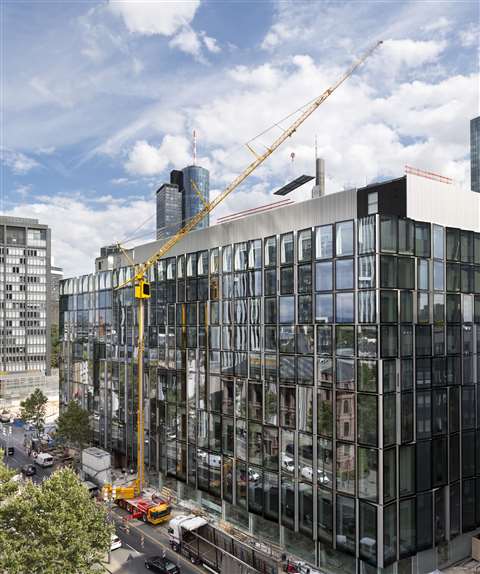 The Liebherr MK 140 mobile construction crane operated by Wiesbauer GmbH & Co was recently involved in roofing work in Frankfurt's banking area. The area did not have to be cordoned off completely thanks to the crane's small footprint.
An office building with three lower and nine upper storeys is under construction in Frankfurt City Centre. A Liebherr MK 140 mobile construction crane was first used on this site in July to hoist steel girders in and out. The MK 140 completed two more multi-day jobs on the site in August and September to move roofing materials such as gratings.
The main benefits of the MK 140 were already demonstrated whilst the crane was being assembled – its small footprint meant that the mobile construction crane could be assembled at a distance of just 9.5 m from the building. That meant that only half the road had to be cordoned off. Another feature is that the new automatic setup status detection system means that incorrect entries by the crane driver during the configuration process are not possible. That ensures greater safety on site.
The new VarioJib concept has two modes for operating the Liebherr MK 140 mobile construction crane – standard trolley mode and luffing mode. In Frankfurt, the MK 140's jib was set at an angle of 45 degrees and used in trolley mode – in this configuration the lifting capacity at the jib head with a maximum radius of 58.5 metres is 1.9 tonnes. A radius of 40 m was required to hoist the roofing material weighing up to 1.8 tonnes onto the 50 m high office building in Frankfurt.