Barin heads to India
By Leila Steed24 May 2019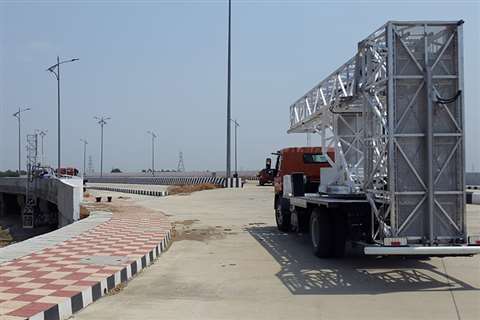 Two new Barin ABC 85/L underbridge inspection platforms are operating in India.
Barin dealer Complete Instrumentation Solution negotiated the order for the privately commissioned units, which have a gross vehicle weight of 9.5 tonnes and a maximum capacity of 350km.
Barin said the units have a horizontal outreach underbridge of 8.5 metres and a maximum vertical depth underbridge of 5.4 metres.
Like all the company's products, the ABC 85/L machines take up just one road lane in both the transport and work configurations, which allows traffic to continue to flow on other lanes.
Manufactured in Italy and assembled onto 2-axled Bharat Benz truck chassis in India, the underbridge inspection units have a bridge barrier and sidewalk clearance of 2 metres.