Battery manufacturer Northvolt to build $5bn gigafactory in Canada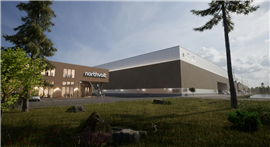 Swedish battery manufacturer Northvolt has revealed plans to build a US$5 billion (CAN$7 billion) lithium-ion battery gigafactory outside Montreal in the Canadian province of Quebec.
The factory, called Northvolt Six, will eventually be able to produce 60 GWh of cell manufacturing capacity annually, with adjacent facilities for cathode active material production and battery recycling which it said would allow circular production at the site.
Construction of the first 30 GWh phase of the project on the site in McMasterville and Saint-Basile-le-Grand is due to commence before the end of 2023. The first operations are set to begin in 2026.
This initial phase of cathode and cell manufacturing, coupled with recycling, is expected to require a total investment of 5 billion USD (7 billion CAD) and employ up to 3,000 people.