Bauma last minute news
By Alex Dahm01 April 2019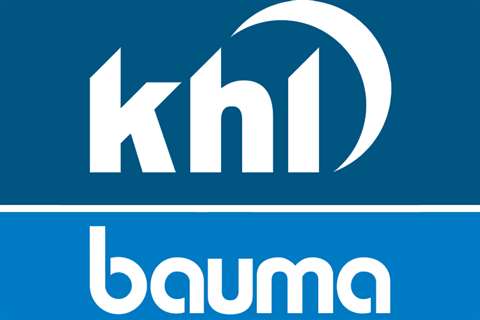 Last month's show guide focused on new cranes and specialized transport equipment to be seen for the first time at Bauma 2019. This month there is news of cranes and transport equipment announced in the interim and also a focus on new components, accessories and services with application in the lifting and transport sector.
You can expect to see even more as-yet unannounced new cranes, transport equipment, components and services at the event itself in Munich, Germany, from 8 to 14 April 2019. In the meantime, however, here is a final roundup of what's new.
Many of the 5,500 exhibitors at this year's Bauma exhibition will be manufacturers and suppliers of components, accessories, peripheral systems and services. In addition to new crane information, look out below for details of components, including engines, advanced technology and electronics.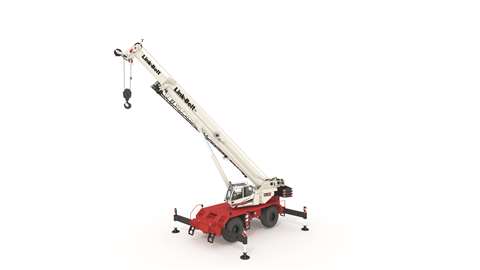 A new crane announced since the March issue show guide is the 110 tonne capacity Link-Belt 120|RT rough terrain crane. It has a six-section 11.6 to 50 metre pin-and-latch formed boom built at Link-Belt's factory in Kentucky, USA. Extending its reach is a two-piece 10.7 to 17.7 m offsettable fly jib carried onboard. It can be manually offset to 15, 30 and 45 degrees. Adding a pair of 4.9 m lattice inserts gives a maximum tip height of 79.8 m.
Power is from a 173 kW Cummins Stage V QSB 6.7L diesel. The 120|RT can also be specified with a 179 kW Tier III Cummins QSB 6.7L. Both drive via a six-speed transmission. It also has the manufacturer's Variable Confined Area Lifting Capacities (V-CALC) system with 81 outrigger configurations and real-time 360-degree charts. With the outriggers set, the Pulse 2.0 system indicates available capacity.
Crane manufacturer Tadano, based in Lauf, Germany, has revealed further details of its Bauma launches in that there will be new 4-axle and 5-axle all terrain cranes. Both will comply with the latest engine exhaust emissions standard, Euromot 5, and are two-engine designs. The manufacturer says it provides optimum capacity utilisation of the engines at any given moment. The two new models share what Tadano describes as a practically identical modular superstructure concept.
German crane manufacturer Böcker, known for its truck mounted models with aluminium telescopic booms, will show a new version with electric drive. The AK 46/6000 will have a 32 kW electric drive. It can be mounted on an 18 or 26 tonne truck. An electric motor is fitted as an addition to the PTO auxiliary drive.
Power on site is from a 400 V a three-phase (63 or 32 A) supply. Crane operation produces little noise and no exhaust emissions. It lifts loads up to 6 tonnes and reaches 44 m. At 26 m outreach the capacity is 1,000 kg. An hydraulically extendable jib is also available. Several crane functions can be carried out simultaneously, for example, rotating and extending the mast during the lifting operation.
In the absence of site power the crane can be run from the truck engine with its attendant on-road standard of exhaust emission control.
Electric drives are also available for other Böcker cranes, including the smaller AK 42/4000, the crawler mounted RK 36/2400, plus the AHK 36 and AHK 30/1500 KS trailer cranes. The RK 36/2400 extends to 36 m and lifts a maximum of 2,400 kg. With a 250 kg load, the maximum outreach is 23 m.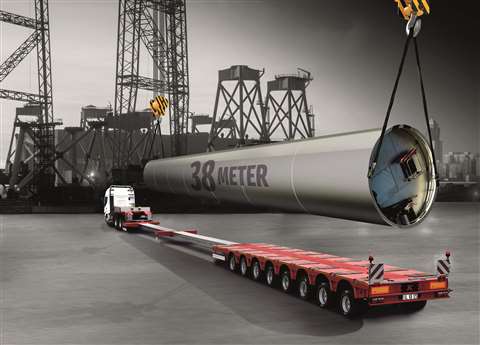 New from transport equipment manufacturer Kässbohrer in Germany is the K.SLH series of low bed trailers with hydraulic steering axles and remote control. It was introduced at the beginning of 2019.
Versions are available with 5, 6 or 8 axles and they are designed for manoeuvrability and flexibility under tough road and working conditions. It was developed for the special haulage industry in the fields of manufacturing and construction.
The extendable 6 axle K.SLH 6 has a 102 tonne transport capacity. It is designed for all types of heavy-duty transportation, the manufacturer said. Capacity on the gooseneck is 30 tonnes and extension is possible up to 17.5 metres, thanks to a double extension. As an eight axle version, the K.SLH 8 is designed with 36 ton gooseneck capacity and an hydraulic suspension system to help secure correct load distribution.
One of the three tower cranes on show from manufacturer Raimondi will be the new LRH174 hydraulic luffer. The 10 tonne capacity model has a tip load of 2.23 tonnes on two falls of rope and in Ultra-lift mode. On a single fall, capacity is 5 tonnes and the tip load is 2.48 tonnes. Out of service radius is 10 metres. Hydraulically luffing the jib to 85 degrees takes 108 seconds.
Industrial lifting and hoists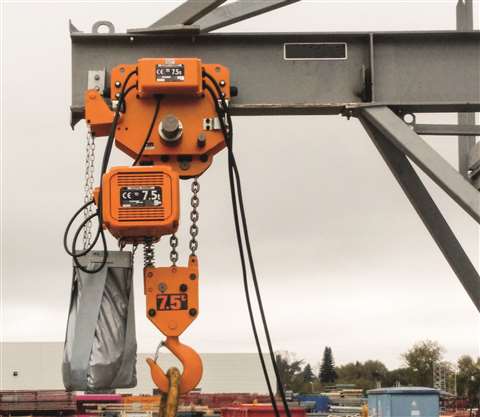 First time Bauma exhibitor Kito will introduce its industrial lifting and hoist ranges to the construction industry. Manual hoists and electric chain hoists will be the focus from this Japanese manufacturer. Examples on show include the ergonomically designed and compact: Kito LB and LX series lever hoists. LB is particularly suitable for heavy pulling, lifting and tensioning applications, Kito said, due to a robust design with a universal freewheel function. Capacities up to 9 tonnes can be specified. The LX series lever hoists are lighter and more compact for lifting, pulling and positioning loads up to 500 kg.
Power
In the engine market it is all about models to comply with the latest Stage V European exhaust emission standard. Caterpillar's range of industrial engines meeting the standard include the C2.2, C3.6 and C4.4, as well as the new C13B industrial power unit and the C27.
Manufacturer Cummins says it will debut Stage 5 engines with more power and torque, are less complex and easier to install, and require less servicing. The B6.7 engine on show offers 30 % higher torque than the Stage 4 version with 243 kW (326 hp) of power, enabling it to replace an engine of higher displacement with no impact on machine operation, says Cummins.
Also featured will be the Stage 5 F3.8 ready-made power package. It comprises an engine, single module after treatment, radiator and cooling system, plus accessories; including mounting feet, hoses and an air cleaner. EU Stage 5 engines and power units are available from 75 to 503 kW (100–675 hp).
The industrial Stage V line up from John Deere offers ratings from 36 kW to more than 500 kW with displacements of 2.9 litres through to 13.6 litres. Deere's Stage V after treatment technology is designed to offer flexibility in installation, and several offer reduced packaging and lower weight than the Stage IV models.
Among many engine developments from German manufacturer Deutz, in 2019 it will also add to its higher output range, with four new in-line engines of between 9 and 18 litres capacity. Another highlight will be a hydrogen-fuelled version of the TCD 7.8. The company said that adapting the traditional combustion engine so it could use alternative fuels, including hydrogen, as a sustainable energy source was another promising area of its current research.
As with all the other engine manufacturers, FPT industrial is also working on alternative fuels, electric and hybrid technology. An example is its Cursor X, described as a 4.0 power source concept. was developed with sister company CNH's Industrial Design Centre. Cursor X can run on natural gas internal combustion, hydrogen fuel cell electricity generation, or on battery-stored energy. It allows combinations ranging from pure electric to parallel and serial hybrid.
In addition to truck engines, manufacturer MAN Engines has further invested in its range of off-highway diesels. Its new D4276 six-cylinder inline unit is a special development for heavy-duty off-highway machines with an eye to construction vehicles.
Maximum torque of 3,280 Nm is delivered at 1,100 min-1 and remains constant up to 1,500 min-1. The output power is between 450 and 515 kW depending on the power stage and, with a dry weight of 1,280 kg, this engine has a high power-to-weight ratio.
In addition to its Stage V off-highway diesel engines, manufacturer Perkins will debut hybrid-electric, hybrid-mechanical and hybrid-hydraulic power technologies. They will fit with the existing 0.5 to 18 litre capacity range of diesel engines, the company said. Also on show will be the company's 100 kW Syncro 3.6 litre engine.
Perkins is showing a four-cylinder 1200 Series, designed for the electric power market. The engine delivers 120 kVA and meets Stage V emission standards for mobile generators. At the larger end of the Perkins range, the 1700 Series is a six-cylinder, 9.3 litre unit offering 340 kW, while the 12.5 litre 2400 Series, will be shown for the first time.
Matt Coleman, Perkins product director, said, "For construction machines, it's not sufficient to simply carry over hybrid or electric technologies from other sectors such as truck, automobiles or marine. The duty cycles, operating conditions and packaging constraints for off-highway machines drive the need for specific configurations that are highly customised to the individual application… By collaborating with Perkins, OEMs can accelerate their research and development programmes, saving themselves time and money."
Among the new Volvo Penta engines will be the EU Stage V models D5, D8, D11, D13 and D16 engines offering power from 105 to 585 kW. The company said its Stage V engine range for off-road applications was developed with OEMs and end users in mind, to deliver optimum productivity, uptime and total cost of ownership (TCO), the company said.
Transmission
Power transmission specialist Dana is introducing two new electric drivetrains for off-highway vehicles, including the Spicer Electrified e-Axle and e-Gearbox. These facilitate electric propulsion in vehicles with conventional internal combustion engine architecture.
The Spicer Electrified e-Axle combines Dana's heavy axle design with a high-efficiency TM4 Sumo HP motor-generator unit with inverter for medium and large size vehicles. The system is rated at a constant 139 kW or 193 kW peak and the equipment is mated to the centre housing of the axle and occupies the space usually occupied by engine and transmission. Dana acquired Italian motor and electric drive specialist SME Group earlier in 2019 and will display its systems.
The Spicer Electrified e-Gearbox features a compact design that claims to manage high input speeds and accommodates an electric motor. It offers a highly-engineered interface for connecting cost-effective motors used in electrification with conventional Spicer hydrostatic transmissions, the company said.
FPT will also demonstrate its electric powertrain solutions, which include two groups – electric propulsion and electric assist. The e-Powertrain team is a group inside the powertrain product engineering department dedicated to development of electric powertrains. Two of these are the E-Axle and the Transfer Box.
The E-Axle is described as a compact and flexible way to transfer power and torque to the wheels through a gear unit. Its modular concept allows adaptation to a range of vehicle layouts and weight capabilities. It claims to be able to deliver power of up to 250 kW and 98 % efficiency.
Hydraulics
Further along the powertrain, Eaton Hydraulics has an integrated telematics offering, taking data from its components and using it to tell equipment OEMs and users how the machines are being used. Eaton says it could be offered to large fleet owners such as rental companies or to OEMs, particularly smaller ones, who do not yet have a telematics offering.
Eaton will also show its new ASV60 electro-proportional valves which will allow steer-by-wire. This kind of technology is already being used in the agricultural equipment market, for example, on auto-guided tractors, and could come to construction equipment.
Electronics, IT and controls
Electrohydraulic steering systems for rear axles have been standard in commercial vehicles and complex construction machinery for years. It allows the legally defined minimum turning circle to be maintained. On top of this, mobile cranes require a level of manoeuvrability only possible with electrohydraulic auxiliary steering.
Crane steering modes include crab steering, manual steering intervention or automatic rear swing out suppression as standard, plus the complete power decoupling of the rear axles from the front axle.
German manufacturer ME Mobil Elektronik has revised the safety steering computer which is the core component of such an electrohydraulic steering system. It has new hardware to comply with current and future regulations and requirements. A feature possible with the new system is steer-by-wire for front axle steering with approval for public road traffic.
Its new housing with dust and liquid ingress protection to IP6K9K allows installation even outside the crane cabin.
German company Posital has introduced new Tiltix tilt sensors (inclinometers) designed to provide reliable tilt measurement for mobile equipment. A combination of electro-mechanical gyroscopes and accelerometers is used.
Applications include mobile cranes where feedback is sent to the control system on the position of booms and jibs. They form a vital part of tip-over prevention systems, by using MEMS (micro electro-mechanical system) accelerometer modules that detect the effect of gravity on the position of a tiny mass suspended in an elastic support structure. To prevent measurement errors a set of 3D MEMS gyroscopes has been added to the inclinometers.
Safety camera monitor system manufacturer Stoneridge-Orlaco will show a new 7 inch (178 mm) HLED monitor with a new design. Until now, the GMSL product line was focused on the CornerEye system designed to eliminate blind spots to the front and side of the truck cab from one camera. The image was sent to a 10 in (254 mm) HLED monitor but the new smaller monitor is better for rear view systems in mobile cranes and other mobile equipment on construction sites. The new screen has a full glass cover which makes it a lot stronger, easier to clean and watertight, the company says.
New wireless products from Orlaco include cameras, monitors and a transmitter / receiver unit. The EMOS camera (100BASE-TX) launched at the last Bauma in 2016 is now also available as EMOS BroadR-Reach Ethernet camera (100BASE-T1). Both are available with fields of view ranging from 30° to 180°. Infra red filters are available for night vision applications.
Orlaco's new ethernet ELED monitor has a full front glass coating and a responsive capacitive keypad, the company said. Built to the IP69K specification to resist dust and water ingress, its operational temperature range is from -40 to +85°C.
Looking ahead, Orlaco said will introduce ethernet-based smart cameras and ECUs focusing on human and object detection based on convolutional neural networks. They will be "trained" to classify images for any application. Benefits include improved warning systems which would improve job site safety and surrounding analysis for higher efficiency.
As an alternative to conventional external rear view mirrors, Orlaco is launching MirrorEye for the offroad market. It is a system of cameras and digital displays used as an alternative to conventional rear-vision mirrors.
Crane camera specialist HoistCam will show its most recent, the HC180, described as a rugged wireless camera system designed for environments where durability and reliability is essential. It has an armoured dome to protect the camera. An alternative is the HoistCam HC140. Another is the HC190 with a pan, tilt and zoom capability, the movement of which can be controlled by the HoistCam Director control system.
Curtiss-Wright is known for its multi-function joysticks and other elements of the human-machine interface. Such HMIs typically incorporate push-button switches, rotary thumbwheels and joystick paddles and levers. Some of them are simple on-off switches while others are proportional controls. On show will be the new, multi-function HI Grip, available in a left- or right-hand version.
Wika Mobile Control and tecsis bring together three technologies to make lifting loads safer. A key aim of Wika is to offer dependable communication between machines and their operators, especially in harsh environments. To this end the company develops robust sensors, mobile controllers and application software. Examples include the gSENS LWG cable reel with CANopen safety signal transmission and the vSCALE D6 console with a 12 inch (300 mm) high-resolution colour display.
Among its latest crane monitoring instrumentation products, RaycoWylie will demonstrate its new i4500 load monitoring system for knuckle booms and a new anti-collision system for tower cranes. RaycoWylie said it is following an all-in-one concept which displays more than just LMI information in one high definition colour screen. It is as ideal for OEMs as it is for modernising older cranes, the company said.
Collision avoidance
In addition to its top of the range DCS 60 (Driving Control System) AMCS will show its new collision avoidance and zoning system, the DCS 61-S, (Driving Control System Safety). It manages tower cranes working together. New features are promised, in addition to the three essential functions of anti-collision, zoning and data display and logging.
AMCS will preview its own telematics system called IoT Lifting. A SIM card fitted to the DCS 61-S can be used to collect data on each crane at a web portal. This data includes records of when the crane is powered, in motion, left to weathervane and so on. Statistics can be produced from the data to indicate how much time is spent working, hoisting, how much load, etc. The primary aim is to increase efficiency.
Also shown by AMCS will be SUP BIM, a construction site supervisor in BIM. It will allow an operator to follow in real time the evolution of the construction site in three dimensions, from anywhere. It will also allow gathering, recording and visualisation, on one screen, movements and other information from all the cranes equipped with the systems DCS 61- S or DCS 60. These functions include slewing, trolley travel, lifting, load, events related to anti-collision and wind speed.
CM Labs Simulations, developer of Vortex training simulators, will be launching its Augmented Reality (AR) application, which makes it possible for instructors to bring a virtual mobile crane into the classroom, where trainees can interact with it, conduct walkarounds and learn the fundamentals of machine inspection, CM explains.
Two training simulators will be on display: the Vortex Advantage and the desktop Vortex Edge Plus. Both can run all CM Labs lifting and earthmoving training packs, including mobile crane, flat top tower crane, luffing tower crane, crawler crane, excavator, wheel loader, backhoe, dozer, motor grader, and more.
In addition to a range of new products, Liebherr Components will present an app to show the functionality of its condition monitoring components, from diesel engines to energy storage, hydraulics, transmissions and slew bearings. It will one day allow manufacturers to update equipment owners and operators about component condition.
Another new app, from crane manufacturer Manitowoc, will be for diagnostics and a boom configurator.
A hydrogen fuelled version of the Deutz TCD 7.8 will be on show