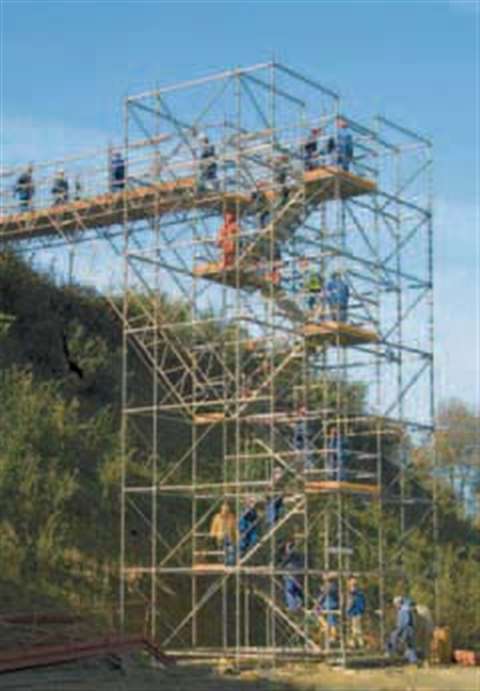 Lightweight, low–height access will be to the fore in Munich – reflecting increasing concerns over working at even relatively low heights – although traditional large construction site scaffolding will also be in evidence.
One of the low–height specialists, Altrex of The Netherlands, is, for example, extending its rolling access tower range with the 4400 model, a modular system providing platform heights of 1, 1.8, 2.7, and 3.5 m, and with weights from 32 to 90 kg. It will also unveil its 5200 model at Bauma, but details are not yet unavailable.
On show, too, will be the company's new Modular Triangle Bridge, whose 2, 3, and 4 m trusses assemble in combinations on the ground in about 12 minutes to span up to 12 m. The completed unit winches by hand to a maximum height of 12 m.
The company has redesigned its folding scaffold 4000–KG. The unit's 32 kg weight and collapsed dimensions of 350 by 1850 mm should make it easy for almost anyone to move it from job to job.
Günzburger Steigtechnik is stressing at Bauma the details of its mobile access tower that increase safety. These include frames without any overhang, longitudinal railing with integrated handrails and a knee board, as well as stable boards, large–diameter steering castors, and braces with snap fasteners. "Proven products are demanded, especially by industry and [trade] businesses. High–quality details provide more safety and ease of operation, and therefore, increase economic efficiency", says Ferdinand Munk, general manager of Günzburger.
The German company's travelling scaffoldings are modular, providing about 180 sizes to choose from combinations of three platform widths, three platform lengths, and frame heights from 1 to 13 m.
Dominating Hünnebeck's 1000 m2 stand will be a two–storey structure built primarily from its scaffolding materials. The business objective of the stand is to "demonstrate…the strengths and internationality Hünnebeck has gained through the close alliance with Harsco," said Jürgen Schlenker, managing director of Hünnebeck Group.
The structure includes Hünnebeck's new, aluminium supporting scaffolding system, which supports 140 kN of load per leg and has three main components: inner and outer legs and a reinforcing frame. Around the top storey is a new balcony parapet system, called Protecto.
Elsewhere on the stand, look for the "new" aluminium, portable scaffold, a product Hünnebeck has taken and modified from UK affiliate SGB's portfolio. Its frames are sized in 850 and 1450 mm widths.
Peri, meanwhile, will add two new components to its Rosett line of industrial scaffolding. A new 250 mm wide deck, available in 500 mm length increments from 3 to 3.5 m, minimises gaps in bay decks and allows quick and easy direction changes of decking within bays. Also new is a staircase whose flight width is 1 m.