Bauma Show Guide - Access
By Access International17 March 2016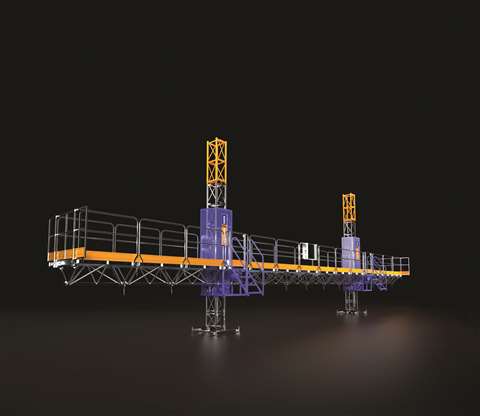 The clock is ticking as more than half a million visitors prepare to walk through the gates of Bauma in April. The show returns this year from 11 to 17 April in Munich, Germany, and is expected to attract around 3400 exhibitors and half a million visitors.
The 2013 edition of the show took up an enormous 575000 square metres and it is booked to capacity again for 2016 with 605000 square metres of space available and more than 700 companies on the waiting list.

The access sector will be holding its own at the show thanks to great range of interesting new products, upgrades and services. Here follows a comprehensive list of the self-propelled, mast climbing, hoist and telehandler manufacturers attending the exhibition and some of the products they promise to show. Look out for additional show news in the Bauma Stop press, AI April.
AERIAL WORK PLATFORMS

ACCESS INTERNATIONAL (KHL GROUP) B3.400
Access international is the only specialist access magazine read by a worldwide audience. See regularly updated news about the industry and register to receive weekly e-newsletter on our website www.khl.com/magazines/ai
AIRO-TIGIEFFE FS.1102/B
Airo plans to have two new telescopic booms at Bauma. The T32 RTD and T34 JRTD, with 32m and 34m working heights, respectively, will represent its biggest booms and are aimed at the Asian market. They will be produced for its sister company Airo Beijing which will aim the booms at harbours.
ALBA-MACREL GROUP FS.1104/9 & A1.214
The Spain-based manufacturer has not yet confirmed its product offering for Bauma but expect to see a range of its mast climbers, construction hoists and hanging platforms.
ALIMAK HEK GROUP FS.1102/10
The new HEK MC 650 and 450 work platforms are designed to provide flexible access to façades, improved movement of goods and materials, and a stable and clear workspace.
Both platforms are available in a single or twin configuration and offer adjustable platform lengths and widths for ultimate flexibility on site. The MC 450 is capable of carrying loads up to 4.5 tonnes and offers platforms lengths from 10m to 30 m. The HEK MC 650 will support a higher capacity, with details to be announced at a later date.
Meanwhile, the Scando 650 now offers real-time hoist intelligence and detailed fault tracking via a large display control panel. This user-friendly interface provides up-to-date metrics on actual hoist payload, current landing location, fault status and high wind warnings.
Two new construction hoists will be on the stand too. The Scando 65/32 passenger and materials hoist uses the existing 650 mast and boasts payload capacities up to 2.4 tonnes per hoist car and an extended cage size of 1.5m x 3.2m. The Scando 45/30 hoist is designed for operation on the current 450 mast and offers payload capacities up to 2 tonnes per hoist car, with a cage size of 1.4m x 3m.
Rounding off the new products is the TCL tower crane lift for a two passengers (200kg) with lifting speeds of 24 m/minute.
ATN FS.1102/4
The French manufacturer is extending its range of vertical mast lifts and, as a result, will present the new PIAF 12E. The machine has a 12m working height and a horizontal range of more than 5m, a zero turning radius and 30% gradeability. Like the manufacturer's Zebra and CX ranges and PIAF 1200R, it has a diagnostic screen. The PIAF 1200 models feature new gates allowing easy access to the basket.
Besides its mast boom range, ATN will present the new Zebra 12 V2 and the new Zebra 16 4x4x4. The ZEBRA 16 4x4x4 has four wheel drive and four wheel braking system, offering a shorter turning radius.
The Z12 V2 will replace the Zebra 12. Unlike its predecessor, the Z12 V2 will be equipped with an oscillating axle and greater accessibility to the engine. It also allows up to four simultaneous movements in half the time of the previous version.
The first tracked platform with outriggers to be produced by ATN will be at the show. The MG 23 has 23m working height, dimensions of 5.54 x 1.88, a capacity of 230kg and gradeability of 32%.
AVANT TECHNO FM.615/3
See Leguan Lifts
BIG ASTOR FS.903/8
The 4m working height aluminium Genius scissor lift Mak 1 is the manufacturer's first aerial work platform and was launched at Intermat. The new version of the lightweight low level access platform, launched in October, is a 4.6m working height model and will appear at the show with its smaller brother. They both have a width of 80cm, length of 120cm and a basket capacity of 130kg. Once the guardrails are removed stowed height for the 4.6m version is 46cm.
BLUELIFT FS.1003/3
This will be the first time Bluelift will show its 26m working height SA26 in Europe. It was originally launched at tree care industry show TCI Expo 2015, in Pittsburgh, USA in November. Based on the Italian manufacturer's SA22, the SA26 is aimed at the tree care, facility management and rental market. It features a dual sigma type riser, four-section telescopic boom and articulated jib offering an unrestricted 26m working height. Outreach is 14.5m with operator in basket; with 250kg in the basket it has an 11m reach. The dual riser design gives an up and over height of 9.5 m.
BRAVIISOL DIVISIONE MECCANICA FS.1104/10
The manufacturer will focus on its most established series, the Leonardo HD (Heavy Duty), to be shown with the newly-restyled top control box and its full range of accessories, the Peri Skydeck panel holder and the drywall lifter and handler Solo GYPS.
The Leonardo HD is light, compact and agile, but is also designed as a heavy duty construction machine able to work on uneven grounds, overcome obstacles up to 10cm high, and climb a 40% incline. Also on show will be the Spin-Go pusharound low level stock picker, a direct replacement to ladders, the Bravi Lite and the 5.35m Sprint stock picker.
BRONTO SKYLIFT FS.1203/3
Bronto Skylift will show a new model in its XR range of truck mounts. The Finnish manufacturer said it will be a range topper, with a working height in the 70m range, bringing it above the existing 56m S56XR. The latter has a maximum outreach of more than 39m, a basket capacity of 700kg and is its first unit to have WVTA (whole vehicle type approval). The 90m working height S90HLA will also be there with its working height of 90m, outreach of 32m. The manufacturer says it has delivered dozens of this model since its launch at Bauma three years ago. Bronto was officially bought by Japan-based fi refighting equipment specialist Morita in February this year.
CMC FS.1302/2
Designed specifically for indoor use with its hybrid power source, CMC's S 25 Hybrid will be launched in Europe at the show. The Lithium battery provides eight hours of work with speed and performance equal to a standard fuel engine, says the manufacturer, plus it has a reduced recharge time compared to standard batteries. The 25m working height machine has a 14m outreach and a 230kg basket capacity. The machine will also feature an end-of-charge alarm system with residual battery life allowing operators to reach a recharge source or the external area to operate the Kubota engine.
CO.ME.T. OFFICINE FN.921/3
From Co.me.t. comes the new truck mounted Solar with a 400 kg basket capacity. Thanks to its basket size of 3.5m x 1.9m, Solar is designed for those requiring a big transport capacity on the truck and a big capacity in the basket for carrying bulky and heavy materials like solar panels and building items, for example. Working height is 15m, lateral outreach is 2.5m and basket capacity is 400kg.
The new Eurosfi lo 14/2/8 HQ JIB will also be on the stand. It is an insulated truck mount for work on electric power lines with medium voltage. The articulated jib allows obstacles to be cleared at height. The insulated basket, insulated boom and other special components guarantee operator safety, says the manufacturer. The machine can measure ground leakage and its hydraulic plugs are positioned in the truck floor and in the basket to provide power supply to the hydraulic tools.
CORMIDI FN.1017/4
The Italian manufacturer will show a range of its tracked platforms and accessories at the show including the existing 23m working height KB 23 tracked platform.
CTE FS.1103/10
CTE will present the S3 Smart Stability System for its ZED and B-Lift truck mounted platforms. The system adapts in real time to the conditions of use, basket load and geometry automatically. This allows the user to take advantage of the full potential of each type of platform, says the manufacturer. CTE's aim is to unify hydraulic, electrical and electronic components of its truck mounted platforms.
Also on display will be the B-Lift 390 High Range truck mounted platform, purchased last October by the CTE German dealer Hematec Arbeitsbühnen for the first time. It has a newly upgraded capacity of 600kg at 39m and is currently involved in a demo tour in Germany. The model has a telescopic boom with main boom plus two extensions. An extra-long jib featuring double extension and 180° angle, secondary jib with 180° angle, variable stabilisation are also key characteristics. It is the smallest of the CTE High Range and reaches up to 61m of working height.
DINOLIFT OY FS.1306/1
Dinolift is continuing to develop the Dino 220XSE boom lift with some new features. The boom has an extra-large basket, 1.3m x 2.4m, with 350kg capacity to carry three people and extra tools through the entire working envelope. It also seconds as a remotely operated telehandler with a lifting capacity of 500kg. The basket is mounted on the boom with forks that feature a safe, quick-release mechanism. At Bauma, the 220XSE will be equipped with optional outriggers to enable use on slopes up to 12°and for it to be levelled horizontally. The outriggers are operated from the basket when the machine is used as a work platform and by remote control when used in telehandler mode.
The 220XSE now also comes with a radio control for easier manoeuvrability when using the machine in telehandler mode. Radio control enables the operator to be positioned closer to the unloading of the lifted goods, adding to the precise operation of the lifting forks. Some important safety features include the intelligent driving system.
Dinolift's 12m telescopic trailer lift is on the stand - now with batteries. The Dino 120TB's working cycle with its 2 x 12 volt battery pack is easily eight hours; if the batteries are empty the operator is able to resume work as soon as the charging starts. Its sister model, the Dino 120T is still available with the original 230 volt operation and optional gasoline power pack.
EASY LIFT FS.1002/2B
Easy Lift will exhibit a new 36m tracked platform at Bauma, along with its existing EV150 for the first time mounted on a Ford.
The R360 has a working height of 35.4m, an outreach of 14.5m and basket capacity of 200kg. It is equipped as standard with diesel engine, but it is also available as a hybrid version (R360HY) with diesel and lithium battery. Total weight of the machine is 6500kg.
The R360 is also available on wheels as the R360WBA, equipped with traction battery and hybrid version R360WHY.
The EV150 is not a new product but for the first time it has been installed on a Ford. Other 3.5 tonne vans on which it can be installed are the Mercedes Sprinter, Volkswagen Crafter, Opel Movano, Citroen Jumper, Fiat Ducato, Renault Master, Iveco Daily and Peugeot Boxer.
EUROPELIFT FS.1002/4
The word is that Europelift has a prototype ready for Bauma although no information about it is available yet. See the Stop Press feature in the April issue when we should have some more news.
FARAONE INDUSTRIE FS.1104/7
The Elevah 51 Move Picking has been launched in the last year and adds to the manufacturer's low level access range - it has a 5m working height. The machine is designed to be compact and ultralight, weighing in at 330kg due to its aluminium construction. This means that with a fully-charged battery it can carry out about 100 work cycles, around a normal working day. It has a proportional joystick so that with one hand the operator can drive and lift the machine, which is TUV certificated and in accordance with European standards for forklifts and working at height: EN 1723-1 /UNI En 1726-2.
FRANCE ELÉVATEUR DEUTSCHLAND HFS.1004/7
Expect to see new items on the French manufacturer's stand, although the details are not yet available. One of the manufacturer's most recent innovations is the fully electric ultra-compact van mount, the 091 Fe. The vehicle offers 170km travel from the electric charge. The platform offers a 9m working height and 4.6m outreach, which the company says is a first for this type of cleaning and utility equipment. See also a new machine on the stand designed to expand the possibilities of inner city work, says the manufacturer.
GEDA-DECHENTREITER FS.1004/1
With the GE 3700 Z/ZP the company offers a device that meets the market demands for higher loads and larger platform sizes, it says. Four different platform dimensions with a maximum load capacity of 3700kg make this new product versatile and adaptable. The main features include a large platform of 5m x 2.90m, smooth start for precise landing stop, load indication in kg and monitoring of the load distribution. It is fully compatible with the Geda System, has four different platform dimensions and a load capacity of 3700kg for up to seven persons, depending on platform dimension. Lifting speed is 12/24 m/min, lifting height is 100m, with more lifting heights available on request and a 28 kW power supply.
GENIE FM.711
Genie will be celebrating its 50th anniversary with four new products with up to 20 of its latest and most popular models.
They will include a hybrid version of the new electric Genie Z-60/37 boom. Driven by AC motors, this new model offers a working height of 20m combined with the benefits of advanced diesel power, four-wheel drive performance and the cleaner, quieter efficiency of compact, low weight electric powered booms. A second new Z-boom lift will be unveiled at the show but details are not available until the opening day.
The GRC-12, a newly designed version of the Genie Runabout Contractor, will be on show too. It is adapted to suit the needs of the Europe, Middle East, Africa and Russia (EMEAR) market. Now featuring saloon doors with extension deck to provide easier access to operators carrying tools and materials, working height is 5.66m designed for tough environments.
The new redesigned Genie GTH-3007 telehandler will be there - see the Telehandlers feature in this issue for more details - as will Genie's new Maintenance Protocol.
GSR FS.1003/3
The B200PX Compact with 20m working height is the latest model from the Italy-based manufacturer. With its articulated telescopic boom it is part of the Up-and-Over family. 300kg basket load is available in the full working diagram.
The telescopic GSR B200TJ offers a movable jib with 140°, working height of 19.6m and a basket load of 250kg. The maximum horizontal outreach is 13m.
The B230T Comfort X, with 22.5m working height and maximum outreach of 13m offers an automatic variable outrigger system that can also be operated from the basket.
The manufacturer's GSR E179T, with a telescopic boom up to 17.1m working height, will be there too with vertical stabilisers in the vehicle width, as will the GSR E170TJV van mounted platform.
HAULOTTE GROUP FS.903/5
The new Star 6 vertical mast will be officially launched at the show. Its prototype was shown at Intermat in Paris, France last year.
The Star 6 follows on from the Star 8 and 10, fully launched last year. Star 6 is designed to work efficiently and safely in indoor and outdoor environments: industrial, maintenance and second-phase building works, event industry applications.
It has a 5.8m working height with 3.8m platform height. Several areas have been optimised on the machine including agility in confined working areas. The new asynchronous motors are designed for optimal torque.
Haulotte has also completely redesigned its website. There are 20 local websites uniquely created for the Group's network of sales and service entities across the world. In this way the group's corporate website offers the visitor an improved experience. See the manufacturers' new telehandler offerings in the Telehandler feature following this guide.
HINOWA C4.325 & FS.1103/8
Hinowa will launch the new tracked aerial platform model Lightlift 15.70 Performance IIIS. It is the fourth model in the Lightlift Performance IIIS series, including the 17.75, 20.10 and 26.14. The new machine has a working height 15.4m, horizontal outreach of 6.6m with 10m continuous outreach at a flush with the wall trajectory.
The basket can hold 230kg across the whole working area, while basket rotation comes as standard. The model features a compact stabilisation area of 2800mm x 2800mm and weighs 1950 kg - petrol version.
Height of the machine for transport is less than 2m, while machine length is 4020 mm – basket is 3400 mm. It is available with three different engines: Hatz diesel engine 1B40 (7.5 Kw), Honda petrol engine iGX390 (8.7 Kw) with electronic rotation control or with Lithium battery pack.
HOLLAND LIFT INTERNATIONAL FS.1101/9
Holland Lift will launch two products; the HL-190 D20 (diesel) and HL-190 H20 (hybrid) scissors. Together with the HL-190 E20 they form the manufacturer's new line. All machines in the series can be customised to each customer's requirements. The possibilities are: two wheel drive, four wheel drive, oscillating axle, levelling jacks and/or Easy Lube lubrication system.
The HL-220 H25, together with the HL-160 H20 and HL-190 H20 will complete the hybrid programme. The parallel-hybrid transmission consists of a combined, single diesel/electrical driving shaft. Both systems work together to operate the hydraulic system. This ensures an increased lifespan. Furthermore, a smaller diesel engine can be used while working at optimal capacity and both engines can be operated separately.
IHIMER'S RANGE FN.1016/2
Tracked aerial platforms are included in Ihimer's range from maximum working heights of 13.5m to 22m. Expect to see them at the show.
IMER INTERNATIONAL FS.906/1
The manufacturer will launch its new generation of electric scissors at Bauma. In the last year Imer has introduced the IM 4680 MC scissor designed for indoor and outdoor use, offering a working height of 6.5m and a carrying capacity of 230kg, on a compact frame of 800mm x 1850mm. Based on the IM 80 series of electric platform, it has up to 2.5° tilt angles. The traction is provided by a sturdy and powerful DC direct drive.
IPAF FN.1115/1
The Federation will highlight the safe loading and unloading of MEWPs as an essential part of site operations. There will be demonstrations
of this on its outside stand as well as information on good practice and findings from IPAF's accident reporting project. The stand will also provide a meeting point for members to network and discuss issues affecting the industry.
ISOLI FS.1102/D
A number of new products are promised. One of them is the 19m hydraulic PT 190 J, designed to meet the requirement for simple, cheap telescopic machines with jib. It is mounted on a 3.500 tonne chassis.
Another new model, the 20m working height PT200J is a fully electronic machine. This model will be very similar to the telescopic PT225 in terms of functions and dedicated to the North Europe market. There will also be a PT 200 J version available just for the German market.
The PT 230 has a 23m telescopic boom with low electronic technology, designed to be competitive in a niche market. Installed on a 3.5 tonne truck it will be very easy to set up and use with features like automatic set-up, automatic boom stowing, with hydraulic controls in the cage as well as on the ground.
An upgrade of the articulated PNT 230 will be on show too. The platform will be completely revised with new high strength steel. Working height is 23m, mounted on a 3.5 tonne chassis which can be driven with a standard car licence.
JLG EMEA FS.904/5
JLG will have a new telehandler on its stand, the 35IOPS. It will have a 3.5 tonne capacity and a 10m boom but no more information is available as yet. There will also be an update to the Toucan series on the stand.
The manufacturer is also presenting its Certified Used Equipment service in which used equipment is refurbished and given a six month warranty by the manufacturer.
Power Towers will be on the JLG stand, after it bought the UK-based low level access specialist last year. Products will include the Pecolift, Ecolift and Nano SP Plus. All this will accompany a wide range of JLG products on its stand.
KHL GROUP B3.400
KHL Group, publisher of Access International and International Rental News, is the leading supplier of international construction information and events in the world. Its publications include American Cranes and Transport, Access Lift and Handlers, Construction Europe, Construcción Latinoamerican, Construção Latino-American, Demolition and Recycling International, International Construction, International Construction China, International Construction Turkey, International Cranes and Specialized Transport, International Rental News. Feel free to visit us at the booth.
KREITZLER INDUSTRIEBÜHNEN FS.901/6
The German manufacturer produces a range of booms, scissors and special platforms that can be custom-built, from booms with working heights of 4.7m to 42m, with a basket range from 0.8m x 0.7m up to 6m x 1.2m or scissors from 5m to 43m working height with a platform size range from 1.6m x 0.8m up to 8m x 2.5m.
LEGUAN LIFTS FM.615/3
Leguan Lifts will present two units at Bauma. There is no information yet available for one of them. The other, the Leguan 135 will be on show with a number of new features designed to make operation easier, safer and more efficient. Powered by a choice of 13 hp Honda petrol engine or electric motor, depending on internal or external use, the 135 provides automatic levelling up to 13.2m vertical and 6.8m horizontal reach with a safe working load in any position of 140kg.
MABER FS.1204/1
The manufacturer will show a range of transport platforms and construction hoists and is launching a construction hoist, the MBA2242/250, available in single or twin car configuration with modular system for the rental companies. Capacity is 2.2kg with a car length up to 4.2m, while its speed is 70m/min. The idea behind the product was to innovate the big hoist market with easy transport and assembly, flexible configuration and remote monitoring.
Also on the stand will be a new transport platform MBC3500/120. It's the upgrade of the company's twin mast transport platform with modular system. Deck dimensions are now up to 3.3m x 6m and capacity is up to 3.7kg.
MANITOU FS.908/1
The manufacturer will show a range of its telehandlers at Bauma. See the Telehandlers feature in this issue for more details.
MANTALL (NANTONG) HEAVY INDUSTRY FS.1308/1
The Chinese manufacturer is set to show a range of aerial work platforms from its full line at the show.
MANOTTI FS.1104/3
The Italian company's catalogue includes rough terrain cranes with lifting capacities from 35 tonnes to 80 tonnes, as well as telescopic, articulated and double scissors, capable of achieving working heights from 12m to 28m.
MOOG FS.1303/3
On the stand will be the MBI 50-1/SR, a small bridge access crawler mounted unit with a low unit weight, ideal for operation on narrow sidewalks and pedestrian with low load capacity restrictions. Just 1.6m of space is required on the bridge for the MBI 50 and its maximum point load of 70 kN/m² is 'underbidding' all comparable units on the market. Its total load of 3 tonnes is equally distributed on both crawler tracks.
The MBI 70-1/S is a platform under-bridge unit with a horizontal range of up to 7m under the bridge. The width of the platform is 1m and it can be loaded with up to 400 kg. With its lowering depth of up to 6m it is a popular mid-size unit.
The MBL 1750 under-bridge unit is the biggest bucket type that Moog produces. It is an expanded design of the MBL 1600 which includes a larger sidewalk over-bridging of 5.2m. It has a lowering depth of 21m and a working height of 23.1m.
MULTITEL PAGLIERO FS.1203/1
Look out for a range of truck mounted platforms on the Italian manufacturer's stand.
NIFTYLIFT FS.1002/10
See the Bauma Stop Press feature in the April issue of AI for more details about the UK-based manufacturer's offerings at bauma.
OIL & STEEL FS.1306/2
Oil & Steel, now owned by Manitex International, will show products from its range of tracked platforms and truck mounted platforms. See the Bauma Stop Press feature in the April issue of AI for more details.
OMME LIFT FS.1102/A
Omme Lift is introducing a complete new boom system on its 3710 RBDJ crawler mounted platform. This new and improved design has a six-sided boom section for ultimate stability and large 250kg SWL. It is comprised of seven sections and provides a maximum working height of 36.9m and a horizontal reach of up to 14.2m, a 130° articulating jib for precision positioning and a flush basket mount. The boom can be raised and extended simultaneously, helping to reach the required height in the shortest possible time.
PALAZZANI INDUSTRIE FS.907A/1
Palazzani will launch the new Ragno TSJ 23.1/C. This is the smallest model in the manufacturer's Junior series, designed with typical Palazzani crawler mounted features: compact dimensions, low weight and telescopic boom with jib. All cables and hydraulic pipes are located inside the boom. Available on tracks and wheels, powered by its Bi-energy, Eco and Hybrid options, the Bi-energy option offers a low noise diesel engine with two cylinders liquid cooled and the 220V electric Motor offering 2.2 kW. Length of the machine is 5.817 mm, width is variable thanks to the hydraulically enlargeable tracks from 1m to 1.3m. Height is 1976 mm.
PALFINGER PLATFORMS FS.1304/1
Palfinger Platforms will present the new P 750 truck mount, while Palfinger's partner, Palfinger Platforms Italy will be next door and introduce an innovative range of crawler mounted platforms and present the latest models in its Low Smart Series of vehicle mounts.
The P 750 completes the Jumbo Class NX (Next Generation) range. With a working height of 75m and a lateral reach of 39m, it has a hydraulically operated X-jib between the upper boom and the work basket allowing for precision working at the highest level. It can be controlled individually for precise positioning and offers a work area of 240 degrees. This is supplemented by a basket rotation of 2 x 200 degrees.
PAUS, HERMANN, MASCHINENFABRIK C2.339
Paus platforms are mounted on a trailer chassis and are available in four different power versions. The working heights extend from 13m to 21m. Due to their two-joint construction and telescopic upper arm, they are designed for manoeuvrability.
PB LIFTTECHNIK FS.1003/3
The German manufacturer will present its full range at Bauma. This includes mini-scissors beginning from 5m, through to self-propelled platforms with 12m working height, to large 4x4 all terrain scissors with over 27m working height. The electrical scissors of the PB Eco Series offer heights from 5m to 14m. The PB MB112-10EC is a vertical mast-platform with a working height of 11.2m. It is driven by an emission-friendly and powerful electric motor. Its jib offers a horizontal outreach of 3m and 360° slew. The all terrain scissor of the 4x4 Series platforms are available from 13 up to 27.5 m. They provide automatic levelling, powerful drive and a Mega-Deck platform with a platform extension. The maximum platform capacity is 1 tonne.
PEGA HOIST FS.1001/4
Pega passenger and material hoists are produced in a wide range to customers demands.
PLATFORM BASKET FS.1204/5
The new Spider 27.14 compact 27 m tracked platform will be on the stand. Its 890mm width, with hydraulically operated undercarriage, enable it to pass through a single door. When tracks are in the widest position stability is guaranteed on all uneven ground. The model is equipped with the Scanreco basket console with diagnostic and machine status available on screen. Moreover the outreach is monitored by a system that doesn't require the load cells to be fitted to the stabiliser feet. Once the machine is automatically stabilised, the software recognises the outrigger position and lets the operator extend the booms consequently. As well as the 230kg aluminium basket capacity, the model has been designed to offer basket space for two people at 1.8m width. Basket rotation is 90+90 degrees.
PM GROUP B4.239
See Oil&Steel

POWER TOWERS B3.523
Power towers will have its own stand at Bauma, as well as appearing on its owners' stand JLG. There will be a number of products from its powered and non-powered range on the stand.
RAXTAR FS.1001/2
Based in the Netherlands Raxtar provides a range of construction hoists for passengers and materials, material hoists, transport platforms and industrial lifts.
ROTHLEHNER ARBEITSBÜHNEN FS.1003/3
The Germany-based distributor and manufacturer of Denka Lifts will be present with its partner companies PB Lifttechnik, GSR, Bluelift, TCA Lift, Lift-Manager and GGW.
It will show the trailer mounted Denka DK18. It provides an 18m working height and 11.3m horizontal outreach and is designed for its working speed, low weight and easy handling in transport and operation.
Also on show is the DL30, the flagship of Denka Lift's products and the world's tallest trailer mounted platform, with a working height of 30m and 3.5 tonne total weight. Hybrid drive is a feature with compact dimensions of 1.72m width and a minimum clearance height of 1.95m.
The Narrow-Series was designed for special applications. There are two types with 19m/22m working height and 25m/28m working height. The Junior 12 is the smallest Denka trailer - it offers 12m working height, 6.7m outreach. Lift-Manager will also be on the stand. It is Germany's multi-brand service and workshop network for AWPs. It is a specialists for all matters regarding service, workshop, training, and mobile service.
RUTHMANN FS.1006/4
Ruthmann will reveal two new Steiger Evolution models, adding to its Height Performance range, at Bauma. Just a few details are known - one will be mounted on an 18 tonne, 2-axle chassis and the other on a 26 tonne, 3-axle chassis.
At the show, Ruthmann's official motto will be 'Revolution', inspired by the Ruthmann Evolution series and in recognition of its present and future product launches.
The tried and tested models on the Ruthmann stand will include the Steiger TBR 220, TB 270, TU 285, T 330, and T 360. Two models from the Height performance-series, a T 630 and a T 720, will also be on display.
A number of new service related announcements will also be made at the show following a major expansion in 2015 of its service centres in Gescher-Hochmoor and Seevetal, near Hamburg, Germany.
SALTEC FS.1103/7
A new mast climbing platform the PW-30 is on show. Maximum length is 44.5m while the weight is 8 tonnes. Platform width is 1.7m, while maximum standard height is 200m.
Also on show will be the industrial lift PT-020, specially designed for tower crane operators, for maintenance purposes such as windmills, radar towers, cooling towers and other temporary and permanent uses. As will the T3-03 material hoist, with single-phase designed for sites without –phase connections. New designs for passengers and materials elevators, to meet customer specific requirements will be there too.
SCANCLIMBER FS.901/4
New from Scanclimber will be the existing Taurus SC6000 mast climber with new sliding deck extension. The motorised platform decks move back and forth and making work on complex facades possible. The manufacturer will also announce a new mast climber top crane which can carry 1 tonne payload and rotate 360 degrees.
Plus there will be the All Reach Extension (ARE) which provides access to the most complex structures. It is a mast climber extension that has been designed to rotate and glide in and out and along the main platform for situations where several masts or towers are close to each other.
In addition, there is a new modular design industrial hoist family. The Ealier SC is built and designed to order. It aims to provide high quality with the advantages of mass customisation.
SKYJACK 1002/3
Skyjack will unveil two new products; the SJIII 4740 DC electric scissor lift and the SJ30 ARJE articulating boom with rotating jib, as well as displaying its existing range of platforms and accessories.
The SJIII 4740 is the tallest DC electric scissor Skyjack has ever produced and boasts a working height of 13.8m and basket capacity of 350kg. The SJ30 ARJE features a working height of 11m and maximum weight capacity of 227kg. It includes Skyjack's numbered-and colour-coded wiring system, along with its easy-to-use, easy-to-maintain design.
SNORKEL FS.1103/2
Bauma will globally launch its new 660SJ midsize telescopic boom lift following on from the North American launch at The Rental Show, as well as showing the S3215E and S3220E for the first time globally. The prototype TM12E - electric drive version of the TM12, will also be on display.
Snorkel is expanding its electric slab scissor lift family that was originally launched at The Rental Show in 2015. The new S3215E and S3220E models join the existing family of four hydraulic drive lifts, which include the S3219E, S3226E, S4726E and S4732E and are in production at Snorkel's US manufacturing facility in Elwood, Kansas. They will be officially launched at Bauma.
There will be no Xtreme or Ahern products or services on display. The Ahern Deutschland team will be working the booth with the Snorkel team, but as a 'distributor'.
SOCAGE FS.1304/2
Expect to see the new E series on the stand. It consists of nine models ranging from 16m to 28m working height and is mainly aimed at Europe for the moment, although sales outside the continent may follow in the future once it has been trialled. Five of them are double articulating models with working heights of 21m to 28m, while there are four telescopic models with 16 m to 23 m working heights.
STROS-SEDLCANSKÉ STROJÍRNY FS.1004/5
A new hoist on the stand will be the NOV 5462 UP F7 W personnel material hoist with 5.4 tonnes capacity, 6.2m length, a speed of 70m/min. Plus there is a frequency inventor, with counterweight. Also on the stand will be the NOV 4050 UP F5a battery hoist and two mast tower construction hoist with cage dimension 3m x 5m and capacity of 4 tonnes.
TCA LIFT FS.1003/3
The manufacturer from Denmark produces special narrow machines on wheels or crawler chassis with working heights from 29m to 52m.The FS330Z on a crawler chassis has 33m working height, maximum 19m horizontal outreach and 200kg basket load. The inflection point is at 10.5m, allowing the machine to take on a range of obstacles. The standard equipment includes a movable jib, adjustable crawler chassis and Hybrid drive.
TEREX CORPORATION FM.711
See Genie

TEUPEN MASCHINENBAU FS.1204/6
A visit to the Teupen stand promises to be an illuminating experience. No details are available before the show.

TIME INTERNATIONAL FS.907/7
Expect to see new products on the manufacturer's stand. Details will follow in the Bauma Stop Press feature in the April issue of AI.
XL FRANCE FS.1204/3
Four products can be seen on the XL France stand. One of them is the LL-E construction hoist. It has minimal footprint thanks to the twin-mast structure tied with built-in landing bridges and there is no need to drill the façade for tying the masts. Landing bridges can be adjusted no matter how irregular the façade is. There is a flexible car with several modular units, 2m to 4.5m deep. Jobs up to 2.5kg or 30 people, at a speed of 30 m/min can be achieved.
The X-UP is a fast and automatic hoist for crane, shaft or any work station access with 200kg capacity at 24 m/min lifting speed.
The XE7 represents the next generation of high performance and versatile construction hoists. Retractable driving unit in the car is designed for highly-efficient erection and maintenance work. Heavy duty jobs up to 3.5kg at 62 m/min or 95 m/min are possible with the flexible car composed of modular units around a 4m long core module.
The X2E provides easy access to multi-storey site accommodation and modular buildings. Car and twin masts fi t in the 2.2m by 2.5m steel structure. Freestanding up to 24m, the hoist can carry 1000kg or 12 passengers at 30 m/min. Automatic controls with touch buttons at the base and in the car are included.
ZHEJIANG DINGLI MACHINERY FS.902/2
The Chinese manufacturer will have a range of its full line of powered access equipment on show.
TELEHANDLERS
There are a number of new telehandlers set for launch at Bauma. See the Telehandler feature in the March issue of AI for all the news.
AUSA Center FM.808/2
Bobcat EMEA FM.612/3
Caterpillar A4.137
DIECI FS.1007/1
Doosan Benelux S FM.612/3
Genie FM.711
Haulotte Group FS.903/5
JCB Deutschland FM.713/1
JLG EMEA FS.904/5
Komatsu Europe B5.202
Kramer-Werke FS.1109
liebherr International FM.810
magni Telescopic Handlers FS.1107/9
Manitou FS.908/1
Merlo FS.1008/3
Pettibone Heavy Equipment Group B3.119
Skyjack 1002/3
Wacker Neuson Group FS.1209 & FS.110
SCAFFOLDING
Alba-Macrel Group FS.1104/9 & A1.214
Albert Gerüst- und Gerätetechnik A2.414
Alfix A2.402
Alsina A2.448
Altrad Baumann A2.413
Altrad plettac assco A2.413
Altrex A2.403
AMADIO S.p.A. A2.301
Big Astor FS.903/8
Eastman A2.328
Entrepose Mills A2.109C
Haion Caster Industrial A2.338
Huber & Sohn KG A1.350
Ischebeck, Friedr A2.449
Kero GmbH + Co A2.410
Layher, Wilhelm A2.425
Layher Bautechnik A2.424
Miller, Karl A5.504
MJ-Gerüst A2.224
Monzon Sverige FN.1023/1
MUNISH INTERNATIONAL A2.101
PERI FN.719
PILOSIO FN.1020/1
Qingdao Scaffolding A2.314
Ringer A2.337
Robusta-Gaukel A2.214
SATECO A2.109D
Scafom-RUX Rux A2.226
Sucoot A2.114
ThyssenKrupp Bautechnik FN.721/1
TMS Formwork and Scaffolding A2.436
Tobler A2.325
Urtim Kalip iskele Sistemleri A2.202
Variant Factory FN.820/2
Walter Gerätebau A1.237
Yangjiang Kitsen Construction Hardware A2.104