Bauma Show Guide - Demolition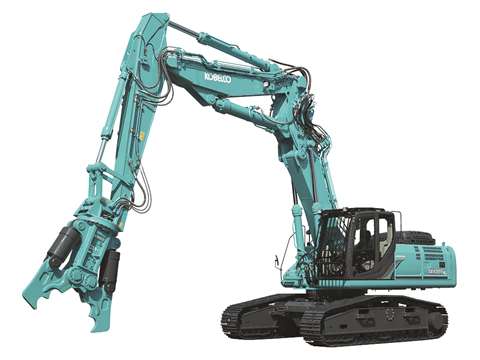 In terms of visitor and exhibitor numbers, Bauma remains unrivalled among construction exhibitions. Here's a rundown of exhibitors of interest to the demolition and recycling industry that you can see in Munich on April 11 to 17.
Atlas Copco
Atlas Copco will present its new generation of BC bucket crushers that are said to offer up to 80% higher output than previous models. Designed for carriers from 22 to 38 t, the machine is available in BC 2500 and BC 3700 versions.
The crushers are suited to "small" demolition and recycling applications, and are capable of crushing up to 110 t/hr.
Atlas Maschinen
Atlas Maschinen will be showing several new excavators to coincide with a number of Tier 4 versions being available from April onwards.
Developments include a number of special features on the 140W small wheeled excavator, such as the new Atlas quick change system and a 2,750 mm (9 ft) dozer blade to increase operation speeds.
Meanwhile the 160W is equipped with an all-new cab and interior, and features a new "sixth generation" electronic control system.
The 180Wsr wheeled excavator is also being shown in the new Tier 4 Final version. With a TCD 4.1 Deutz diesel engine supplying 115 kW (157 hp), Atlas describes the excavator as a "true powerhouse".
BAV Crushers
Exhibiting at Bauma for the second time, BAV Crushers' stand will feature examples of attachments for carrier excavators, based on 3 to 6 t operating weight, from the core product range of Alligator jaw pulverisers, CB crusher buckets and RS rotary screening buckets.
According to BAV, the crusher buckets in particular were a huge success in 2015.
BHS-Sonthofen
BHS Sonthofen recently set up the BHS-Sonthofen Turkey Makina Sanayi company, with its corporate headquarters in Istanbul. The new subsidiary is a joint venture developed from a long standing business relationship with DTR Industries. It means that BHS can meet the increasing demand for recycling, mixing and crushing technology products in the Turkish market.
Brokk
This year is the 40th anniversary of Brokk starting up. Since 1976, it has supplied more than 6,000 demolition robots to more than 100 countries around the world. The company said that what started as a niche market for very special requirements is now a mainstream, and vital, part of most demolition, process, cement, nuclear decommissioning and underground projects worldwide.
New for Bauma is its 120 Diesel, described as the world's smallest diesel-driven demolition robot, at 780 mm (30.7 in) wide and weighing around 1,200 kg (just under 2.650 lb). The third machine in Brokk's diesel line up after the 400 and 800, it can operate independently for more than eight hours.
Brøndum
The range of Danish Ronda heavy-duty vacuum cleaners for the construction industry has been extended by a new model, the 2800H, which is a class H vacuum cleaner for the heavy jobs with large quantities of fine or health hazardous dust, such as demolition tasks. The machine has its world premiere at the Bauma 2016. It can handle large quantities of fine dust, such as cement dust, and is equipped with the thoroughly tested multi-tube filter system, which is used in other Ronda machines. At the same time the filter load will be reduced by means of the cyclone effect. Designed for the construction industry, the machine is protected by a strong metal frame and equipped with large wheels, which make it suitable for transport between and on the sites.
Case Construction Equipment
Case Construction Equipment will show its full line of equipment and services for the construction industry at the BAUMA 2016 exhibition. CASE will display its offering for the urban construction, road building, aggregates and recycling applications, dedicating areas of stand to each market segment. The design of the stand will draw visitors towards a central point where they will discover the new D Series crawler excavator models and the 580ST backhoe loader featuring the new backhoe boom and loader arm that will be launched at the exhibition. An extensive range of F Series wheel loaders will also be on display across the stand, with units in the aggregates, recycling, road building and urban construction areas. The latter will also showcase the brand's ranges of skid steer loaders and mini excavators, which are particularly well suited to this type of application. Also in this area of the stand will be the CX80 midi excavator that satisfies the most demanding customers with its superior comfort and premium features.
Caterpillar
Caterpillar and its German dealer, Zeppelin Baumaschinen GmbH, will exhibit a suite of technologies, services and equipment 2016 under the theme "Built for It". In display space totalling more than 8200 sq m, the company will showcase safety, productivity and equipment management solutions, as well as more than 60 Cat products, a large selection of work tools and a full complement of dealer-delivered support services—all designed to make customers more successful.
CDE Global
CDE Global is exhibiting at Bauma for the third time and this year will include some significant product developments.
CDE has a 1,200 sq m (12,916 sq ft) stand and will be showing the latest version of its M2500 mobile washing plant, a standalone EvoWash sand washing plant, and new inclined screens from the Infinity range.
Chicago Pneumatic
Chicago Pneumatic has launched its latest generation of rig-mounted hydraulic compactor attachments. The RC range includes five new models, for use on carriers with an operating weight of 1-40 tonnes, offering robust performance, high efficiency and easy maintenance for demanding applications including slope, trench and waste compaction, side development and piling.
All models within the RC range are designed for instant use, with no special installation required, and combine high compaction frequency with high vibrating force to enable operators to make quick work of most compaction jobs. To reduce stress on the compactor during operation, the housing is offset by 15%. This provides better force distribution across the plate, in addition to reduced wear and tear.
Doosan
Doosan Construction Equipment is presenting every aspect of the company's business at Bauma 2016, encompassing many new Doosan Heavy, Bobcat and Doosan Portable Power product launches as well as the very latest initiatives from the company's attachment and aftermarket support operations.
The Doosan Heavy display includes the new 5 tonne DX57W-5 wheeled excavator which, in addition to complying with the latest Stage IIIB emission regulations, incorporates many new features that increase performance, operator comfort, durability and fuel efficiency.
The DX57W-5 has increased power from the 42.5 kW (52.3 HP) Doosan D24 4-cylinder engine which also offers convenience and lower costs by meeting Stage IIIB emission regulations without the need for a diesel particulate filter (DPF). Factory tests show a 15% increase in fuel efficiency, depending on the mode of operation and the work being done.
DSB Maschinenbau
DSB Maschinenbau, the Austrian manufacturer of mobile crushing and screening machines, has announced it will launch a new Innocrush machine with a revised design at this year's Bauma exhibition in Germany.
"We listen carefully when customers report on their operations and suggest what would be necessary, useful or helpful to existing features," said general manager Dieter Durstmüller.
"It makes no sense to design a machine on the drawing board. It's about building powerful crushers that are easy to use and meet the customer's exact requirements."
The company said it had hired an industrial designer to give the new design a simple but distinctive look.
"With the current development, our focus was clear – functional design, highest output," said Dieter.
Furukawa Rock Drill
Reconstruction, modernisation and stripping of existing buildings has become a growing role in modern industrial architecture, creating a need for compact excavators with suitable attachments. To meet to this demand, FRD is introducing the VXB series at Bauma. This comprises three models for excavators from 2 to 13 t operating weight and has been specially designed for these applications. The crushers have an integrated booster system, which allows smaller excavators, with limited operating pressure, to achieve extremely high crushing force. All models are fitted with the FRD hydraulic rotation system for precise positioning. As throughout the whole FRD range, the crusher body and their jaws are made out of Hardox. Depending on the model, the jaws are fitted with replaceable teeth. The FRD VXB Serie has been designed according to the current standards, to meet the growing requirements in performance, durability and serviceability.
Genesis Attachments
Genesis Attachments has launched its GDT Razer demolition tool designed for today's new classes of excavators and high reach applications.
Featuring a lighter-weight design, the GDT 190 and GDT 290 are optimised to fit on standard 200 and 300 class excavators, respectively, as well as most high reach demolition machines.
The company said that a short, flat-top head with bolt-on bracket makes installation simple, shortens the centre of gravity and makes it easier to switch the tool between excavators.
The GDT Razer easily processes a variety of materials with its customisable crushing tooth configurations. The number of crushing teeth and their locations can be customised to meet project needs, and the bolt-on teeth are said to be not only easy to install, but can be interchanged and reversed front to back for longer life and lower cost of operation and ownership.
Metal cutting blades in the back of the jaw are four-way indexable and feature an apex design that draws material deeper into the jaw for more efficient cutting.
To further improve productivity and reliability, the GDT Razer also features a pass-through lower jaw to prevent material build-up and jamming, as well as a reverse-mounted cylinder for protection from damaging debris.
Hartl
The family owned crusher and screener manufacturer from Austria is again presenting its premium bucket crusher and screener range to the world market.
The company said the bucket crusher from Hartl stands out for highest throughput and best shape of produced end material. The unique Quattro movement of the jaw crusher, fitted with an up thrust toggle system, provides and guarantees an overall performance
Finally, Hartl is announcing its latest patented development at Bauma, which it believes will change mobile crushing and screening for decades.
Hitachi Construction Machinery Europe
HCME will present its Zaxis-6 range of medium and large excavators, promising new technology, a more comfortable operator experience, and enhanced productivity and fuel efficiency.
The ZX490LCH-6 incorporates technology developed specifically for its use, including two pumps and control valves to reduce fuel consumption. New technology also assists in lower emissions and reducing noise, with its diesel oxidation catalyst, urea mixing pipe, selective catalytic reduction system and silencer.
JCB
JCB will bring to Bauma its 3CX compact backhoe loader, a machine described as taking the popular 2CX to a new level. Designed for use on congested urban construction jobs, key features of the 3CX include its compact dimensions, with a width of just 1.9 m (6 ft 3 in) and height of 2.7 m (8 ft 11 in), and a top speed of 40 km/h – 17% faster than its predecessor. With a turning circle of 5.8 m (19 ft), it also gives operators enhanced control with seven excavator levers and improved hydraulic delivering 19% more flow.
Keestrack
Belgium-based company Keestrack will show a cross-section of its product range in the form of six crushing and screening units used in mobile processing technology for recycling applications.
At Bauma, Keestrack will be showing proven mobile crushers as well as new high-capacity large scale models, all now under new names as the company looks towards the next stage of its development.These range from the B2 jaw crusher and R4 crusher unit – previously the Argo and Destroyer 1011 – to the R8 top crusher unit formerly known as the Destroyer 1313. Also on show will be the track-mounted H4 cone crusher, which the company described as the first of its kind in the world.
Kobelco
Kobelco Construction Machinery Europe (KCME) has announced it will showcase its new SK400DLC-9 building demolition machine for the first time at the Bauma.
The company plans to follow this with test marketing during the rest of the year before putting the product on sale in Europe in 2017.
Features included boom connection ensuring quick disassembly and reassembly; side-mounted attachment piping which is accessible from the ground; reduced height of ultra-long attachments when collapsed for transportation; and improved structure fatigue strength.
Komatsu
Komatsu's PC490LC-10 high reach demolition (HRD) excavator, the latest addition to the company's demolition range, will be presented with a new adjustable undercarriage. The excavator itself was first shown at Intermat in Paris last year, and it received the 2015 Innovation of the Year Award from the United Kingdom-based National Federation of Demolition Contractors.
The machine's stability is enhanced by the hydraulically adjustable wide gauge undercarriage, which features longer trackframes that the standard undercarriage. Including 700 mm (27.6 in) triple grouser shoes, the width of the new adjustable undercarriage can be varied from 4,000 mm (13 ft 1 in) to 3,000 mm (9 ft 10 in), improving ease of transport where width restrictions apply. When specified with the new undercarriage, the machine's operating weight is increased to just over 70 t.
Kubota
Kubota, a manufacturer of oil and water cooled diesel and duel fuel engines, is using Bauma 2016 as the launch platform for its new Diesel Power Packs in the power range up to 55 kW.
The company said the new Diesel Power Packs have been specifically designed and developed in response to the needs of the market, ensuring original equipment manufacturers (OEMs) have a readily available solution today to meet current and proposed future regulations.
Liebherr
The company's new XPower wheeled loaders are described as a comprehensive, innovative machine concept with the new power-split, Stage IV/Tier 4 Final compatible XPower drivetrain at the heart. The new models to be introduced at Bauma are available across the range of large wheeled loaders from the L 550 to the L 586. The company said the XPower concept offers greater reliability than previous Liebherr wheeled loader generations.
Liugong
Liugong will be showcasing its full range of Tier IV E-Series excavators. The machines are all fully compliant with European emissions regulations and use an advanced hydraulic system to offer increased efficiency. The company says customer costs are reduced through a combination of low fuel consumption and reliable machine performance. All the excavators feature six selectable working modes – Power, Economy, Fine, Lifting, Breaker and Attachment – also assisting with fuel consumption.
McCloskey International
Screening and crushing specialist McCloskey International will be demonstrating its continued growth with a significant increase in its presence at this year's Bauma, where it has taken 25% more floor space.
Crushers on display include the latest version I44R combined crushing, screening and recirculating.
The company will also introduce the R155 dual power mobile screener with the aim of providing maximum flexibility and significant savings on energy costs for customers. Designed for maximum uptime on the job, it can switch easily between two sources of energy. Easily connected to external electricity sources, it is able to work in a variety of sites around the world.
Metso
Metso will present at its outdoor stand the renewed mobile Lokotrack LT1213Simpactor plant, the popular Lokotrack LT96 jaw plant, the three-deck Premier ES303™ horizontal screen, new stationary plant solutions and proven pumps. Visitors are also welcome to participate in several Aggregates Academy sessions.
Okada Aiyon
Japanese attachment manufacturer Okada Aiyon Corporation released two new pulverisers for this year's Bauma.
The two models being introduced are the OSC280AV fixed pulveriser and ORC280AV HR rotation pulveriser. The company said they are suitable for excavators from 22 to 38 t. Okada Aiyon will add more bolt-on tooth models to other classes after the exhibition.
The manufacturer adopted the tooth-plate system for the bolt-on tooth to ensure durability. Special cast steel teeth are firmly welded to base plate, with each tooth tightened by single screw. The tooth-plate can be replaced at the job site to reduce downtime and increase productivity.
The OSC series is the best selling range of pulveriser for Okada Aiyon, which has become a partner for demolition contractors in Asia. The series was introduced in 1986 and around 8,000 units have been sold so far.
Rockster
The current Rockster R1100 portfolio can meet very particular customer requirements, starting with the base system designed with an optimum transport height, or the flexible Duplex solution, up to the extremely fuel-efficient hybrid system.
The range has an inlet opening of 1,100 x 720 mm (44 x 29 in), a massive rotor and a crusher outlet height of about 700 mm (28 in) has good opportunities in the market.
The impact crushers of the R1100 series are already equipped with many new features, such as the fully hydraulic crushing gap adjustment, the new central control unit or the new radio remote control with display. Very quickly you find the most important operating parameters such as the rotor, feeder or motor speed and can easily adjust them. Moreover, the automatic mode, a quick-start possibility for bringing the system automatically into operation mode, can now be started by remote control as well. Rockster redesigned the machines and can now offer all of its plants both with Tier3, and with Tier4 engine.
Rubble Master
RM Compact Crushers enable customers to recycle construction and demolition waste and natural rock effectively and directly on site. According to Rubble Master, a variety of materials ranging from brick production waste and broken asphalt or concrete to construction debris can be efficiently recycled to make high-quality building materials.
A total of four RM crushers will be on display at Bauma. In addition, the new generation of mesh deck screens and the hydraulic pivoting refeeding belt will also be there.
Terex Compact UK
Terex Compact UK will show a number of additions to its compact equipment portfolio, including a new site dumper and backhoe loader. TheTA9SP site dumper includes powershift transmission and auto-shift technology, while the TLB830 – designed with the rental market in mind – has been engineered to excel in digging, reaching, lifting and loading applications. Other companies from the Terex group will also be exhibiting at Bauma.
Volvo Construction Equipment
At Bauma, Volvo CE will present its new EC35D and ECR40D compact excavators. The ECR40D is designed to work with power and precision in tight spaces, while the more conventional EC35D features similar architecture and delivers comfort, performance and versatility.
Each machine is available with an electronic system that enables operators to fine tune functions and settings through a keypad and monitor. Up to three profiles can be saved in the system, allowing machine behaviour to suit applications and operator preferences.
Wacker Neuson
Wacker Neuson will display a new wheeled dumper – the DW50 – which will be presented for the first time at Bauma.
The company said the new model complemented its series of low-maintenance, hydrostatic all-wheel drive ECO mode units, which are particularly designed for uneven ground conditions.
The range includes the DW60, DW90 and DW100 models with payloads in the 6, 9 and 10 t classes.
This is taken from the March-April 2016 issue of Demolition & Recycling International. To see the full article, including additional images, or to receive the magazine on a regular basis, please visit www.khl.com/subscriptions