Bauma Show Guide - Engines
By KHL Group18 March 2016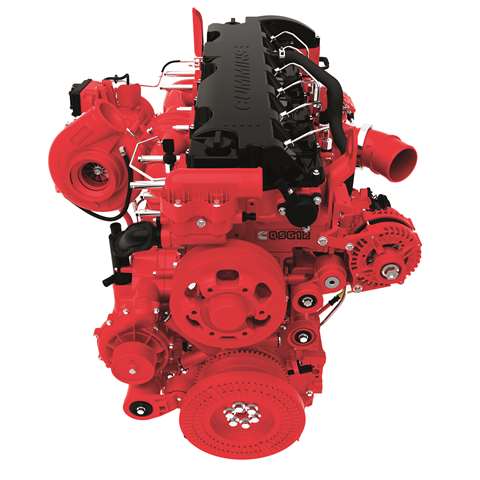 German-based manufacturer Deutz will be presenting its new TCD 2.2 diesel and gas engine at Bauma.
This 2.2 litre engine is a three-cylinder variant of Deutz's TCD 2.9 four-cylinder engine. The TCD 2.2, with a rating of up to 55kW, will be particularly suitable for applications in material handling and compact construction equipment.
The engine will be available in both a diesel and a liquefied petroleum gas (LPG) variant. The gas variant will produce up to 42kW and is a first within Deutz's otherwise diesel-only product range.
The TCD 2.2 will go into series production in 2019 when the EU Stage V emissions standard comes into force.
Deutz will also be presenting an LPG variant of its TCD 2.9 engine. The engine will produce up to 55kW and have a similar size and configuration to its diesel equivalent. The new gas variants – called G 2.2 and G 2.9 – mark Deutz's entry into a line of business that offers future potential, with LPG engines offering a number of advantages, claims Deutz.
For example, they are particularly well suited to equipment designed for use in the enclosed spaces of buildings, as liquid gas produces far fewer emissions than diesel.
The engines also have a three-way catalytic converter that means they meet the EU Stage V emission standard without the need for a costly exhaust aftertreatment system and thereby offer a convenient alternative that gives customers additional flexibility.
In addition to its new products, Deutz is using bauma 2016 to showcase its popular TCD product range, a Stage V ready family comprising the TCD 2.9, 3.6 and 4.1 four-cylinder models and the six-cylinder TCD 6.1 and 7.8.
Engines with capacities of four litres and above are fitted as standard with the following
Deutz exhaust aftertreatment features: diesel oxidation catalyst (DOC), diesel particulate filter (DPF) and selective catalytic reduction (SCR). DPF, which is currently available as an option for the 2.9 and 3.6-litre models, will be mandatory when Stage V comes into effect.
US-based manufacturer Cummins will present its ultra-clean engines designed to meet European Union Stage V emissions regulations. Across a broad 55kW to 300kW output range, these engines bring an increase in power and torque of up to 10%.
A range – which have a new approach to combustion, air flow and fuel injection systems – comprise the 4-cylinder QSF3.8 and QSB4.5, and the 6-cylinder QSB6.7 and QSL9.
Hugh Foden, executive director, Cummins Off-Highway Business, said, "Cummins is taking the opportunity offered by the introduction of Stage V regulations in 2019 to redefine engine performance in terms that our customers care about, with easier installation, simplified servicing and more responsive power delivery.
"In the process, we will be raising the engine performance bar higher for the industry."
The Stage V engines will be supplied as an integrated system with the single moduleexhaust aftertreatment, newly developed by Cummins Emission Solutions in response to the needs of increasingly space-constrained equipment, said the company.
The single module will provide up to 50% reduction in envelope size and a 30% reduction in weight compared with the existing Stage IV and Tier 4 Final aftertreatment systems.
The efficient packaging of the single module is achieved in conjunction with ultra-clean performance that removes 99% of particulate matter (PM) emissions, as well reducing NOx emissions to extremely low levels, claims Cummins.
Cummins' heavy-duty engine duo – the QSG12 powering equipment up to 382kW and the QSX15 with a 503 kW – are ready to meet Stage V regulations by retaining the DPF and SCR aftertreatment system used for Stage IV and Tier 4 Final applications.
For those larger, high-output machines, the Cummins DPF-SCR provides an established installation package with ongoing continuity for equipment manufacturers as they transition their machines to Stage V compliance in 2019.
The significant increase in peak power and torque rise achieved at Stage IV and Tier 4 Final by the QSG12 and QSX15 will carry forward to the Stage V certified engines with no modification required to the existing engine architecture.
Kohler Engines will present its services and technical assistance for the KDI family of engines.
The assistance comes in the form of a digital learning and training tool, offering support to its dealers, workshops and OEMs. The new approach is based on an organisational framework in which assistance with diesel engines is coordinated from the group's headquarters in Reggio Emilia, Italy and offered by a worldwide service network supported by European branch offices in France, Spain, Germany and England, and service departments in North America, China and Pacific Asia, and Central and South America.
For the KDI line, the technical assistance and replacement parts division of Kohler Engines has drawn up a series of special requirements for workshops that wish to join the network of KDI qualified service centres, whose technical personnel receive training that is specifically targeted for this line.
From Italy, the technical assistance department provides documentation, initial training and technical support to all branches around the world, which in turn covers its specific territories and create networks of dealers and authorised workshops.
In doing so, they directly supervise OEMs that intend to perform repairs and service on KDI engines directly through their own dealer networks. This service organisation includes some 1500 service locations in Europe.
Traditional courses in the classroom are accompanied by a distance learning section - a remote training tool included in the iService multimedia platform. It combines traditional viewing of technical manuals with the usability offered by advanced digital technology.
The distance learning section can be accessed at www.lombardinigroup.it
Rolls-Royce will be presenting its MTU engines for the off-highway emission regulations expected to come into force as of 2019 to the construction industry for the first time at BAUMA.
The company will be presenting engine systems for construction site vehicles, industrial and mining applications. Additionally there will be mobile and stationary diesel gensets from MTU Onsite Energy on show, which are ideally suited to the generation of electric power on construction sites.
MTU Series 1000 to 1500 engines are currently being further developed jointly by MTU and Daimler to meet EU Stage V regulations based on Daimler commercial vehicle engines. They are expected to be available in the 100 to 480kW power range in good time for the planned introduction of the EU Stage V emission standards in 2019.
The MTU engines meet the new emission limits for soot particles using advanced internal engine technology, an SCR system and an additional DPF. Two 6-cylinder Series 1000 and 1500 engines will also be on display on the company's stand, in addition to the associated exhaust aftertreatment system.
Bernd Krüper, head of construction & agriculture business, said, "Construction companies will benefit immediately from the advanced technological developments for EU Stage V: what we strive for from the development work are higher torque at low rpm, a further reduction in fuel consumption and an extended power range compared with the previous engines that were designed to meet EU Stage IV."
MTU will also have two Series 1600 and 2000 12-cylinder engines on display for the power range beyond 500 kW. The Series 1600 engines are available for the 567 to 736 kW power range. In addition to complying with the US EPA Tier 4 emission regulations, they are also designed to meet the future EU Stage V regulations using internal engine technology only. No exhaust aftertreatment is required.
The MTU Series 2000 engines for installation in construction equipment cover a power range extending from 560 to 1,000 kW and are compliant with EPA Tier 4 emission regulations. They also meet the US standards using internal engine technology only.
Volvo Penta will be showcasing its start/stop feature, which is now available on selected Stage IV/Tier 4 and Stage III/Tier 3 engines. For owners and operators, the benefits of the start/stop function include reduced fuel consumption, noise and emissions.
Volvo Penta has released the second series of its fuel-saving start/stop function for industrial engines. First introduced in 2013, the feature is now available for Stage IV/Tier 4 Final D5, D8 and D11 engines, as well as Stage III/Tier 3 D11 engines.
The Volvo Penta start/stop feature works by shutting down the engine during extended idle periods and turning it back on when the equipment needs to resume its operation again. These features are increasingly common in automobiles, and the company was one of the first companies to integrate the function into industrial off-road engines, it claims.
The system provides owners with a good return on investment — saving between 5 and 15% in fuel costs – depending how much idling there is in a given application.
Emissions are also reduced, while a reduction in idling keeps the engine-aftertreatment system at a better working temperature. This leads to a more efficient conversion in the SCR-catalyst and lower NOx emissions. With the engine turned off when it's not needed, excess noise is also reduced.
The latest series of start/stop has been updated with new features for added customer benefits. The hardware has been integrated into the engine ECU (engine control unit) for greater reliability. A stronger, more robust starter motor is now incorporated which ensures durability, and a battery voltage monitor allows the system to check the battery status and ensure that there is always enough capacity for a re-start.
Three new turbocharged and aftercooled engines will be launched by Yanmar at Bauma.
The trio join the company's existing TNV family of common rail engines which are EPA Tier 4 final, EU Stage IIIB and FOEN (Switzerland) certified. These are the engines, of which there are already over 120,000 in the market running for many hours trouble free, that Yanmar will offer for Stage V exhaust emissions regulations from 2019.
The engines have already found favour with construction equipment manufacturers, especially for excavator and wheeled loader applications because of their lower fuel consumption, higher power density and a DPF which practically needs no maintenance, according to Yanmar.
The new 1.6, 2.1 and 3.1-litre engines feature Bosch and Denso common rail direct fuel injection systems, full authority electronics and offer rated powers ranging from 33.3 to 88.4kW
With the addition of the turbocharged-aftercooled engines, the TNV CR engine range now consists of nine models.
Gert Maris, senior area manager for the industrial power train department, Yanmar Europe, said, "Another key benefit is that, through Yanmar's exhaust gas management technology for the DPF, extremely long maintenance intervals of 6,000 hours – effectively the lifetime of most machines – can be achieved, thus eliminating operator downtime."
The engines are also suitable for other applications including industrial, landscaping and municipal applications and agricultural tractors.
The three new engines are the three-cylinder 3TNV86CHT, producing 33.3kW, the four-cylinder 4TNV86CHT, producing 48.5kW, and the four-cylinder 4TNV94FHT, producing 69.8kW, 77.2 kW and 88.4kW.
Hatz Diesel said it planned to present a new three-cylinder engine, compliant with the upcoming EU off-highway diesel exhaust gas regulations Stage V. The water-cooled three-cylinder 3H50 engine will be available from 2018. Equipped with Bosch common rail technology – maximum injection pressure 1800 bar – the new model is similar to the manufacturer's existing four-cylinder design.
Thanks to the turbo charger and the intercooler, Hatz said the 1.5 litre engine had a maximum torque of 185Nm (at 1600 to 2000 revolutions per minute) and a maximum power of 42kW, but required an installation space of a 0.25m3.
And it said the new model did not need any exhaust after treatment, reaching the EU Stage IIIA and EPA Tier 4 Interim exhaust standards for 19kW to 37kW engines. The variant model 3H50TIC was designed for the US market, Canada and some Asian countries. In order to comply with the exhaust emission standards EPA Tier 4 Final and EU stage IIIB, the company said a combination of external exhaust gas recirculation and diesel oxidation catalyst were used.
In addition, Hatz said it would present a new silent canopy generator at the show. The Hatz HEA‑27TDCW5 generator produces 27kVA at 50hz and complies to the current standard EU Stage IIIA, with stricter emission levels optionally available with other engine versions. Hatz said this generator was available as emergency standby and continuous power supply version and with its robust frame and canopy, and was also aimed at the rental market.
And the company said it also planned to present a new hydraulic power pack – the 25kW Hatz HAA‑25HDCW, which boasts a 120 litre fuel tank.
For its part, Putzmeister will present its BSA D4 series engines at Bauma.
All Putzmeister BSA D4 models have efficient exhaust aftertreatment systems that reduce soluble particles and diesel soot significantly by means of a DPF and simultaneously reduce NOx considerably with the help of SCR.
Moreover, the new machines may only be filled with sulphur-free diesel fuel, and for further exhaust gas cleaning, also require the addition of a urea-based diesel exhaust fluid, which also goes by the brand name AdBlue.
The BSA D4 models achieve up to 10% less fuel consumption, and give off a quieter sound during operation, ensuring a more comfortable working environment.
Doosan Portable Power, meanwhile, said it would introduce the G400-IIIA (400 kVA prime power) and G500-IIIA (500 kVA prime power) generators meeting the EU Stage IIIA engine emission regulations.
As well as incorporating the changes required to meet the Stage IIIA regulations, the manufacturer said these new generators had been redesigned to offer increased reliability, high performance and a wider choice of features to meet the needs of temporary power applications.
The generators have a standard fuel storage capacity offering a minimum of 10 hours of autonomous operation (at 75% of the load), while a 24-hour on-board fuel tank configuration is available as an option.