Bauma Show Guide - Roadbuilding & Compaction
By KHL Group18 March 2016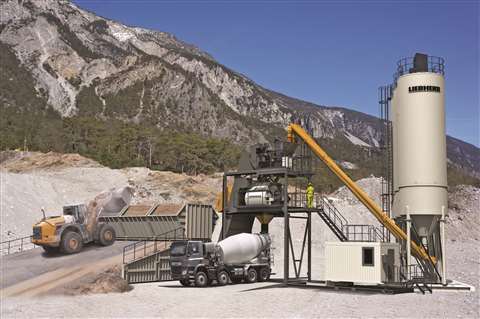 Liebherr says its new concrete mixing plant, Mobilmix 2.5 – debuting at this year's Bauma – is easy to transport and, with its basic elements positioned on a supporting platform and transportable as a whole on a flatbed truck, it can be set up within two days, making it ideal for sites with limited concrete production time or other time constraints.
While from a performance and comfort perspective, the machine is said to be comparable with a stationary mixing plant, the Mobilmix comes equipped with a completely reworked twin shaft mixer and has a number of upgraded features compared with its predecessor, the Mobilmix 2.25, including an output capacity increased by 10 m³ to 110 m³ per hour.
Another new feature is a lowered mixer platform, with its slight slope to the discharge hopper making cleaning significantly easier. A new keyless security system on the mixer access hatch, as well as improved accessibility to the mixer system, also aid cleaning, while a feed flap on the skip and dust filter systems give dust protection to the mixer platform.
Efficiency, eco-friendliness and straightforward operation are the standout qualities of the 5th generation single drum rollers, being showcased by Bomag at this year's Bauma.
A 12-tonne category roller is new to Bomag's earthworks portfolio.
The company says its Ecomode function (available across the new range) has been shown to reduce fuel consumption by up to 30%, with no reduction in compaction performance.
Combined with features such as the optional Ecostop function, which can save fuel and reduce engine wear, Bomag says overall operating costs are lowered.
While the Variocontrol automatic compaction control system is already a well-known component within Bomag rollers, a new operating concept offers easier use for the operator, with one rotary switch integrated into the arm of the seat undertaking all settings.
In manual mode, operators can choose the required amplitude; in automatic mode, they can specify EVIB values and Variocontrol takes over control of the amplitude. Icons give a clear indication when maximum compaction has been reached.
Bomag's BF 300-2 city paver's new engine now meets Tier IV Stage 3B emission standards and also offer an optional hydraulically controlled front flap, making emptying the hopper faster and easier.
Now available, the BF 300-2 paver also has a Tier III engine and is optionally wheel or chain drive. The machine has a laying capacity of 300 tonnes per hour and a maximum laying width of 5 m with the chain drive option, or 4.40 m with the wheel drive.
Another option for the BF 300-2 is a ventilation system, which can extract asphalt fumes directly above the auger, diverting them to above the paver roof, making the machine cleaner and more comfortable for both drivers and screed operators.
The paver comes with an Ecomode, and Bomag believes 80% of its daily work can be conducted with the Paver operating in this mode, saving fuel and reducing noise. More options include LED headlights and a balloon light.
Bomag's BMF 2500 feeder promises greater paving efficiency with uniform and constant delivery of the mix to the asphalt paver. At Bauma, the machine will be displayed with a medium-length fixed belt.
This compact feeder has a theoretical output of 4,000 tph, which means it can handle a 27 tonne lorry load of crushed rock, sand or asphalt in only 35 seconds. With a width of just 2.55 m, the machine is narrow enough to be transported with no special permit.
The 1.2 m-wide rubber belt needs no re-tensioning, utilising anti-stretch technology, offering safer material feeding, while the base model BMF 2500 can also be supplemented with slewable belt, allowing laterel feeding.
The feeder can be operated fully automatically, with guide wire steering available as an option, meaning the operator can concentrate on the delivery truck, while the machine remains on course.
The BMF 2500 S is the base model. The BMF 2500S Offset has a slewable belt as standard, while the BMF 2500 M offers a longer, height-adjustable belt.
Three new pavers from Cat will be part of the Munich exhibition. The AP300F, AP355F and AP555F, each powered by an engine that meets EU Stage IV / US EPA Tier 4 Final emission standards.
The AP555F is a mid to high production, rubber track paver designed for use on projects such as airports runways, interstates, highways, and other large jobsites. Cat says its high travel speed, flotation, and traction deliver enhanced mobility.
Each of the pavers on show feature quick-heating screed systems that aid productivity and reduce idle time.
Cat will also bring a new CD54B drum vibratory compactor with technology enhancements for the operator.
Atlas Copco's new Dynapac SD1800 citypaver – featuring at this year's show – has a laying capacity of 350 tph and covers paving widths from 0.70 m up to 4.70 m. Designed primarily for projects such as city road construction the SD series benefits from the paving controls introduced with PaveManager 2.0.
The SD1800 features electro-hydraulic controls and 54kW power provided by a Deutz T3/T4 engine, distributed to the paver functions through an efficient system that ensures minimum power loss.
The equipment is self-configuring, meaning that it can be used on either side of the paver. Both dashboard and remote controls offer colour displays and intuitive menus and functions.
With a length of 5 m and a width of only 1.80 m, the SD1800 works well in narrow job sites. The low height of the paver lends itself to paving below trees easy, while maintaining operator visibility.
Operator comfort has also been enhanced, with more headroom on the platform, pivotable seats on a sliding platform and an extendable roof for operating in adverse weather conditions.
Ammann, with its largest booth ever at Bauma, will showcase 17 new products and several prototypes, including the prototype of its autonomous plate compactor. The compactor covers a jobsite without an operator, which Ammann said provided high compaction output at greatly reduced operating costs.
It claimed it was the first autonomous plate compactor on the market, also saying that the plate was easy to use, with the operator setting the boundaries by remotely navigating the plate around the jobsite perimeter.
Other new products unveiled and on display at Bauma include pavers, forward-moving vibratory plate compactors, soil compactors, pneumatic and trench rollers, an articulated roller with ACE and oscillation, and asphalt plants.
Both, the wheeled and tracked versions of the Ammann pavers, have been updated to meet all emission regulations worldwide. It said the tracked versions – the AFT 350-2 and AFT 500-2 – provided improved traction in challenging underfoot conditions. The wheeled AFW 350-2 and AFW 500-2 were described as the best choices when mobility was essential.
The next generation of Ammann's mini paver, the AFW 150-2, has been released. The wheeled paver features a larger auger – 120mm diameter compared with the previous 100mm – that is said to ensure proper material distribution along the screed. A new material flow sensor is another enhancement.
A hydraulically extendible screed operates in a similar way to those on larger pavers, which is said to enable quick and effortless extension while the machine is operating.
Ammann said its forward-moving vibratory plates – the APF 1133, APF 1440, APF 1450 and APF 2050 – represented new efforts to send compaction energy toward the materials and away from the operator.
The compactors feature Ammann's patent-pending Z-buffer, which isolates the guide hand from vibration and reduces operator fatigue. The Z-buffer is the key reason operator vibration levels for Ammann compactors are substantially below the regulations of the strictest countries, it said.
The ARS 200 T4f and ARS 220 T4f feature newly-designed cabs and intuitive controls. The optional Ammann Compaction Expert (ACE) systems are said to provide quality control, reduced machine wear and cost savings. The ARS compactors also incorporate existing features such as a no-rear-axle concept with fully hydrostatic drive and the powerful Ammann dual vibratory and amplitude systems.
The new Ammann ART 240 T4f pneumatic-tyred roller is said to provide productivity-improving operator comfort and an engine that meets Tier 4 Final emissions standards.
A spacious cabin features two working stations, while the multifunctional operator display provides instant feedback. The ART 240 uses a front isostatic oscillating axle and a rear-drive propulsion system that provides the necessary power, regardless of tyre pressures or ballast weight.
In the field of cold milling machines, Wirtgen will be presenting two brand new machines for road rehabilitation.
The first of these is the W 120 Ri from the new generation of small milling machines. It is a mobile rear loader on wheels. The second is the W 150 CFi, which is a front loader and the most powerful model in the new compact class.
Other world firsts from Wirtgen include the slipform paver SP 64i and the curing unit TCM 180i, two machines that the company describes as "pioneering", for high-quality concrete paving.
The company said that together with the models SP 61i and SP 62i, the SP 64i made up the new SP 60 series which is set to replace the SP 500 slipform paver in future.
The new SP 90 series comprises the SP 92i and the SP 94i, a completely modular inset version with four steered and pivotable crawler tracks.
Wirtgen said that in its area of core competence – cutting technology – it was also presenting PKD cutters for cold milling machines, as well as two further innovations in the form of point-attack cutting tools of Generation Z, and the quick-change toolholder system HT22. These have been specially developed to meet the requirements of cold recycling and soil stabilisation.
Road paving company Vögele, part of the Wirtgen group, is presenting the Super 800-3i, a machine which it said demonstrated that even small pavers could play in the big leagues.
In the Universal Class, it is also presenting two new models from its Super series – the Super 1600-3i tracked paver and the Super 1603-3i wheeled paver.
Two new machines are being premiered in the Special Class. The first of these is the Super 1800-3i with SprayJet module and the new ErgoPlus operating concept for paving thin wearing courses. Then there will be the new InLine Pave train which Vögele said would have numerous innovative Dash 3 features for the construction of compact asphalt pavements.
The company's new 10ft pavers for the US market are being presented to trade visitors for the first time at Bauma. There will also be a special WITOS Paving and RoadScan presentation on the subject of Process & Quality Optimisation. WITOS is a modular software system that supports fleet and service management, but Vögele said it also enabled new approaches to process optimisation. It said this made it possible for the first time not only to apply the just-in-time principle to organising construction processes, but also to optimise processes such as milling, asphalt paving and compaction.
Another member of the Wirtgen group, Hamm, is presenting the new pivot-steered DV+ series of tandem rollers. They feature the Easy Drive operating concept which Hamm said permitted simple, intuitive operation.
In future, Easy Drive will also be installed in the articulated tandem rollers of the HD+ series, as well as in the H Series compactors. Hamm will be displaying a number of these models at Bauma.
For earthworks, Hamm is showcasing the H 5i and H 7i compact rollers from the H CompactLine in Munich. These machines are said to be particularly suitable for confined job sites with steep gradients.
The rubber-wheeled roller GRW 180i, which was developed especially for the European and US markets, is also being premiered at Bauma.
Hamm is also presenting the H 25i VC compactor with crusher drum which can crush and compact hard material in a single pass.
Appearing for the first time at Bauma as a member of the Wirtgen group, Benninghoven is presenting its brand new MBA 2000 mobile asphalt mixing plant with 5-fold screening as standard.
It said the plant could be set up or taken down within a very short time and was therefore quickly available at changing project sites.
Benninghoven said it would be showcasing another highlight in terms of cost-efficiency and responsible use of resources in the recycling of reclaimed asphalt pavement with the innovative technology of the counterflow parallel drum system with hot gas generator.
It said this technology already met future standards, and that the asphalt industry was continuously looking for better ways of optimising the processes within asphalt mixing plants. It said one essential approach was to increase the volume of reclaimed asphalt added to all formulations.
It said that while parallel flow recycling drums were in operation worldwide today in all sizes and capacity levels, with this successful technology, exhaust emissions limited the outflow temperatures to 130°C.
With Benninghoven's new approach, recycling material is now heated in counterflow. That means that the material flows against the heat source in the drum. The company said this achieved higher material temperatures while lowering the exhaust gas temperature.
The new GKL Silent marks "a quantum leap in mastic asphalt technology", it claimed. This new technology allows work to continue outside of regular working hours and during the night without generating unwanted noise.
The omission of all hydraulic components and the use of an extremely quiet power generator, which supplies the drive with electricity to direct and continuously drive the agitator, is said to create a working environment which permits all tasks in sensitive areas.
With an acoustic pressure of 60dB at 7m, the noise emission is the same as from a TV at moderate volume, according to Benninghoven. This allows working on nighttime inner-city construction sites, in the area of hospitals, residential areas or public spaces.
Guntert & Zimmerman said its new G&Z S400 Multi-Purpose Slipform Paver would be launched to the worldwide market at Bauma. The company said it would be displayed with G&Z's exclusive TeleEnd, AccuSteer, SmartLeg, VariWidth and EGON features.
It said the G&Z S400 tackled a wide range of paving applications. With its standard telescopic range of 2m to 5.3m, the S400 allows contractors to pave most single-lane applications without the need for bolt-on extensions, it said.
With optional extensions, the S400 paves out to 7.5m, providing a combination single and dual-lane slipform paver to increase machine use.
G&Z said the S400 optimised a contractor's fleet while keeping options and maintenance costs to a minimum. It is said to be compatible with most options and attachments available on larger G&Z slipform paver models, including paving kit, tie bar inserters, trailing finishing pan, final finisher, etc.
Equipment manufacturer Chicago Pneumatic will launch its new range of rig-mounted hydraulic compactor attachments at Bauma.
The RC range includes five new models, for use on carriers with an operating weight of 1 to 40 tonnes, offering robust performance, high efficiency and easy maintenance for demanding applications including slope, trench and waste compaction, side development and piling, said Chicago Pneumatic.
All models within the RC range are designed for instant use, with no special installation required, and combine high compaction frequency with high vibrating force to enable operators to make quick work of most compaction jobs. To reduce stress on the compactor during operation, the housing is offset by 15%.
To ensure the hydraulic compactors are protected against overloads all models come equipped with integrated flow rate and pressure controls. This ensures operator safety and also saves time when the compactors are used on different carriers. The use of solid rubber isolators also provides excellent shock dampening of return vibrations, meaning there is no limitation of back pressure in the return line.
RC compactors are virtually maintenance free. The oil bath around the shaft bearing ensures continuous greasing, while Chicago Pneumatic's AutoLube system eliminates the need for regular manual greasing.
All RC compactors come equipped with connection hoses that are designed to withstand the strains of demolition work, with protection against chafing provided by a spiral steel wire. A range of additional options are also available, including a continuous rotation device for easy positioning and higher productivity, and new backfill blades for smoother levelling.
And compaction manufacturers will also have a lot of new machines to present. For its part, Atlas Weyhausen – which is replacing its Atlas Weycor brand with the shorter brand name Weycor – said it planned to showcase its AW 1070e and AW 1120e rollers. It said the AW 1070 e is fitted with a Deutz TD 2.9 L4 engine, meeting both versions of the Tier IV Final exhaust gas regulations. The larger AW 1120e is equipped with the 97kW Cummins QSF 3.8 diesel engine.
Wacker Neuson said it would present its battery-powered rammer models AS30e and AS50e, boasting improved travel speed. These vibratory rammers are part of the Wacker Neuson "zero emission" series, which also includes the electric wheel loader WL20e, the track dumper DT10e as well as the mini-excavator 803 dual power.
And five new models in the upper performance segment of the company's reversible vibratory plates series will also be presented. The models DPU80 and DPU110, which are offered with either a centre pole or remote control, as well as the new centre pole-controlled vibratory plate DPU90, are part of the portfolio with extremely low values in the area of hand-arm vibrations, which now consists of a total of ten models.
For concrete compaction, Wacker Neuson said it would present its entire product range of internal and external vibrators. Based on the application, the customer can thus choose from a modular HMS system, the basic line IEC and IE or the premium lines IRFU or IREN. The modular premium system IRFUflex will be presented at Bauma for the first time. It consists of a converter, which can be combined with various vibrator heads and a protection hose length of 0.3m to 10m.
New from Volvo CE in the compaction sector are the B-Series soil compactors - the SD75B, SD115B and SD135B models, which comply with EY Stage IV/US Tier 4 Final emissions laws and range in operating weight from 7 tonnes to 13 tonnes. Two frequency settings come as standard but five can be included as an option. Other technology includes a traction system and Eco mode as standard.