Bauma Show Guide - Specialized Transport
By Alex Dahm21 March 2016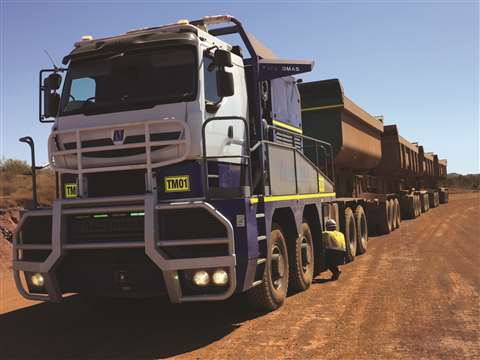 A display by Faymonville will include a CombiMax trailer with 10 axles, an extension beam and a low-bed. Following the modular system logic, 20 vehicle combinations can be put together with the exhibited model.
Also on show will be a MegaMax low-bed trailer with the independent wheel suspension, Twin Axle II, which allows 12 tonnes of payload per axle in Germany. The MultiMax semi-low loader can be hydraulically widened continuously on both sides via remote control to fit the machine width of the load volume (up to a maximum of 3.2 metres). Capable of having between three and nine axles, this semi-trailer has 19.5 inch tyres which give this forced- or friction-steered semi-low loader a higher ground clearance. A 'light' variant of the MultiMax is said to be ideal for transporting lifting equipment and work platforms.
Joining these developments is an axle unit of the DualMax originally developed for the American market. The model exhibited at bauma will illustrate the lift and shift principle, according to which the DualMax's rail width can be increased, even while loaded.
A self-propelled modular transporter (SPMT) will also be on display. Faymonville´s version is claimed to have the strongest drive axle on the market and intuitive operator guidance. A semi-low loader of the subsidiary brand Max Trailer will complete the Faymonville offering.
German manufacturer Goldhofer is not revealing much detail of its Bauma launches, other than that a highlight will be "a kind of auxiliary drive for self propelled heavy duty modules," said Stefan Fuchs, Goldhofer CEO.
The display will include a 500 tonne capacity Faktor 5 high girder bridge for a customer in Mexico. It will be configured with a PST/SL-E self propelled module and hydrostatic drive. It is the eighth unit built.
From its trailers and semi-trailers ranges, Goldhofer will show a 3-axle low bed trailer from the Expert series, a 4-axle low-loader semi-trailer and a 10-axle combination from the STZ-P low-loader semi-trailer series with pendular axles. Also on show will be an FTV 300 blade transporter for wind turbine rotor blades, a 12-axle combination with various modules from the THP/SL family, and a self-propelled module from the PST/ES-E series with hydraulic track width adjustment.
The Scheuerle, Nicolas and Kamag brands of specialized transport equipment will appear together on the Tii Group stand. One of several new products will be what is claimed as the world's strongest PowerBooster. The company introduced and has been offering these additional power units for years. Now there is a second generation and visitors will be shown a Scheuerle-Kamag K25 H 06 PB with 1,000 hp power pack.
Developments in the self propelled modular transporter (SPMT) category will focus on cost efficiency, versatility, emission-free operation and safety, Tii said. One of the many exhibits will be the Scheuerle InterCombi SPE transporter. There will be a Power Pack Unit type Z390 / EU 4 as the drive unit for the hydrostatically driven and electronically steered InterCombi SPE that can be electronically coupled with "classic" SPMT. The proven modular Scheuerle-Kamag K25 H has an additional hydrostatic drive.
For road transport TII Group promises a "completely new development" that will be announced on 13 April at the show. For transport of loads under 100 tonnes there is the Scheuerle-Nicolas Euro Flex and the Euro Light drop deck trailer, available with a range of options and combinations.
The Scheuerle-Nicolas Euro Compact trailer on display has gained almost one extra metre of loading length for the same combination length. It is a 2+2+5 combination with excavator deck that has a further 2-axle bogie in a 2+5 combination.
On display will be a K25 H PowerBooster and Scheuerle adapter for wind turbine rotor blades. In tight situations the rotor blade adapter helps avoid trees, buildings or other obstructions. Depending on the type of blade, they can be raised up to an angle of 70 degrees. An integrated swivel drive allows the blade to be rotated along its own axis to minimise wind resistance.
Also on show is an 8x8 Nicolas Tractomas heavy duty tractor which will help draw the crowds. It is more than 10 m long and is 3.5 m wide and 4.6 m tall.
German trailer manufacturer Zandt Cargo will show its AT and TAT tandem trailers for construction and heavy transport logistics. Load securement is a focus on the exhibited AT 400 with foldable lashing eyelets allowing optimisation of chain angles and greater capacity of the lashings. An axle load weighing function on AT trailers helps meet legislative challenges with an electronic braking system and load display. It has a flashing LED light to indicate when load limits are exceeded. On show will be an AT-P 400 with wheel recesses to minimise loaded height.