Bauma Show Guide - Wheeled Cranes
By Alex Dahm21 March 2016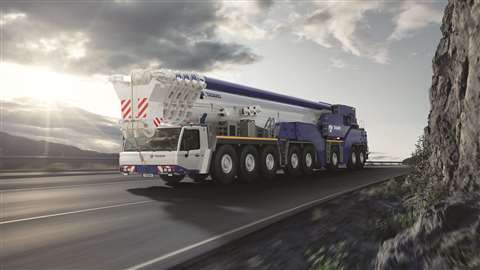 Two new wheeled mobile telescopic hydraulic cranes will be shown by Liebherr. Brand new will be a model on an eight axle carrier with a very long telescopic boom. Its design focus was on high economy and easy set-up, the manufacturer said. Further details were unavailable at the time of writing in late February.
Also new is the 5-axle, 250 tonne capacity LTM 1250-5.1 wheeled mobile telescopic crane first shown in 2015 at the company's Customer Days event in Germany. It is claimed to be the most powerful five axle crane on the market and is the third model with one engine instead of two. It has a 60 metre boom.
The Link-Belt HTT-86110 telescopic truck crane will debut at Bauma. Capacity is 100 tonnes (110 US tons), it has steerable rear axles with super single tyres and with four steering modes—independent front, independent rear, combination, and diagonal.
The HTT-86110 has a 50 m main boom that outreaches truck crane competition and challenges European-built all terrain cranes in its tonnage class, Link-Belt said. The main boom tip height is 52.6 m. Also available is a 17.6 m on-board fly jib. Two additional 4.9 m lattice extensions take the maximum tip height to 79.7 m.
A 359 kilowatt (480 horsepower) Tier 3/Euro Stage IIIA Cummins engine is available on the HTT-86110. For the North American market, a clean idle certified 336 kW (450 hp) Cummins is also available. Both models use a ZF AS-tronic automated manual transmission with 12 speeds forward and two reverse.
Three of the four all terrain cranes shown by Grove will be new models, manufacturer Manitowoc said. Details of one will remain undisclosed until the show. New is the 100 tonne capacity GMK4100L-1. The 250 tonne capacity GMK5250L was first seen in 2015 and now the first units are being delivered. Also on show will be the 400 tonne capacity GMK6400. Features include a one engine design, Megadrive hydrostatic drive system and a self-rigging, capacity-enhancing MegaWingLift.
Grove has had a four axle 100 tonne capacity all terrain for years but the GMK4100L-1 is a new design that promises notable improvements. It has a 60 metre boom. The old model had two engines but the new one has one which means more counterweight can be carried on board, allowing it to lift more. The new 100 tonner is 2.55 m wide instead of the 2.75 m of its predecessor and overall it is 0.5 m shorter.
The 90 tonne capacity Grove GRT8100 is Manitowoc's latest rough terrain crane and one of three on show. It is an update of the RT890E and is the first with the new GRT (Grove rough terrain) nomenclature. Maximum height, to the tip of the main boom, is 49 m and with full boom extension and insert options, maximum reach is 77 m. The new lighter and stronger boom gives more capacity, Grove said, by 27 % at close radii, 13 % in the mid-range and 16 % at full radius.
Tadano will show its flagship ATF 600G-8 all terrain crane. It has the largest capacity (600 tonnes) in the Tadano product line and features the Triple-Boom, a design that does not require the transportation or handling of a separate boom suspension system.
At the other end of the capacity scale, the company will present the successor to its ATF 50G-3, a three-axle all terrain crane with a capacity of 50 tonnes at 2.5 metres radius and a 40 m, five-section telescopic boom.
Two models in the rough terrain and telescopic crawler crane ranges – the GR-1450EX and GTC-800 – will also be exhibited. They will be available for the European market in 2017.
News from Terex Cranes will include the launch of a new all terrain crane on five axles, probably somewhere over 200 tonnes in capacity. The Explorer range of all terrains will also receive attention with updates of the 5500 to give more capacity and the 5800, on the boom. Other ATs on show will be the 40 tonne capacity AC 40-2 and a Challenger series model. A new 80 tonne capacity rough terrain crane for the market worldwide will make its debut.
Loader cranes
Three new loader cranes will be shown by Atlas Maschinen. The new 2.8 tonne capacity 66.3E is a 66 kN articulating crane with up to four hydraulic extensions and a reach of 11 metres.
The 152.3, meanwhile, is a folding crane with up to six extensions and a maximum reach of 16.7 m. A wide range of options include additional functions for grab and rotate and stabiliser widths.
The new large construction crane 206 VE has a maximum reach of 14.3 m and can lift a load of 1,160 kg when extended horizontally. At its shortest reach of 2.4 m it lifts 4,800 kg.
Fassi will introduce several cranes and a new radio control unit. The F2150RA/RAL has a maximum load moment rating of 136.4 tonne-metres and an hydraulic reach up to 41 metres with a jib. Its electronic and hydraulic equipment includes the FX800 control unit, D900 digital hydraulic distributor, RCH/RCS radio control, ADC automatic dynamic control, Flow sharing and the XP system.
The F545RA xe-dynamic, meanwhile is new in the XE series between the larger F560RA he-dynamic and the smaller F485RA xe-dynamic, but with more performance and a better power-to-weight ratio. The footprint has been increased by just 85 mm over the F485RA model. It weighs 3 % more but is 10 % stronger thanks to stabilisers that extend to give a spread of 7.8 m. It has a maximum load moment of 53 tonne-metres (518 kNm), and a maximum hydraulic reach of 20.8 m.
The new F545RA is a continuous rotation crane with FX500 control system, D850 hydraulic distributor, the Fassi RCH/RCS radio remote control and the FSC-S or H stability control. Several versions are available with up to eight hydraulic extensions.
The new F305A and F255A, meanwhile, are middle range cranes. The small crane market is catered for by the F65B and F70B. High strength steel has reduced weight by 9 % over the previous model. This means more residual load capacity for the vehicles on which they are installed.
Next comes the new F40B, available in four versions, and can be mounted on light vehicles up to 3.5 tonnes GVW. The crane's maximum load moment is 39 kNm and it has an hydraulic outreach up to 9.5 m.
Fassi is introducing a radio control called the V7 with a new 3.5 inch (89 mm) colour display, 16 bit screen with 320 x 240 pixel resolution, screen contrast changes according to the ambient light, six push buttons to activate and browse the menu and three push buttons for quick functions.
Hyva will reveal two new lines of hydraulic cranes – telescopic boom and articulated in 12 models:
The HT130 and HT162 are 13 and 16 tonne-metre class telescopic boom cranes for car recovery and in other applications where a compact, light and easy to operate crane is needed.
The 13 and 16 tonne-metre class HB130 and HB160 articulated boom cranes are also new. The HC131, HC143, HC153, HC161, HC171 and HC183 are 13 to 18 tonne-metre-rated models with a double linkage boom system. The HC131K and HC161K are13 and 16 tonne-metre class short boom articulated cranes with double linkages.
More classes will be added to the new line over the next two to three years, extending the range to span 8 to 150 tonne-metres.
A wide range of products from the heavy-duty PK 165.002 TEC 7 crane through to container handling systems will be shown by Palfinger. The PK 165.002 TEC 7 is designed for carrier vehicles with a maximum gross weight of 32 tonnes. It is 800 kg lighter than its predecessor – the PK 150.002 – and there is a personal fall protection mode for people working at height.
The PK 16.001, PK 16.001-K and PK 18.001 EH are replaced by the new Solid range of cranes. A characteristic feature is a boom system that can be overstretched with a single "elbow lever", known as the Single Link Plus. Solid models are offered in three configurations. The PK 17.001 SLD 1 is the non-CE entry level model without overload protection. The PK 17.001 SLD 3 has Paltronic 50 and is available in CE and non-CE versions. The top Solid version is the PK 19.001 SLD 5 with the addition of E-HPLS, radio remote control and a load-sensing control valve.
Also new is the Solid compact series. The Single Link Plus means the PK 5.001 SLD 3, the PK 7.001 K SLD 3 and the PK 7.501 SLD 5 offer better movement geometry than previous models. With the PK 7.501K SLD 5 an HPLS crane is offered in the 7 m range for the first time.