Bauma: What's in store for cranes and specialized transport?
By KHL editorial staff and Alex Dahm27 September 2022
ICST brings you an extensive selection of what's new and on show in Munich this October.
Finally, the long-awaited Bauma construction show is coming up fast in Munich, Germany. After delay and postponement due to the global pandemic, more than 3,000 exhibitors, including a range of crane and transport manufacturers, are preparing for the return of the show.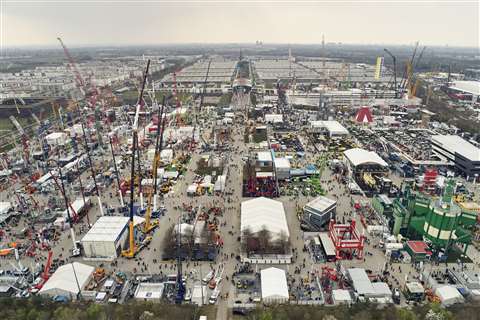 While it is at a different time of year and some exhibitors have declined to attend, signs are good for it to be a great show.
Wheeled mobile cranes at Bauma
Starting with wheeled mobile cranes, Grove is showing its new GMK6400-1 all terrain crane. The updated 400 tonner "retains the much-loved features of the original and adds notable new technologies for a stronger overall offering," manufacturer Manitowoc said.
It will be on show in public for the first time. Andreas Cremer, Manitowoc vice president of product management for all terrain cranes, comments, "The GMK6400-1's predecessor, the GMK6400, was hugely successful and broke the mould for what was possible with a six-axle crane in terms of lifting power.
"So, with the new and upgraded model, we've kept that power that customers love and added more speed and flexibility. Visitors to Bauma 2022 will get to see that for themselves and fully appreciate the expanded capabilities of the new crane."
Like its predecessor it has a 60 metre main boom but changes to the new one include increased hydraulic oil flow for faster operation and smoother movements. Also now included is the Crane Control System (CCS) and the Maxbase variable outrigger positioning system.
A tip height of 136 metres can be reached using the maximum number of jib extensions. For a stronger chart the new model is also compatible with the Mega Wing Lift. It is a self-rigging attachment deployable in less than 20 minutes, the manufacturer said.
Capacity can be increased by as much as 400 per cent on the luffing jib, Grove said, and by up to 70 % in a main-boom only configuration.
More new Groves are expected to make their debut in Munich at the stand number FS 1202 in the outdoor area south.
Alternative powered equipment from Liebherr 
New from Liebherr is an electric power option for its 50 tonne capacity LTC 1050-3.1 compact wheeled mobile telescopic crane. It has an electric motor in addition to the conventional diesel drive allowing crane movements to be executed using electricity.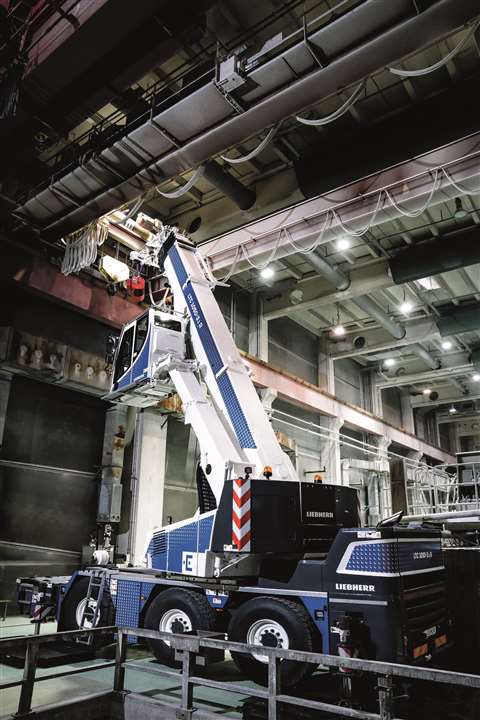 The new version helps reduce carbon dioxide emissions and satisfies the requirements for operation on Zero Emission construction sites.
It was unveiled at a special preview on 5 April at the Liebherr-Werk Ehingen factory in Germany. Under electric power the crane can operate with zero emissions of greenhouse gases at the point of use.
Full performance is also available in electric mode, Liebherr said.
A further benefit of the electric option is reduced noise which helps at night or in noise sensitive areas.
Ulrich Hamme, Liebherr-Werk Ehingen technical director, said, "We want to be able to offer our customers full crane performance even with the alternative electric power unit. The LTC 1050-3.1 still has a conventional internal combustion engine, powered by diesel or HVO, for driving on roads and for crane operations.
"However, as an alternative it also has an electric power unit for crane operations so that it generates 'zero emission.' That means that all the familiar usage properties of the crane will be retained, regardless of whether the crane operations are powered by its zero emission electric motor or its internal combustion engine."
For travel to and from site the LTC 1050-3.1 has a 243 kW, six-cylinder EU Stage 5 Liebherr engine.
In addition to conventional diesel, it can be fuelled with hydrogenated vegetable oil (HVO) as an alternative, "enabling it to reduce its CO2 emissions by up to 90 per cent compared to fuelling it with diesel," the manufacturer said.
The electric option sees a 72 kW electric motor mounted above the crane's transmission and running the existing hydraulic pump instead of it being driven by the diesel engine. In addition to the motor, a gear drive unit, driveshaft and some electronic controls are added to complete the alternative power option.
Expect to see more, as-yet unannounced, new Liebherr cranes at the show.
Since unveiling its LTM 1110-5.1 wheeled mobile telescopic crane at the Bauma in 2019 Liebherr has updated it to LTM 1110-5.2 with the addition of three new features. The 110 tonne capacity all terrain has the new driver cabin, a prototype of which was also shown at the last Bauma.
It also has the new LICCON3 crane control system and the recently announced ZF TraXon DynamicPerform gearbox. An oil-cooled multi-disc clutch is also new.
Testing is complete and it is ready for series production. Introduction of the LTM 1110-5.2 is the first example of the new Liebherr standard crane design, to be seen on other upcoming new models.
Tadano use Bauma to highlight major change
For Tadano since the last Bauma in 2019 it has been a time of major change. In that time the Japanese manufacturer has launched a dozen cranes and associated products.
The list includes: the AC 2.040-1, AC 4.070L-1, AC 4.080-1, AC 5.1201 and AC 7.450-1 all terrains; the HK 4.050-1, and HK 4.070-1 truck mounted cranes; plus a telescopic boom crawler crane entering production in Zweibrücken, Germany, the GTC-2000.
In addition, three rough terrain models from the GR series have been introduced to the European market since April 2021.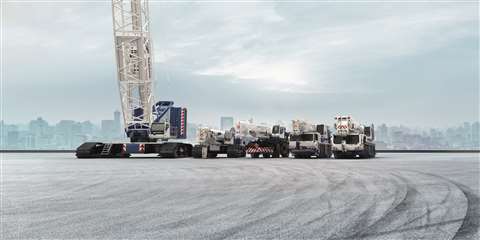 Commenting on the company's presence at this year's show Jens Ennen, Tadano Faun GmbH and Tadano Demag GmbH CEO, said, "We'll be taking advantage of this year's Bauma to show an international public everything we've achieved in the past few years and the enormous progress we've made in a number of areas that benefit our customers.
"Tadano is excited to welcome visitors to our booth at Bauma for them to witness the numerous innovations in terms of products and solutions."
Tadano's latest all terrain, the AC 2.040-1, is described as a world first in two ways: it is the first AT crane jointly developed by Tadano's Lauf and Zweibrücken locations in Germany and it is the very first member of the future Tadano AC family.
"That's why this market launch is really special for us – after all, the new AC 2.040-1 is the first crane to combine the best of our two worlds with the know-how from Zweibrücken and Lauf," all terrain crane product line VP, Dr Frank Schröder, proudly points out.
"All future models will share the same DNA with a standardised crane control system, cab, on board diagnostics, telematics, and many other technologies," Schröder said.
Tadano said it is on schedule to fulfill its 2021 announcement of a schedule to launch 15 new cranes in the next few years. "Our OneTadano transformation process is going as planned, and it's something we'll get the chance to show everyone at bauma," points out Jens Ennen, who has the numbers to back up his statement:
Nearly all the products on display did not even exist yet at the time of bauma 2019, and several models and solutions will be celebrating their world debut at Bauma 2022.
Rough terrain crane
Link-Belt Cranes will show its newest rough terrain crane, the 75 tonne capacity 85|RT. It has a full power, five-section formed boom extending from 11.6 to 43.3 metres. A two-piece SmartFly jib is available, 10.7 to 17.7 metres long and with manual offsets at 0, 15, 30 and 45 degrees.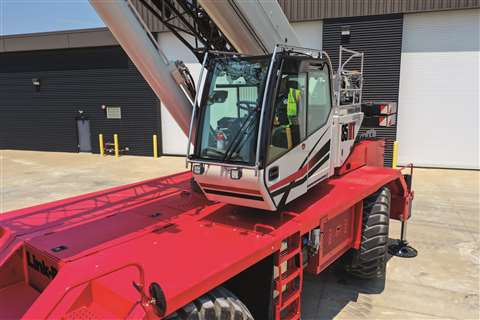 The US manufacturer's V-CALC (Variable Confined Area Lifting Capacities) system features virtually infinite outrigger configurations with real-time 360 degree charts.
Powered by a Cummins Tier 4F QSB 6.7 270 hp (201 kW) diesel engine, it drives via a six-speed transmission.
Crawler cranes
A major star of the show will be the 2,500 tonne capacity lattice boom crawler crane new from Liebherr-Werk Ehingen in Germany.
The LR 12500-1.0 fits in the upper end of the product range between the 1,350 tonne capacity LR 11350 and the 3,000 tonne capacity LR 13000.
It has several distinctive design differences from other Liebherr models. The boom is wider and gives the same stability as using the double lattice PowerBoom or the SX boom, the manufacturer said. It is called HighPerformanceBoom.
Its maximum length is 100 metres but it can be extended using sections from the luffing jib to 155 metres.
Erection of larger wind turbines will be another common application for this new giant.
The crane's maximum tip height of around 200 metres is achieved with 100 metre main boom and 108 metre luffing jib.
The crane's superstructure is much narrower than existing models and the two main hoist winches sit on top of it instead of in between. The back mast is mounted at the front of the superstructure immediately behind the foot of the boom.
Easy transport is a key element of the new design. Largest is the 4 metre wide superstructure front section which can be transported on a low bed trailer. Other components come in at 3.5 metres wide or less, the manufacturer said.
The narrow rear section of the superstructure houses a pair of engines. The Liebherr straight six diesels offer a combined output of 800 kW. Redundancy in the design means should one engine fail the crane can be operated, at reduced speed, to bring it to a safe position.
Stage V compliant lattice boom crawler cranes
Sumitomo Heavy Industries Construction Cranes (HSC) will show its new 175 tonne capacity lattice boom crawler crane model SCX1800A-3.
It can have a main boom up to 84 metres long and the engine meets EU Stage V exhaust emission regulations.
Maximum main boom and crane jib combination is 75 + 31 metres. It is designed to offer "outstanding work capabilities within a refined compact body combined with superb transportation and assembly system."
While the name suggests 180 tonnes capacity, this is available with the addition of special equipment. A heavy-duty top gives 180 tonnes at 4.1 metres radius with a 12 metre main boom. Standard is 160 tonnes at 4.5 metres radius.
Power is from a Cummins QSB6.7 diesel engine, either to EU Stage IV/US Tier 4 final or EU Stage III A/Tier 3 exhaust emission regulations.
An ECO winch and auto idle stop function are designed to allow operations using less fuel. Unnecessary fuel consumption has been reduced so that there is less impact on the environment, Sumitomo said.
Further to the common drive for sustainability and electrification, the Japanese manufacturer will reveal an electric lattice boom crawler crane, the 80 tonne capacity battery-driven SCX800A-3.
Electric cranes
Sennebogen will show the last development of its 200 tonne capacity 5500 G series lattice boom crawler crane. All the company's crawler cranes have been updated to G-Series spec which includes the latest engine (EU Stage V) and large-diameter piping and valves for maximum efficiency in operation with reduced exhaust emission and improved fuel consumption.
The reinforced boom and increased ballast capacity has allowed payload to be increased by between 15 and 50 per cent over the E series, depending on the configuration.
At the forefront of a move to electric power, Liebherr-Werk Nenzing has two recently announced lattice boom crawlers, the LR 1130.1 unplugged and the LR 1160.1 unplugged.
Their electro-hydraulic drives are designed to give the same performance as a conventional diesel-hydraulic model. Battery capacity is designed to allow an average lifting operating time of eight hours. Performance can be increased by 20 to 60 per cent using additional batteries.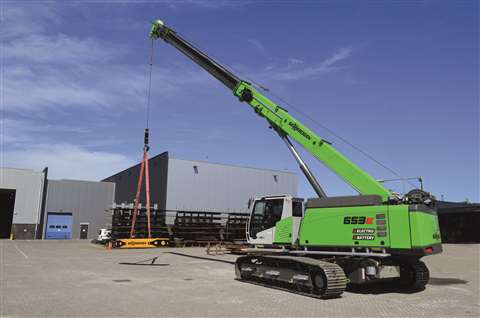 A new safety system on these cranes is Gradient Travel Aid, a function to help safely negotiate slopes and inclines. It works by calculating and monitoring the crane's centre of gravity, warning the operator before the crane leaves a safe area.
Talking of electric cranes, Dutch manufacturer PVE's E-crane division will have the new 80 tonne capacity battery-powered lattice boom crawler crane on show.
Then in the telescopic boom crawler crane sector manufacturer Sennebogen will launch its first fully electrically powered crawler crane at the show. The 653 E Electro Battery is a 50 tonne capacity machine with a telescopic boom.
Combining the benefits of electric power with those of a telescopic crawler crane "means you work completely emission-free and remain maximally flexible thanks to the Dual Power Management System," Sennebogen said.
As the first electric model in Sennebogen's range, it was developed in collaboration with Dutch Sennebogen dealer Van den Heuvel.
The new crane's 210 kW-h battery pack carried onboard allows autonomous operation in battery-only mode, or it can be plugged into the mains electricity grid via a cable.
When plugged in the machine runs from this site power with any excess going to top-up the traction battery.
Another new telescopic boom crawler crane on show from Sennebogen will be the crawler mounted 100 tonne capacity 6103E. It has a diesel engine.
With models from 16 to 130 tonnes, Sennebogen said it offers the largest selection of telescopic boom crawler cranes in the world. The recently launched 6103E has a boom length of 62 metres and strong pick and carry capability, according to the manufacturer, especially on rough terrain.
Spanish tower crane manufacturers at Bauma 2022
Among other new products, Spanish tower crane manufacturer Comansa will present its new LCH300 hydraulic luffing jib crane.
The company's first hydraulic model lifts 16 tonnes and offers a maximum jib of 60 metres, extendable from 25 metres in 5 metre increments. It can be assembled on 2.5 x 2.5-metre tower sections.
The minimum working radius is 4 metres and when out of service it is 9 metres. Hoist winch options are 65 kW or the standard 50 kW unit.
Also from Spain, Jaso is launching two new models. The flat top J235.12 lifts 12 tonnes and offers a tip load of 2.6 tonnes at its maximum 65 metre radius.
Maximum freestanding height is 55.9 metres on the 1.75 metre tower system.
Jaso will also show a first impression of the new 24 tonne capacity low top J390. It offers a tip load of 3.8 tonnes at 75 metres and boom length can be altered in 5 metre extension increments.
Tower cranes with synthetic fibre hoist
Tower cranes designed specifically to make the most of the benefits of using synthetic fibre hoist ropes are a key part of the offer from Liebherr. The 10 tonne luffing jib model 258 HC-L 10/18 Fibre is new and already tested ready for sale.
It has a 25 mm synthetic fibre hoist rope, jointly developed with Austrian rope specialist Teufelberger and is ideal for the construction of high buildings in metropolitan areas, Liebherr said.
Capacity at the end of its 60 metre maximum jib is 2.5 tonnes. Its counterpart with a conventional steel hoist rope does 1.9 tonnes.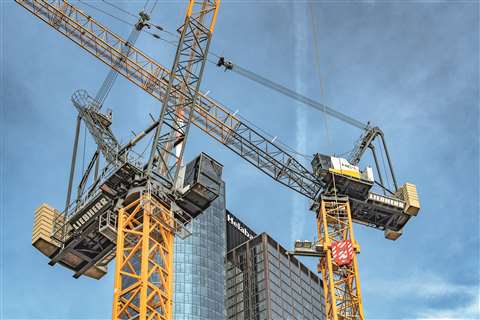 In the range of conventional saddle jib cranes with tower heads, Liebherr is launching its most powerful model, the 40 tonne capacity 1188 EC-H 40 Fibre.
At the end of an 80 metre jib it will lift 13.1 tonnes, 2 tonnes more than its steel rope version.
Two new fibre rope flat tops will also be ready to go: the 520 EC-B 20 Fibre and the 370 EC-B 16 Fibre. The former lifts 2.9 tonnes at the end of its longest, 83 metre, jib. Its maximum is 20 tonnes.
At the end of its maximum 78 metre jib, the 16 tonne capacity 370 EC-B 16 Fibre lifts 2.5 tonnes. A 12 tonne version is already available.
Potain models to premiere at Bauma
Manufacturer Manitowoc will display five Potain tower cranes, two of which are new models. The MDT 489 from 2021 and the Igo T 99 will be shown in public for the first time and the Hup M 28-22 will also be on show.
All the manufacturer said before the show was that the two new models would be a luffer and a flat top.
Thibaut Le Besnerais, vice president for brand and product management, tower cranes, at Manitowoc, said, "There is so much focus on infrastructure right now that we want to show how Potain offers solutions for all applications. One of our key goals at Bauma is to highlight how the right combination of cranes and customer support can help drive the sector forward."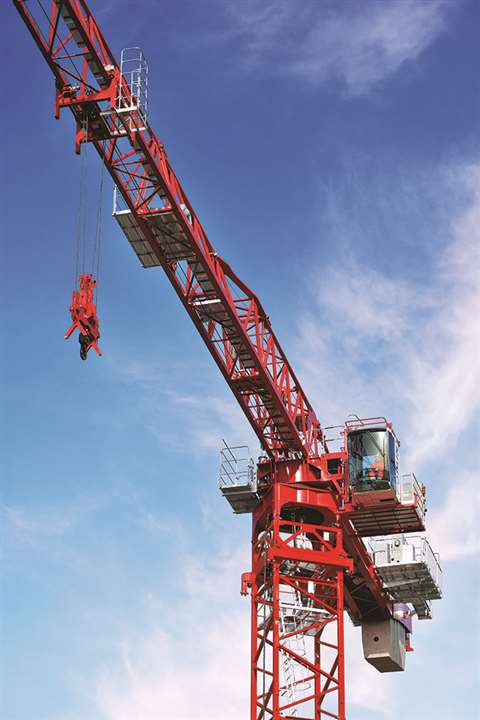 Two versions of the MDT 489 flat top are available, with 20 to 25 tonnes capacity. Both can have a maximum 80 metre jib. Easy transport is key and all components, other than the slewing mechanism, can be transported in standard shipping containers.
The upper (slewing) section of the MDT 489 ships in nine containers – as many as five fewer than needed for a typical crane of this size, the company said.
Potain's self-erecting Igo T 99, announced in 2021, will be at an international show for the first time. It lifts 6 tonnes, offers a 48 metre reach and the maximum height under hook is 38.5 metres.
Raimondi to showcase the future of its machines
Long-established Italian tower crane manufacturer Raimondi Cranes will announce new machines and a new accessory. "We are extremely excited to showcase our new range of products," said Cristian Badin, Raimondi Cranes commercial director.
"This edition of Bauma will also be our opportunity to present the Raimondi of the future; over the past year we have been working to reinvigorate both our core values and mission, as well as our product line."
Wolff FX 7021 tower crane concept
A new concept to be announced by tower crane manufacturer Wolffkran is the FX 21 Clear range. The Wolff FX 7021 is the largest model in this new family.
It is three flat top models in the 141 to 200 tonne-metre class: FX 6021 Clear, FX 6521 Clear and FX 7021 Clear. All have a tip load capacity of 2.1 tonnes.
Also on display will be an 8076 Compact, the company's first trolley jib crane in the 800 tonne-metre class. Also new will be the 235 B luffer and two new tower sections: the 6 x 6 metre TV 60 and the reinforced 1.5 x 1.5 metre TV 15.
Industrial lifting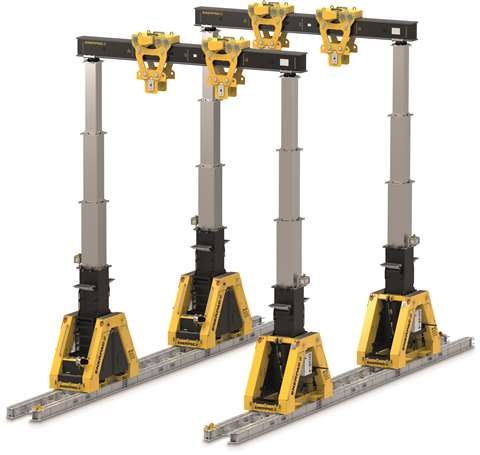 For industrial lifting, a highlight of the Enerpac stand will be the new SBL600 telescopic hydraulic gantry lifting system.
The SBL600 Super Boom Lift hydraulic gantry has a three-stage telescopic hydraulic cylinder with rectangular boom. First stage lifting capacity is 674 tonnes and 416 tonnes for the third stage.
Its maximum lifting height of 10.6 metres is ideal for placing gas turbine generators and power transformers in power plants, Enerpac said.
The new model fits in the range between the SBL500 and the SBL900 lifting gantries.
Ease of transportation is another key benefit of the new gantry. Its foldable boom allows for shipping on standard flatbed trucks without special permitting and routing.
In addition, with the self-weight at less than 9,100 kg, the SBL600 allows for transport of two legs on a single road truck trailer," said Jeremy Stubbs, Enerpac Heavy Lifting Technology commercial director.
Also on show will be the ML40 Mini Lift Gantry, the SCJ-Series of 50 tonne cube jacks and a JS-250 Jack-Up. Strand Jacks and the multi-point lifting EVO system will also be shown, plus tools and lifting accessories.
Loader cranes
Turkish loader crane manufacturer Hidrokon has been making knuckle boom cranes since 1993 and this will be its fifth Bauma. Its new product range launching at the show is designed and manufactured in configurations to compete with the global brands in the sector, the company said.
The three loader cranes on show will be models HK 30E8, HK 65E8+ J12E4 and HK 110E8+J12E6. The latter is a broad application model with its high reverse angle capability in the fly jib. HK 65 E8 + J12E4 is a 65 tone-metre model designed to maximised available payload on the truck where it is mounted.
Bauma 2022: what Italian machines will be on show?
Jekko Cranes from Italy will announce its flagship model, the electric SPX328. With a width of less than 800 millimetres, this mini crawler crane can drive through standard doorways. It lifts 2.8 tonnes and vertical reach is 8 metres.
Power is from lithium-ion batteries. All necessary elements needed to operate the crane, including outrigger mats, hook, block and runner can be carried on board.
Fellow Italian manufacturer Ormig has expanded its indoor range of electric wheeled industrial cranes with three new models. The 15iE, 35iE and 100iE cover lifting capacities from 15 to 100 tonnes with the versatility of modular counterweights and small dimensions, the company said.
Among the attributes of the iE models is its tight turning radius. The company's patented steering axle allows the cranes to turn basically in their own length while always keeping four contact points on the ground for maximum stability in pick and carry operation.
Developments in hydraulic equipment
A highlight for Palfinger will be the ZF eWorX. Palfinger, ZF and Mercedes-Benz Trucks jointly developed a system to allow hydraulic cranes and other products to be installed on electric trucks.
The module, compatible with all commercial vehicles, electrically powers Palfinger's entire product range.
Ordinarily the hydraulic pumps for loader cranes are powered by a mechanical power take off (PTO) from the transmission at the back of the truck's diesel engine. The aim of this latest development is to efficiently electrify PTOs to operate the hydraulic equipment.
Latest innovation in transport and moving equipment
Expect a highlight of the Goldhofer stand to be the FT Series, what the German manufacturer describes as a completely new vehicle concept. "It combines simple handling with the versatility needed to meet a wide variety of transportation needs," the company said with no more details available until the show starts.
Trailstar is another newbie. It is a three- to five-axle air-suspension trailer designed to optimise the use of the loading area and centre of gravity, plus offer superb manoeuvrability, the company said. Also new will be the Stepstar Z trailer which has power steering.
Goldhofer started building wind turbine blade haulers in 2013 with the FTV 300. Today, more than 60 units in different versions are in use around the world.
In the last decade wind turbine blades have grown longer and heavier and the Goldhofer FTV has grown with them.
Among the many transport solutions Goldhofer will show in Munich will be the FTV 850 blade lifter with a variable width PST/SL-E ½ + ½ split combination trailer.
Trailers for large equipment transportation
Dutch manufacturer Nooteboom has a new semi trailer with hydraulic widening for sale in Europe. The OSD-73-04(S) is designed for transporting large construction and other machines weighing up to 47 tonnes.
Crawler track machines up to 2.9 metres wide and 5 metres long can be accommodated.
It is a four axle trailer available with a single extendable load deck and two of the axles are self-steering. Hydraulic widening was added to meet increasing demand for this convenient feature.
It allows the width of the load area to be increased from 2,540 to 3,210 mm. Control is via a push button and is infinitely variable. It can also be altered independently on each side.
6-axle self-propelled transporter
Scheuerle has always offered SPMT PowerHoss modules with two and four axles; however, a version with six axles now complements the series.
While the two and four-axle versions offer payloads of up to 85 and 174.9 tonnes per module, respectively, the new six-axle vehicle accommodates up to 330 tonnes of payload.
In addition, individual modules can be operated according to the plug-and-play principle either mechanically or electronically in a loose coupling mode as well as being coupled to one another both laterally or longitudinally to meet even higher payload requirements, Scheuerle explained.
A vehicle combination of four PowerHoss 330s can move loads with a unit weight of up to 1,320 tonnes.
A new over the road trailer in the 60 to 120 tonne payload class is the EuroCompact U7. It is an extra strong version aimed at moving construction machinery, transformers and other heavy equipment.
Its 285/70 R 19.5 tyres and an axle spacing of 1,500 millimetres, allow it axle loads of up to 13.4 tonnes on-road (up to 80 km/h) and 17.4 tonnes off-road (up to 10 km/h) depending on the local legislation.
The latest tech, tools and services for cranes 
Electrification will become more and more important on construction sites, as climate targets for emission reduction will continue to be imposed on the construction sector around the world.
Demand will grow for energy to supply all-electric and hybrid construction machines with local emissions-free power.
Enter Liebherr's new battery-based energy storage system, Liduro Power Port (LPO). It offers an efficient solution for the mobile supply of machines with a wide range of power and load peaks, Liebherr says.
LPO will be available in power ranges up to 120 kW-h. It can supplement an insufficient grid connection or be used as an isolated grid when there's no available grid connection. Used as a supplement it allows reduced dimensioning of the grid connection power as the LPO handles the peaks in demand.
Tower crane rental specialist BKL from Germany is marking its 15th time as a Bauma exhibitor with a new stand. In addition to its top slewing tower and wheeled mobile crane offering for rental and sale, the company will also host the self erecting cranes of Luigi Cattaneo from Italy. Since 1994 BKL has been operating these cranes. The company has 300 staff at six locations.
Service provider MyCrane will show the benefits of its crane rental platform to which it recently added four new types of equipment, including boom trucks, hydraulic gantry systems, mini cranes and aerial platforms. "From the start of our operations in mid-2021, feedback from customers has consistently been that we should add all types of cranes to the MyCrane platform," said founder Andrei Geikalo.
MyCrane is a free-to-use, digital crane rental service, allowing users to post their lifting requirements free of charge online. Crane rental companies then respond with their commercial offers.
In the lead up to Bauma, KHL is providing rolling news coverage of the latest launches and events featuring at the show. Read more here.