Caterpillar released the 986K large wheeled loader for the North America, Europe, Japan and South Korea markets
Wheeled loaders are used where a flexible and reliable machine is needed for material transport. The machines must also handle the requirements of confined spaces.
UK-based JCB is one of the companies with new models, the 403 – a 2.5-tonne articulated chassis wheeled loader. The manufacturer describes the compact wheeled loader as combining 'outstanding powertrain components with a new cab design, control features and layout'.
Features include a compact four-cylinder Kubota engine generating 26 kilowatt (kW) and 92 Newton metres (Nm) torque, as well as open and manual diff locks in heavy duty axles to suit hard surface and soft ground operation.
The 844K-Series III and 844K Series-III aggregate handler is designed by John Deere to take on some of the toughest aggregate and material moving applications
The 403 has a joystick controller and armrest with parallel lift and hydraulic quick-hitch. The machine is less than 2.2 metres tall and 1.1m wide when narrow tyres are fitted, even with a cab, enabling it to access the tightest confines on site.
As well as the new loader, JCB has also recently launched a safety system recently that reduces the risk of on-site collisions between man and machine.
Developed in collaboration with FCC Environment (UK), the JCB Proximity Braking System (PBS) automatically sounds an alarm in the cab and applies the vehicle's brakes if a person enters the pre-set exclusion zone around the machine. The system also puts the vehicle into neutral and applies the parking brake.
The pedestrian is also warned of the danger of a moving machine through a vibrating transponder attached to their safety helmet. PBS is an option on the JCB's flagship wheeled loader, JCB 457.
For China-based SDLG, ConExpo (Las Vegas, Nevada) was the stage for the unveiling of its new compact wheel loader – the SDLG L918F. The company's decision to expand its product range comes on the heels of its successful launch into North America. This is the fifth wheeled loader offering in the region.
The L918F has a 1.0 yd3 bucket capacity mounted to a skid steer style coupler, which SDLG says places it in the compact loader category but with the versatility of skid steer style attachments. The unit also has an optional 1.3 yd3 bucket with wheel loader ISO coupler. The company claims that the L918F will compete with large skid loaders because of the similar bucket capacity but with the benefit of 'increased manoeuvrability and operator comfort'.
JCB has launched the Proximity Breaking System (PBS) to reduce the risk of on-site collisions between man and machine
Al Quinn, director of SDLG North America, says that customer demand is the driving force behind introducing the new machine, with several companies asking SDLG dealers for a compact, value loader alternative for many current skid steer loader applications.
Smooth running
Earlier this year, Volvo released its L260H wheeled loader designed for heavy-duty applications. At 34 tonnes, the model is purpose-built to load on-highway trucks in two even passes, the company says.
Compared to previous models, Volvo says that the L260H has 5% more horsepower and torque, a 15% increase in payload and has larger bucket sizes – as well as a 10% fuel efficiency improvement.
It comes with Volvo Co-Pilot with Load Assist and an 'intelligently redesigned lifting-arm system and frame', resulting in faster cycle times, increased on-site productivity and maximum operator comfort, the company says.
Volvo has also redesigned its largest wheeled loader, L350H, again benefiting from a 10% fuel efficiency. New improvements showcased at ConExpo include a new powertrain, hydraulics, an updated operator environment and a Tier 4 Final D16J engine.
Touted as the ideal partner for quarry production, the L350H comes with a 7.3 m3 rock bucket.
Back in December of last year, John Deere added the 844K Series-III and 844K Series-III aggregate handler to its wheeled loader line-up. Described as workhorse machines, the 844K-III is designed to take on the toughest aggregate and material moving applications in the world.
John Chesterman, product marketing manager, production class four-wheel drive loaders at John Deere Construction and Forestry, says, "We worked closely with our customers to design these productive machines to be even more rugged and reliable.
"The Aggregate Handler configuration of the 844K-III can load out 24 short tonnes of non-heaping, lower density processed matter in just two passes into on-road dump trucks. Heavier heaping materials achieving 12-plus tonnes is not a problem."
Other news from John Deere is a 20,000-hour warranty – the equivalent of eight years – on its 944K hybrid wheeled loader.
Power and speed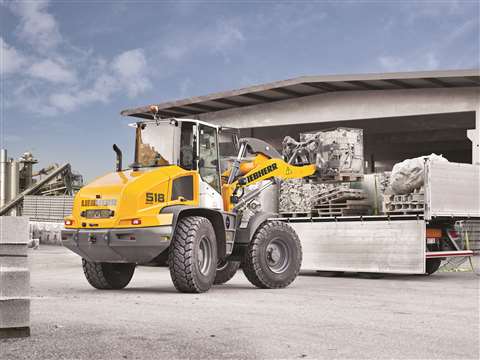 Liebherr-Werk Bischofshofen currently provides 15 different wheeled loader models in four different product groups: compact loaders, Stereoloaders, medium-sized wheeled loaders and large XPower generation wheeled loaders.
The company recently celebrated the delivery of its 50,000th wheeled loader, a L566 XPower, to longstanding customer Geiuger Unternehmesgruppe.
New to the product line is the L514 and L518 Stereoloaders, the new Stage V/Tier 4f emission standards compliant models. Described by Liebherr as agile and versatile, the loaders are available as 'Speeders' with a maximum speed of 40 kilometres per hour and will be available for order and delivery in the second half of 2017.
Other features include the new Z-unit bar linkage and a spacious driver's cab.
The L514 is said to be suited to municipal services, road building and a wide range of other applications. The larger L518 is a new model in the loader range, designed for industrial use.
South-Africa-based Bell Equipment introduced its new E-series ADT range globally at the end of 2016. The E-series started with the smaller B25E and B30E models four years ago, and has now been completed with the addition of five new models: B35E, B40E, B45E, B50E and the 4x4 crossover B60E.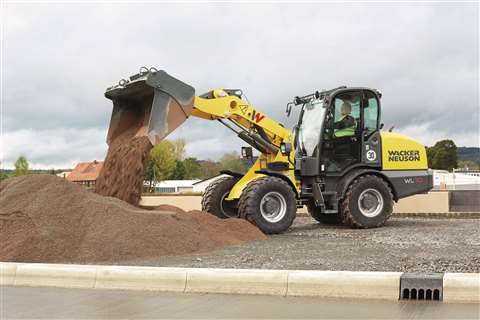 Gary Bell, chief executive of the Bell Equipment Group, says, "Our products need to perform and what we see with our E-series trucks are world class machines capable of taking on any of the competitors, anywhere in the world."
The company says that these new models have achieved its main design goal, to improve upon the lowest cost per tonne industry benchmark set by its D-series counterparts.
It's all in the arms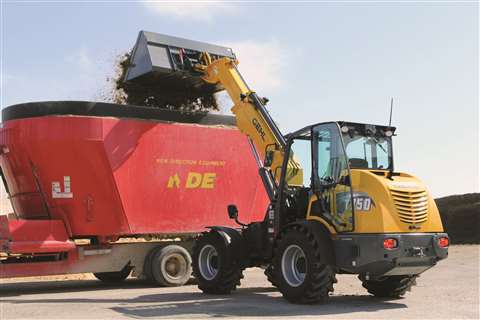 Gehl, part of Manitou, has introduced the T650 and T750 (pictured) telescopic articulated loaders for the North American market
Wacker Neuson, based in Germany, has 12 articulated wheel loaders with bucket capacities from 0.2 to 1.1 cubic metres and an operating weight of between 2 to 7 tonnes. In May, the manufacturer released a new generation of WL60 and WL70 machines – the two largest wheeled loader models – with new engines and additional options.
The two new loaders, with bucket volumes of 1.0 to 1.1 cubic metres respectively, are said to be able to manage difficult applications thanks to their sturdy and powerful load arm design.
Also new from Wacker Neuson is the WL28, released late last year. Its compact dimensions, low operating weight and headroom of less than 2.3 m makes entering buildings no problem as well as being able to be transported on a conventional car trailer. The company says that despite its size, the wheeled loader is a 'real powerhouse'. It has a tipping load of 1.9 tonnes, and to promote better visibility, the height of the front carriage was kept deliberately low so the operator has a good view of the attachments at all times.
The WL20e, introduced in 2015, was the first wheeled loader with an electric drive. With further development, this model is now available with an Absorbent Glass Matt (AGM) battery giving easy handling and low maintenance. Benefits include less sensitivity to temperature, an 'on-board' battery charger and customers who already own the WL20e can convert to the AGM technology.
Gehl, part of Manitou, has introduced the T650 and T750 telescopic articulated loaders for the North American market. The manufacturer says that the loaders offer some of the highest breakout forces in their respective classes, as well as coming with a telescopic lift arm with Z-bar linkage, float detent and cushioned cylinders. The models also come with tire options for ground engaging performance and a self-levelling bucket.
Mustang, also part of the Manitou Group, brings the 608T and 708T telescopic articulated loaders for the market in North America. The models have many of the same features of the T650 and T750 from Gehl including a multi-function joystick and auxiliary hydraulic options for owner/operator preference.
Increased efficiency
Manufacturer Caterpillar has been very busy with its wheeled loaders portfolio across its small, medium and large ranges.
Upgrades have been made to the M Series small wheeled loaders (926M, 930M and 938M) as well as the
K Series (924K, 930K, 938K) including a new secondary display module option for all models within the product line to improve operator interface and navigation.
In March, Caterpillar released its 986K large wheeled loader for the North America, Europe, Japan and South Korea markets promising significant efficiency increases for low-cost per tonne operation. The loader comes with STIC steer and Cat Production Measurement, which give tip-off capability to the operator that there is sufficient weight in the bucket before leaving the pile, increasing machine productivity.
Thierry Brasseur, medium wheel loader product and application specialist for Caterpillar Europe, says, "Although the 950GC medium wheeled loader was introduced in the Lesser Regulated Countries a few years ago, it is now available for sale in North America and Europe with a few upgrades. It is now configured to meet Tier 4 Final/EU Stage IV emissions regulations, and delivers solid performance and ease of use."
As well as the introduction of the 950GC to the Higher Regulated Countries, Caterpillar has made improvements and enhancements to its L Series (950L, 962L and 980L) across several regions as well as upgrades and updates to its M wheeled loaders in North America, Europe, Australia, New Zealand and Japan.
"For the future, we will be looking to make our machines more efficient, reduce fuel consumption and improve operator efficiencies. We believe that small changes in the design of wheeled loaders can make huge differences, so we are focused on making our products as easy to operate as possible," says Brasseur.