Below the hook: Raising awareness
By Christian Shelton27 January 2020
A general lack of understanding over one trip or single use and low quality slings is threatening safety in the construction, timber and steel sectors, as well as in ports and docks, warns Dave Cormack, Board Member of the UK-based Lifting Equipment Engineers Association (LEEA).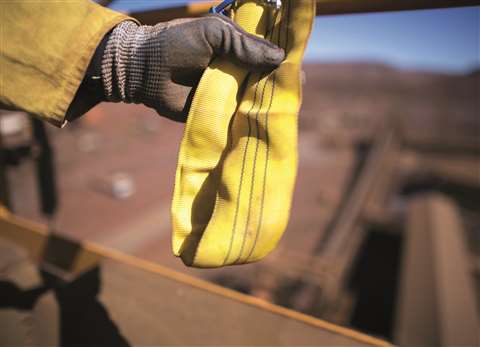 The term one trip sling is given to a sling designed for the specific purpose of attaching to and accompanying a specific load from source, through a defined number of handling operations, until it reaches its final destination. Once this trip has concluded the sling must be destroyed and not reused. Duty holders will be culpable for non-conformance.
One of the main routes for one trip slings into a country is via ship's cargo being discharged in port. Unfortunately, a lack of awareness is giving many of these slings free passage out of the docks, where they should have been destroyed once removed from the cargo (assuming that was their final destination). They are often mixed in with general purpose slings on construction sites, timber yards or a steel stockholder's facilities. This is where there is an increased risk of accident.
Staff may see a one trip sling lying around on site, perceiving it to be relatively new and suitable for reuse slinging a load of material. Rather than seeing a sling go to waste they might throw it back into their tool box or equipment store and use it for weeks or months without realising that it is not designed for general purpose use and is, therefore, potentially unsafe. It might be that somebody points it out in time but, if not, something could go tragically wrong.
Further use
The reality is that such actions put users at risk at the other end of the sling's trip. It also affects the employer because, in the event of an accident, they would be asked why they allowed a one trip sling to be used for general purpose lifting. This issue is not only with slings designed specifically as one trip but also with those that do not meet the required standard or quality. A sling made to an industry standard in one country may not comply in another.
As an example, the EU Machinery Directive says that general purpose slings must have a safety factor of 7 to 1. This is for the UK and the rest of Europe. US regulations only require a 5 to 1 factor. When a sling bought in the USA and manufactured to US regulations arrives in the UK, it will not meet UK or EU compliance so will need to be controlled in a similar manner to a one trip sling.
Users also need to be made aware that low quality slings, manufactured without complying with any standards, are also out there and they must ensure these do not find their way into general purpose use.
The capacity of general purpose slings can be identified by their colour. Many one trip slings are made from white webbing but many half-tonne or intermediate capacity slings are also white or even black. It is vital to educate people that because a sling is assumed to be one trip, it isn't necessarily so. LEEA advises that colour should never be used to identify a sling's working load limit (WLL) – always check the label.
Take control
One trip slings are legal and absolutely safe to be used for their designed purpose. Their use, however, must be controlled. Users must be educated on the limitations of use and they also must be instructed to destroy them to prevent re-use. Everybody down the line should have the information to identify one trip slings and the knowledge of what to do with them. Without this information it is impossible to properly plan the lift as required by legislation. In that case it leaves the user at risk and the duty holder culpable for failure to address the risk through proper planning of the lifting operation.
LEEA is promoting this issue around the world and is preparing to publish guidance to help those using one trip slings remain compliant. It plans to include information in the form of a pamphlet for staff on one side so it can be posted in canteens or be included in training sessions and risk assessments. The other side will address health and safety advisors to help them offer advice to users.
It is vital, LEEA emphasises, that duty holders and users become aware of this important safety issue. Slings without instruction to the limitations and illegible markings, should be destroyed at pre-use check and the cargo re-slung. This would mean at the quayside for many slings and long before the load reaches its final destination.
The majority of these slings need to be destroyed as soon as they are removed from the load, stresses LEEA. Failure to do so and continuing to use them puts users at risk. Duty holders will be culpable in the event of failure and injury to persons, for not executing an adequate lift plan and taking sufficient precautions to reduce the risks associated with these slings. Staff need to be trained to destroy one trip slings when required to do so and start implementing tighter controls around the use of this equipment.
One trip slings must never be reused beyond their design life, LEEA concludes.
Don't risk it
UK-headquartered company Modulift, a manufacturer of spreader beams, spreader frames, lifting beams and other below the hook heavy lifting equipment, is also committed to raising awareness around safety issues. This prompted the company to release a safety alert in July 2019 warning below the hook equipment users that there are other brands launching products claimed as being compatible with the Modulift spreader range but that are actually not.
All Modulift's products are certified. If they are combined with equipment from other brands, however, this certification becomes invalid. This, Modulift says, means below the hook users must get equipment combinations proof load tested prior to each and every lift. The company has an in-house compression test rig capable of proof load testing spreader beams up to a load of 1,650 tonnes and spans of 28 metres. "Don't risk lives and don't risk your business," Modulift warns.
Proof testing is also a service offered Spanish automatic safety hook manufacturer Elebia, which has installed a 50 tonne tensile test machine to test its lifting solutions.
Elebia also offers load cell calibrations up to 50 tonnes and break force (or strength) testing. The breaking strength of a material, Elebia explains, is the maximum amount of tensile stress that the material can withstand before failure, such as breaking or permanent deformation.
Also with the aim of further enhancing safety, Elebia has also added a new feature to its eINST remote control which means that if the hook is not fully opened or closed the crane will only be able to lower the load. Only when the hook is fully open or closed can the crane lift the load. A video of this can be seen here: https://bit.ly/2C1R9Y9.
The company has also launched the eTrack, a 2,000 kg capacity remote-controlled rail-lifting clamp. Elebia says eTrack is designed to enhance safety and efficiency when lifting, handling and transporting single rail sections. Typically, working beneath the hook of a series of gantry cranes, the product approaches, orientates and positions itself directly on the rail thanks to a 'finger'. Once in position, the crane descends and the spring-loaded finger retracts, allowing the clamp to make contact with the rail. Once the clamp has locked to the rail it is not possible to release or drop the load.
Elebia's eTrack
When the eTrack's sensor makes contact with the surface of the rail the clamping mechanism automatically unlocks. As the ascending manoeuvre begins, the clamping mechanism automatically locks onto the rail, allowing it to raise the load. According to Elebia the product provides a reliable and fail-safe grip on the rail and has a narrow profile to ease the approach and positioning to an individual rail when rails are side by side.
Safe and secure
Oscar Fillol, founder and CEO at Elebia, said, "We were approached by a European company that was searching for a solution to the safety and security issues associated with alternative rail handling methods. Currently it is common for personnel to walk on and-or in between rail stacks that can be three-feet high to manually engage lifting clamps, which is inherently dangerous. It becomes even more hazardous in inclement weather. With the eTrack, however, the whole operation of approaching the rails, orientating the clamps and their engagement can be handled remotely, as well as its release. The eTrack rail-lifting clamp can be paired to the Elebia eMAX, the eMINI or the eINST remote controls."
Perth, Western Australia-based company Tensa has been recognised for its safety-related work. The company won the 'Best solution to a work health and safety risk (200 employees or more category)' at the Work Health and Safety Excellence Awards – an event organised by the Western Australia government Department of Mines, Industry Regulation and Safety.
Tensa has won a safety award in Australia for its Roborigger tagline eliminator device
It won the award for its Roborigger device - a remote load orientation device for crane lifting operations. Roborigger is designed to enhance safety by allowing riggers to control loads via remote control from a safe distance. The unit is installed below the hook of the crane and uses inertial forces to rotate and orientate crane loads, eliminating the need for workers to use taglines or to be in close proximity to the load during the lifting and lowering phases.
In the round
Lifting gear supplier Rope and Sling Specialists (RSS) in the UK has delivered 300 eight tonne capacity Miller Weblift polyester roundslings to an undisclosed customer in mainland Europe. According to RSS, the two metre long slings, which have a circumference of 24 metres, are the latest in an ongoing series of overseas orders to countries including Ireland, Norway, Holland, Canada and Kazakhstan.
Davey Walker, business development director (Scotland) at RSS, said, "The order was another example of RSS emerging as a preferred supplier to an overseas project. The client specified polyester slings and the capacity required. On this occasion we didn't match a rigging solution to a specific load, application or lift."
Roundslings are made from hanks of yarn enclosed in a sheath creating an 'endless' configuration. The yarns remain uniformly loaded during lifting.
Walker, who is based at the company's Grangemouth, Scotland, site, added, "I've experienced the various ways lifting equipment can be provided and serviced in the field but, by far the best in terms of value, efficiency, and safety, is when the equipment and supporting expertise is delivered by individuals and businesses that work exclusively in that niche. Through manufacture, supply, repair, testing, and inspection, the benefits to end users in working with lifting equipment experts are incalculable."
Beam capacity increase
Below the hook heavy lifting equipment manufacturer Modulift has enhanced its adjustable lifting and spreader beam type MOD CLS so that it can now lift up to 27 tonnes (up from 8.5 tonnes).
The beam also has a new and improved clamp system enabling lifting from multiple points. The beam can have a span of up to 16 metres and it has adjustable lifting points and low head room capability. Modulift says it is easy to convert between a lifting beam and a semi spreader beam and can be bought as a pre-packaged, off-the-shelf product.
The beam's clamps are pre-assembled with a redesigned safety mechanism which Modulift says means it's easier for one person to operate and to slide and safely lock into place. In testing trials Modulift says this has been done in less than one minute.
The updated beam comes with four clamps as standard so the beam can be formatted with either a single top lifting point (lifting beam) or double top lifting points (semi spreader beam). Modulift can also supply custom length beams depending on lifting requirements.
The MOD CLS can also be fitted with up to four an additional clamps on the bottom side allowing users the flexibility of additional lifting points. If more points are needed the flexible system can also be designed as a H-Frame, Modulift adds.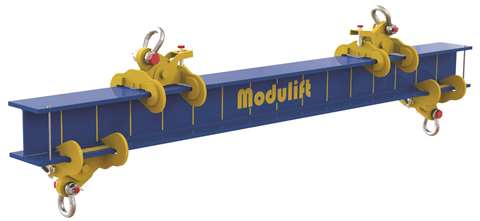 MOD CLS
Changing exchangers
Canadian rental firm Equipment Corps Inc. was commissioned by Edmonton Exchanger & Refinery Services, which provides on-site plant maintenance services for the petrochemical industry, refineries and fertiliser plants, to lower two existing exchangers and install two new ones at the Syncrude oil refinery in Fort McMurray, Alberta, Canada, during a site overhaul.
The old exchangers weighed 58 tonnes while the replacements weighed 75 tonnes. To do the job Equipment Corps used four JD Neuhaus air hoists and four customised Straightpoint wireless load shackles. Two hoists and two shackles were used to lower or lift each exchanger.
The JD Neuhaus air hoist
Dave Kisel, director of sales at Equipment Corps, said, "Two approaches were being investigated when we were contacted; the other was a winch configuration. The air hoist option was deemed to be the best once the complete scope and design was understood. In addition, it was considered critical that the load capacities needed to be known exactly which dictated the use of load monitoring technology."
Kisel explained that each pair of load cells was connected to a Toughbook notepad with the wireless connectivity. Real time feedback provided the operator with vital information relating to the lift and also confirmed to the engineers that the estimated capacity of the exchangers was correct, the company said.
The bobbins on the 125 tonne capacity load cells were modified to accept the lower hook of the 60 tonne capacity hoists.
Two of the air hoists were sourced from Equipment Corps' stock with an additional two being ordered to meet the demands of the project; all four load shackles were ordered specifically for the task in hand. The company was also contracted to provide onsite technical support for the duration of the heavy lift component related to the critical path equipment that was being lowered and replaced. Other rigging was supplied by the client, which consisted of slings and lugs and additional shackles.