Bending markets
By Lindsey Anderson21 June 2016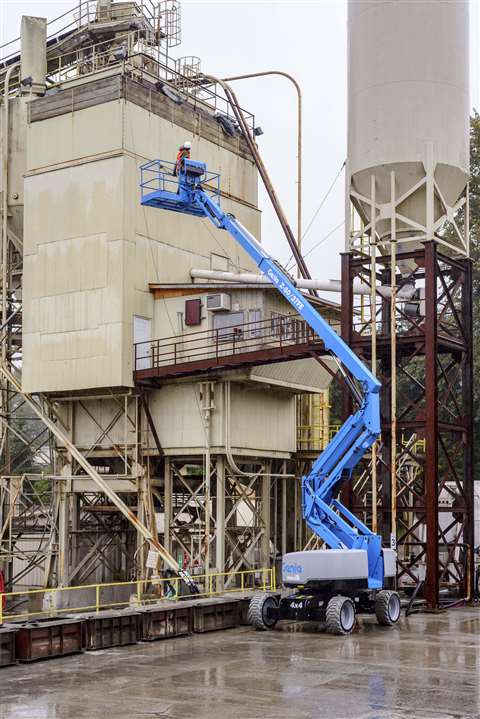 Articulating booms know their place in the market. It's a market that hasn't changed drastically over the course of time; if a customer needs up-and-over (or around) access, they'll turn to an articulated boom instead of a straight boom. The usage of these machines all depends on what needs to be accessed and where.
That said, the global market does fluctuate, and manufacturers across the board are reporting varying upticks and declines, depending upon many factors. JLG, for instance, says it does not expect any key driving forces to change these long-established historical trends moving forward in the next 12 months.
The company does, however, see bright spots and a growth trend in the market for hybrid booms and technology. We'll get to that later on in this story – as well as the company's debut of the world's largest articulating boom.
For Skyjack, the company says the market is positive due to healthy growth in North America by 10 percent for articulating units. That said, the worldwide market was essentially flat, according to Malcolm Early, Skyjack's vice president of marketing, which offset the North American numbers.
"In North America, January market numbers were somewhat disappointing, although in February they went a long way to making that up," Early says. "A number of the larger rental companies have indicated CapEx will be held off until calendar Q2 and another group are undergoing a significant restructuring; that may well end up with increased activity in Q2. In Europe, the growth year-on-year is stronger, although two months in to the year it's hard to draw too many definitive conclusions about the full year."
The worldwide market trends are echoed from many in the industry, and Adam Hailey, Terex AWP's Genie product manager for booms, tells ALH the start of 2016 saw more growth than what the company experienced in 2015, however, on a more granular scale, a softening of the North American market has been offset by European demand.
"The changing market dynamics will most likely lead to an overall leveled demand in the next 12 months; however, with our recent and upcoming product introductions in core segments, we are anticipating strength...," Hailey says.
At Snorkel, Matthew Elvin, the company's CEO, says the market in the U.S. for articulating booms remains strong and consistent – year-over-year.
"We anticipate the market will remain steady for the next 12 months, thanks to continued demand from the construction sector," Elvin says. "To meet this demand, we are increasing our production schedule for some of our most popular articulated boom lift models at our Elwood, KS facility."
And for Haulotte, which has seen the worldwide market for articulating booms consistently increase over the last three years due to a high replacement demand in North America, Europe and the development of the markets in APAC areas, the coming year could be quite different.
"The worldwide market for articulating booms should decline slightly in the next 12 months, due to a decrease in North American replacement demand," says Xavier Deshors, market research analyst for Haulotte. "The European market should increase slightly due to a steady replacement demand and construction market indicators providing a positive outlook.
"The APAC market should continue to grow slightly in 2016, and the construction industry should continue to expand slightly in 2016, encouraging first equipment investment and renewal depending on the country's maturity. The Latin American market should remain weak due to the bad economic situation in Brazil; the recession is projected to continue into 2016, due to a lack of confidence related to political uncertainty."
However, like most in the industry, Deshors sees market trends being driven by the requirements for lower gas emissions, noise reduction and fuel consumption, which ultimately will lead to the emergence of new power/energy driven products in the hybrid or electric arenas.
Going green
Demand for diesel articulating booms, which are typically rough-terrain designed, continues to remain as the largest market worldwide. The market is driven primarily by the construction industry and maintenance applications.
"As always, cost plays a fundamental role within the construction industry, fuel being one factor," says Elvin. "The demand for electric and diesel is currently strong, with diesel still being the higher selling unit for Snorkel in North America. We have noticed that the demand for hybrid lifts has softened slightly due to lower fuel prices and the rental rates not supporting the increased purchase costs."
The demand for electric and hybrid booms will undoubtedly continue to increase, says Hailey.
"As the emissions requirements for diesel-powered booms become more and more stringent, and costly, our customers will increasingly rely on efficient, zero- or low-emissions technologies to achieve returns in their own business," Hailey says.
Terex AWP recently added to its core 60-foot articulated boom class with the introduction of the Genie Z-60/37DC and Z-60/37FE booms.
"These two machines offer a balance between performance, efficiency and cost, and they represent an excellent combination of our boom design and electric/hybrid system technologies," Hailey says. "Both of these new units will deliver high productivity and rental Return on Invested Capital (rROIC) to our customers."
While worldwide growth was moderate for electric booms, according to Early, in North America it was considerably stronger.
"In truth, that's one of the reasons we launched the SJ30 series of articulating electric boom lifts, and you will see more in that vein from Skyjack in the coming years," he says. "Their reduced emission levels and subsequent use in industrial settings gives the rental company another significant market for rental."
From the outset, Skyjack identified two key parameters for the new SJ30 articulating electric boom series – along with offering competitive reach specifications, the 30-foot electric booms also needed to have exceptional drive and duty cycle performance. Early says drive from an AC electric source means that activities like loading and unloading trailers is easy, and increased duty cycles maximize the amount of work possible from a fully charged machine.
"A lot of manufacturing and warehouse facilities have narrow and confined spaces that require up-and over access," Early says. "With its narrow dimensions and zero tailswing, the SJ30 is ideally suited for their needs in the 30-foot-and-under reach zone. The SJ30 series is a perfect complement to our electric scissor lifts that are limited to the up-and-over clearance of their extension decks."
In the articulating range, Skyjack's next big plans involves unveiling a new 80-foot unit.
Hand-in-hand with emissions regulations and hybrid or electric units, Elvin says contractors are looking for more simplistic Tier 4 compliance solutions.
To answer these cries, Snorkel looked outside its box and launched a program using engines in the 25hp category, which does not require after-treatment, into segments previously served with 37hp to 65hp engines.
"Utilizing a control system based on feedback of engine RPM to allow the hydraulic system to deliver maximum flow for a given engine output, this results in near identical rough terrain performance, in our 40-foot boom models," Elvin says. "This system is simple, reliable and negates the complexity and ongoing costs of most Tier 4 final after-treatment systems."
Snorkel introduced this with the 46-foot A46JRT articulated boom lift last year, which according to the company, is proving popular with customers across North America.
Snorkel is focused on continuously improving its products to better meet customer demands. All Snorkel mid-size boom lifts have been enhanced with Snorkel's common control system, including on-board diagnostics for troubleshooting. The diagnostics display provides user-friendly, plain text messages allowing for fast and accurate troubleshooting, without the need for additional diagnostic tools.
In response to customer demand, Snorkel has also recently enhanced its A38E electric articulated boom lift with the addition of 90-degree hydraulic platform rotation as standard, providing additional flexibility at height.
The company tells ALH that even more developments are in the works - Snorkel will debut a line of new, mid-sized (60-foot) articulated booms at ConExpo 2017.
Trending
Of course, some of the biggest news in the articulated boom market was the debut of JLG's 1500AJP at Bauma this year. It is the world's tallest and fastest-reaching articulated boom lift, with a working envelope of 74,000 cubic meters of reachable space. (For full specs on this new machine, see the Bauma recap in this issue.)
"One trend hard to argue is the trend to go higher," says Raymo. "If you look at the maximum height for articulated booms 20 years ago versus today, it's changed quite a bit. It used to be if you had a 40- to 80-foot articulated boom on your site – that was all you needed. Today, you'll see articulated booms going above 100 feet, 125 feet, and 150 feet. The market so far has found solid applications to use these articulating booms in the higher ranges."
And for Haulotte, the company is seeing an increase in market demand for articulating booms that are lightweight, compact and that reach higher for indoor applications. The company's newest model, the HA61 RTJ PRO offers one of the best market lifting speeds and, Haulotte says, the leading working envelope in its class.
"We continuously try to innovate by introducing new and more user-friendly technologies or expanding our product line," says Deshors. "Not only is Haulotte committed to providing innovative machines to the market, we strive to bring fresh ideas to the industry through unique option offerings."
With ConExpo around the corner, maybe we will see just that.