Best of both worlds from Kemroc
By Steve Ducker06 April 2018
German manufacturer Kemroc is using Intermat to show its range of attachments for excavators and backhoes on two stands at the Paris venue.
The exhibits comprise both the standard range of products and new developments.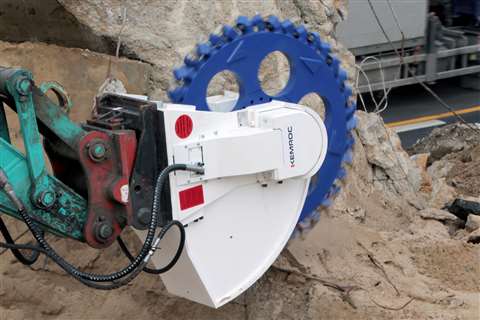 Kemroc milling attachments for excavators and backhoes are used to complete specific tasks in demolition, excavation and foundation work, road building, trenching and tunnelling, auger drilling and mining.
The company will also be displaying products from its French dealer, Witeck.
Kemroc will be promoting its new C&B tool from its Cut & Break programme, which offers a solution for excavating rock from quarries that are no longer able to use drill and blast.
Using a standard excavator, rock is excavated by alternating between a cutter wheel to produce slots and a tool to break the rock away from the quarry face. This new method offers a solution for low noise, low vibration mining of soft to medium hard rock deposits.