Best of both worlds
By Christian Shelton05 September 2017
All terrain (AT) cranes are key tools in a crane fleet because of their versatility. Their off-road capabilities mean they can access difficult job sites while transportation between jobs is simplified thanks to their on-road prowess. As such they could be described as combining the best qualities of rough terrains and truck cranes. This means they are used in a wide range of applications across different industries.
"Our larger units are used wherever there is a need for project work applications, such as industrial engine removal, to help build oil and gas refineries, or for infrastructure projects," comments Erwann Maillot, global marketing manager at Terex Cranes. "In the middle of the capacity class spectrum, where our five-axle family typically operates, applications include tower crane erection, the placement or removal of air conditioning units on rooftops, or the placement of footbridges… the applications are numerous.
"Finally, our two- to four-axle cranes are the bread and butter of many lifting businesses across the globe. They would usually be considered as 'taxi cranes' able to take on many jobs at short notice."
Andreas Cremer, global director for all terrain cranes at Manitowoc, also notes a wide range of applications for Manitowoc's product line, "Our all terrains are being made primarily for rental and are being used on all kinds of jobs, including lifting precast concrete panels, building small bridges, hoisting air conditioning units, construction work, and road work. Occasionally, in the case of larger all-terrain cranes, they are used for wind turbine work and tower crane rigging. We also see our all-terrains rented out for work at petrochemical plants and refineries."
For both Manitowoc and Terex, such a wide array of potential applications means their ATs have a global appeal. "Grove all terrain cranes are a global product and we sell them all over the world," says Cremer. "As such, we do not have region-specific models but we do see region-specific trends; for example, our smaller all terrain cranes are more popular in Europe, and there are small segments in the USA where truck-mounted cranes are preferred. We do, however, offer specific options for certain regions, such as cooling packages for hot regions and cold weather packages. We also have to account for emission standards, which differ between regions. For example, in North America, we make sure all engines meet the Tier 4 Final standard."
Terex takes a similar approach. "Our ATC offerings are designed to cater for the needs of our customers around the globe, so we do not provide region-specific models," echoes Maillot, "but we adapt through options or specific variations to comply with regional standards, such as engine emission standards or axle loads and spacing which vary according to the countries where our customers operate."
In contrast, US crane manufacturer Link-Belt Cranes has made a feature of designing its ATs to meet the needs of its home market. "Our cranes are a better fit for the North American market because they are designed for, not adapted to, this market," explains Casey Smith, publicity co-ordinator at Link-Belt. "What sets Link-Belt's ATC-3210 and ATC-3275 all terrain cranes apart from the rest is in transport. With their size, chart, and mobility both these ATs fit well into North America. Our US-built 185 metric tonne (210 US ton) ATC-3210 all terrain can transport at (or less than) 11,793 kg (26,000 pounds) per axle internationally and, for North America, both over-the-front and dolly configurations are utilised. In a boom dolly configuration the ATC-3210 can travel with a three-piece hydraulic fly, auxiliary lifting sheave, hook block, ball and main and auxiliary winches all while staying below 9,071.8 kg (20,000 pounds) with a maximum of three overflow loads. The highest demand for the ATC-3275 and ATC-3210 is from crane rental companies due to their reach, capacity, impressive manoeuvrability and reduction in overflow loads. We save one to two overflow trucks every time one of our all terrain cranes goes out because we design the overflow loads to be under 20,411 kg (45,000 pounds). Our goal is to minimise the number of overflow loads with every crane we develop."
One engine or two?
Another point of difference is that Link-Belt favours two engines in its ATs, as does Japanese manufacturer Tadano, whereas Liebherr, Manitowoc and Terex all increasingly use one. "The 'green' initiative for cleaner burning diesel engines is the right thing to do but it does add unwanted weight in unwanted areas, thus challenging us to find creative ways to offset these weight increases. One method to reduce weight by some manufacturers is to go with single engine power versus traditional two engine power. While others, including Link-Belt, have stayed with two engine power and found other means to reduce weight," Smith explains.
Tadano reports positive feedback from its customers regarding its use of two engines. For example, it recently sold an ATF 220G-5 five-axle, all terrain crane to German company I&H Kran-Transport-Montage-Service for use in the concrete construction sector. This was the 12th Tadano crane the company bought and the fact it had two engines was cited by Tadano as being a key reason for the purchase. Tadano says that having two engines enables the separate recording of crane hours and driving hours, which helps with the preventative maintenance regime and maximises resale value. The engines are Mercedes Benz Stage 4 / Tier 4F engines with 390 kW (530 hp) for the carrier and 145 kW (197 hp) for the superstructure, Tadano adds.
In contrast Cremer states, "Manitowoc is a manufacturer that works with single engine concepts, which has an influence on design. Leaving off one engine allows us to build stronger cranes within the same weight class. All three of the newest Grove models provide superior lifting performance while having equal or lighter weight compared with previous models."
Maillot at Terex also outlines what he sees as being the advantages of using a single engine, "The one-engine concept in our Demag all terrain cranes has a positive impact on the design and functionality of the cranes. There are clear benefits for the customers. Having only one engine in the carrier helps to simplify maintenance planning and thus maintain a high uptime. Indeed, they only need to schedule downtime for one engine instead of two, and as this engine is in the carrier, not in the superstructure, safety is enhanced as the maintenance crew don't need to work at height."
Innovations and upgrades
In such a competitive market, crane manufacturers are doing all they can to keep their ATs ahead of the pack. This means a raft of innovations, upgrades, and the opening up of new markets.
Terex, for example, has implemented its new IC-1 Plus control system across all its latest AT crane models, including the AC 500-8, the Demag AC 100-4L, and the Demag AC 300-6. The company claims the system is designed to provide the crane's maximum allowable lifting capacity, based on the slewing angle, for every crane configuration. The new control system no longer limits the maximum lifting capacity to a pre-calculated, 360-degree load chart (which was based on the least favourable position of the crane).
Terex says instantaneous capacity calculations now allow customers to take full advantage of the maximum lifting capacity available at any given slewing position for any crane configuration on the main boom. This, it says, is particularly useful when working with reduced outrigger settings and reduced counterweight and enables the cranes to perform jobs where higher capacity cranes are typically needed.
The company has also made efforts to implement the use of common parts between its product ranges to help make its customers' operations more efficient. For example, the Demag AC 300-6 helps maintain a lower stock of spare parts because it uses a high number of interchangeable parts with the Demag five-axle family of all terrain cranes. In addition, the 21 m (68.9 foot) double folding main boom extension of the five-axle Demag cranes is compatible with the AC 300-6.
Terex has also upgraded its AC 500-8 with a new Tier 4/Euromot 4 engine in the last months and is very pleased with the market reception it has received.
Likewise, Manitowoc's GMK5250L has the latest Tier 4 Final Mercedes engine. It also has a new Mercedes transmission and a
VIAB turbo clutch module, which is designed to eliminate fluid overheating and clutch burning while simultaneously delivering improved fuel economy, Manitowoc says. "All of all of these components reduce fuel consumption by 30 percent while driving," comments Cremer.
Tadano's latest innovations include updating its 120 ton (110 tonne) capacity ATF 110G-5 in line with the transition to Euromot 4 / EPA Tier 4F. According to the company, new features include multiple counterweight configurations for ease of transport and the new AML-F load moment system that includes full on-board diagnostics. The ATF 110G-5 and ATF 220G-5 also have new drivers' cabs that Tadano says offers enhanced all-round visibility, ergonomic seats, and a new multifunction touchscreen.
Manitowoc's GMK5150L and GMK5250L debuted in North America, at the 2017 ConExpo trade show in Las Vegas, where the company says they generated a lot of interest. A Grove GMK5250L was sold to a diamond mine in South Africa earlier this year. It is the first time Manitowoc has sold a GMK5250L in this country. And just last year the company launched the GMK4100L-1 – a more compact AT than its predecessor that features what the company describe as "class-leading load charts and specifications".
Manitowoc also offers optional fuel-saver options on all Grove all terrains, such as a small generator or electrical power source that can run the crane while in idling mode, while the company says its Megatrak suspension system with steer-by-wire functionality reduces tyre wear.
Manitowoc also says its ATs help customers save time and money on rigging. For example, it claims the GMK6400 is very easy to rig thanks to the self-rigging MegaWingLift (MWL). The MWL can be installed within 20 minutes without an assist crane, which enables the end user to set up the crane, including its full luffing jib rig, in less than three hours, the company states.
Manitowoc also says it tries to use interchangeable components whenever possible to save its customers money. The company has also innovated with its outrigger design. "Our flexible outrigger systems are gaining in popularity," says Cremer. "Our new MAXbase system is a part of this trend, enabling crane operators to set the outriggers halfway out on one side and all the way out on the other, or to have all outriggers out save for one – which might be needed because of restricted space. This system will soon be available on all of our newest all terrains and will enable greater flexibility on the job site."
Link-Belt has developed a number of innovations on its ATs, including its greaseless boom, its Pulse crane operating system, and the company's focus on designing cranes with 'transportability' in mind. The company has also made a feature of its outrigger positions. "One of our advantages is that we have charts for fully retracted outrigger position – something unheard of from other manufacturers," says Smith. "We also have on-tyre rigging charts, allowing the crane to offload its own overflow trucks."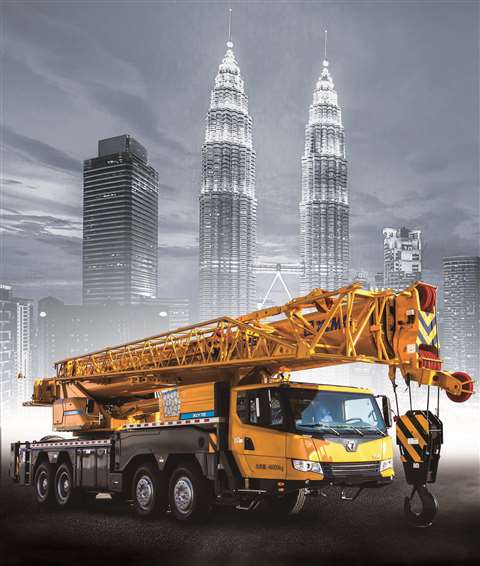 We also see innovation from the East, where Chinese heavy machinery manufacturing company XCMG has produced the G-1 XCT75. This all terrain crane, the company says, has a 48 m, five-section 'U-shape' main boom with a 75 tonne lifting capacity. The crane has a twin variable pump-based fuel flow control system so that the hydraulics can be tailored to suit various hoisting and derricking applications. It also says the variable fuel pump control system on the engine results in a higher operating efficiency, reducing fuel consumption by up to 15 percent. With a powerful drive system that's easy to use, sleek looks and an ergonomic design, XCMG is understandably proud of its flagship AT.
The future
With ATs from China, Europe and the USA all vying to be top dog, one thing is certain: even more innovations and new products will come. "Terex is constantly watching the market to offer products that meet our customers' needs," asserts Maillot. "We will keep investing in product development, innovation and quality, providing responsive service to the customers via more warehouses and technician service stations around the world."
Link-Belt, too, is determined to continue satisfying its customers. "Link-Belt strives to design long lasting value into its cranes," Smith says.
The company was coy when questioned about new products in the pipeline – understandably so in such a competitive market – however, it did leave us with the teaser, "we will not disappoint".
Forthcoming regulations will be a driving force in the next generation of AT developments, as Manitowoc's Cremer explains, "The one thing that keeps every all terrain manufacturer busy is the repowering process. We are just arriving at that Tier 4 Final level and soon, in 2019, we will have to accommodate new Euromot 5 (Tier 5) standards in Europe. This will entail new redesigns and engineering work due to new exhaust after treatment systems." So watch this space…