Better overload protection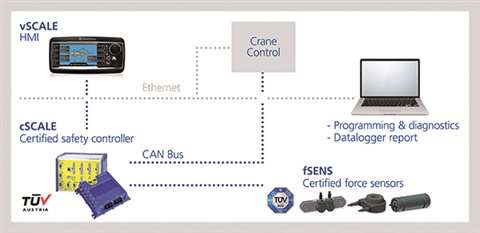 Hirschmann MCS, a manufacturer of controllers and sensors for bridge and gantry crane applications, has obtained certification for an overload protection concept.
The cScale trueSafety controller has been certified under the latest versions of the EN ISO 13849 and EN 62061 standards, as well as EN 15011:2011+A1:2014 for bridge and gantry cranes, which covers safety functions and sequences.
The system is designed to save crane manufacturers and operators the expense and trouble of obtaining individual certificates when equipping or re-equipping cranes. All the components are compatible.
Setting parameters, calibration, and checking are made simple by a user-friendly, browser-based service tool. It enables both on-site work and remote maintenance. Everything is password-protected.
The sensors of the fSens series and the cScale controllers are robust, require minimum maintenance, and work reliably under harsh environmental conditions, Germany-based Hirschmann said.
For more information see: