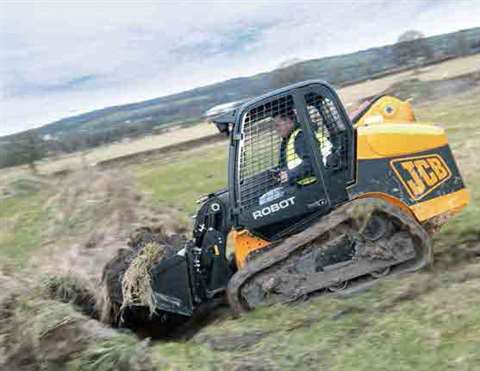 In recent years sales of mini excavators have been bolstered by Europe's rental sector. David Philips, managing director of Off Highway Research (OHR) said; "It is the one product that continues to confound the forecasters. Sales registered an increase of +12% from 2001 to 2004, instead of the decline of 4000 units that was expected at the beginning of this year."
Mr Philips told CE that nearly half of the additional volume came from France, where the rental industry "repented of having not bought enough units in 2002/2003 and chose to spend its income from house builders above all on mini excavators."Elsewhere, Italy contributed 20% of the increase, while the remaining 33% was spread across a wide range of countries.
"The disappointments came with the small increase in Spain, which seems certain that it wants to continue its love affair with the backhoe loader; and the stagnating of volume in the formerly enthusiastic market of Switzerland,"said Mr Philips.
However, OHR is forecasting a slight drop in sales for 2005 to 2009. In 2005, for example, it predicts a drop in sales of mini excavators from 44860 units to 44335 in 2006. By 2009 it is predicting sales will have fallen to 40615, a drop of -11,5%.
"The recent growth [of mini excavators] is no longer sustainable and many countries are likely to post declines in 2005 and 2006. While the market is set to cool off over the next few years, it will be a relatively modest downturn,"said Mr Philips.
New Machines
However, this has not stopped equipment manufacturers from launching new machines or upgrading existing models. JCB, for example, has launched a new range of 1,5 tonne mini excavators in the shape of the 8014, 8016 and 8018, with a new upper structure, new cab, new hydraulics and controls with power coming from a 1,1 litre Tier II/Stage 2 compliant engine.
The 8014 is designed as an entry level machine with a fixed undercarriage. The mid-range 8016 has a longer fixed undercarriage, a 14 kW engine and full options package. The top specification machine, the 8018, uses the same engine as the 8016 but offers an extending undercarriage to enhance stability.
A larger dig end, hydraulic rams and hydraulic flow result in a larger digging envelope and +20% greater breakout forces. The 801 series feature what JCB claims are a number of innovative features. The boom, for example, is tubular in design, giving a light but rigid structure to provide high levels of durability and strength.
The one-piece, cast slew frame allows the engine to be positioned longitudinally, in turn allowing the fuel and hydraulic tanks to be placed at the rear as opposed to in the centre, as is traditional. This shifts weight to the rear, contributing to stability when digging and avoiding the need for greater counter-weighting.
Case has also been busy. It recently upgraded four CX compact excavators to Stage 2/Tier II machines. The CX27B, CX31B, CX36B and CX50B now feature a +19% increase in engine power, a +15% increase in hydraulic flow and a +14% increase in hydraulic horsepower
All models are equipped with a hydraulically controlled backfill blade for added machine stability and light dozing work. The newly designed backfill blade boils material in front of the blade, allowing for efficient backfilling. In addition, increased lift work range on the backfill blade improves trailer loading.
The four models range from 2,57 to 4,71 tonnes and 15,9 to 30,4 kW. The new models provide bucket digging forces up to 3600 kg and maximum dig depths from 2,79 to 3,59 m.
All cabs feature a wider front glass for better sight lines and increased door width for ease of entry. The upgraded models also offer zero tail swing and a centre-swing boom for maximum productivity in tight working spaces.
Elsewhere, Kubota has enlarged its KX-3 Series with the introduction of two 'new'improved machines, the 2,6 tonne KX61-3 and the 2,8 tonne KX71-3, which replace the -2 Series machines.
Both machines come equipped with a longer arm. Maximum reach for the KX61-3 is 4600 mm, and 4770 mm for the KX71-3. Powered by Kubota's V1505-E2-BH engine a full tank gives 10 hours of continuous work.
The new models also have bucket cylinder hoses routed through the arm, and boom cylinders shielded by a thick steel plate for extra safety and protection. They are available with either a quiet "luxury"cab or canopy, both of which meet current ROPS/FOPS specifications.
Hyundai has also expanded its range of mini excavators with the introduction of three new Dash-7 machines, the 1,5 tonne R15-7 (12,5 kW), the 2,8 tonne R28-7 (17,7 kW) and the 3,5 tonne R35-7 (19,9 kW). Like almost all mini excavators currently on the market all three feature rubber tracks.
Other features on the R15-7, R28-7 and R37-7 include a reinforced bucket, which is made of thicker steel and has an additional lateral plate. A boom cylinder guard also comes as standard, and an applied side protector prevents damage to the engine hood when the machine turns.
Reduced Tail Swing
Reduced and zero tail swing first proved popular in Japan before starting to make an impact in Europe in the late-1990s. On zero tail swing excavators the counterweight does not extend beyond the footprint of the track. This allows them to work in cramped spaces, without fear of accidentally hitting a person or object when slewing the upper structure. It is also a useful feature in applications like road work, because the reduced working envelope often means only one lane has to be closed to traffic.
Ammann-Yanmar's claims to have invented the zero tail swing concept and its "Global ViO"series is now in its third generation.
"Unlike most other mini excavators Global ViO machines truly have zero tail swing: neither the counterweight nor the front parts of the upper frame overhang their traks. The driver therefore has excellent visibility in all directions, a factor that can only increase his productivity,"said a company spokesman.
Like the other models in the ViO range - ViO10, ViO20, ViO30, ViO35, ViO45, ViO55 and ViO75 - the ViO25 is available in canopy (2,6 tonne) and cab versions (2,7 tonne). Maximum digging depth is 2,52 m and power is provided by a Yanmar 3TNV76 14,9 kw Stage 2/Tier II engine.
The machine also uses the company's VIPPS hydraulic system, which enables the machine's operator to work faster and with more precision, while the VICTAS undercarriage system uses asymmetric tracks for better lateral stability.
Hitachi has also introduced a new series of zero-tail swing machines for the European market, the Zaxis 30u-2, 35U-2, 40U-2 and 50U-2.
With a heavy track frame and counterweight for improved stability, the new machines have a lighter swing post placed closer towards the centre of the machine. Another key design goal was improved durability, achieved through the use of a one pin system that reduces swing pin jerking and D-shaped protection on the front corners of the machine.
New from Bobcat is the 323 mini, which replaces its 322 model. Incorporating a new advanced variable displacement hydraulic system, it is equipped with a dual outlet torque limiting piston pump that can sense and react to hydraulic loads.
Hydraulic flow rate is 30 litre/minute. Weighing in at 1,7 tonnes, it has a maximum reach at ground level of 4 m and maximum dig depth of 2,3 m. Power comes from a Kubota 9,9 kW D722-E26 Tier II engine.
Another new mini from Bobcat is its zero tail swing conventional drive 430, which completes the 430/435 family. The 430 and 435 are also available as conventional drive units or with the company's Fast Track drive system, which gives the machines a top speed of 8 and 8,7 km/hour respectively.
According to the company, one of the main advantages of its Fast Track over a conventional drive system is that the drive transmission has no impact on the hydraulic flow available for the attachment. Maximum flow is therefore available even when driving at maximum speed.
New from Terex is the HR 3.7. Available with either steel or rubber tracks, the maximum operating weight is 3,65 or 3,77 tonnes. The 23,8 kW machine has a maximum digging depth of 3,35 m, while maximum reach is 5,68 m.
Terex has also re-designed its HR 1.5 (13,3 kW, 1,5 tonne), HR 1.6 (13,3 kW, 1,6 tonne) and HR 2.0 (13,3 kW, 4,4 tonne) models. New features include a rounder body and improved operator comfort.
Larger Machines
Moving up the weight class is Hyundai's R55-7 (5,7 tonne) mini excavator, which comes in either tracked or wheeled versions (R55-7W). Powered by a Yanmar 4TNV94L engine (43 kW) it includes several features designed to provide maximum safety during operation and extend working life. These include a reinforced bucket and arm and applied slope type side members, which prevents soil stocking.
Designed for work in congested residential and urban areas the R55-7's boom can be offset within a range of 130°, while track width is 1,92 m.
Komatu's MR-2 series of compact excavators has been extended by the addition of two new machines, the PC18MR-2 and PC20MR-2. These offer wider working ranges, increased digging and lifting forces, improved comfort and safety, and easy maintenance. Weighing in at 1,86 and 2,3 tonnes respectively, they are powered by 11 kW and 15,5 kW Komatsu engines.
Takeuchi's mini excavators range from the micro TB108 (835 kg), which is capable of entering a building through a normal doorway, up to the TB175 at nearly 7,5 tonnes.
The TB108 features a maximum digging depth of 1,68 m, a 6,8 kW engine, two speed travel, hydraulic track adjuster. A TOPS/FOPS canopy or ROPS structure option is available.
The 7,5 tonne TB175W, introduced in 2002 and the company's smallest wheeled excavator, is the largest member of the 100 Series. It shares most of the same features of the other 100 Series machines - two speed travel, TOPS/FOPS cab, variable flow hydraulics and servo controls - with the exception of the tilting cab module.
Another key player in the mini excavator sector is Neuson. This niche company currently offers four models under 2,2 tonnes - 1403 (17,7 kW, 1,5 tonnes), 1503 (17,7 kW, 1,7 tonnes), 1903 (17,7 kW, 1,9 tonnes) and the 2203 (17,7 kW, 2,05 tonnes). Between 2,5 and 3, tonnes there are currently also four models - 2503 (27,1 kW, 2,5 tonnes), 3003 (27,1 kW, 3,1 tonnes), 3503 (36 kW, 3,5 tonnes) and the 3703 (36 kW, 3,7 tonnes).
Moving up the scale slightly are its four machines under 8 tonnes - 50Z3 (35,4 kW, 4,9 tonnes), 6003 (51,1 kW, 5,5 tonnes), 75Z3 (51,1 kW, 7,3 tonnes) and the 8003 (51,1 kW, 7,6 tonnes), all of which feature zero tail swing and small turning radii.
Following its re-branding earlier this year New Holland now offer 10 mini excavators from 1 to 5 tonnes - E9 SR, E16, E18, E20.2 SR, E22.2 SR, E27.2 SR, E30.2 SR, E35.2 SR, E40.2 SR and E50.2 SR.
The E9 SR has an operating weight of 1060 kg and includes a 6 kW engine, a 490 mm rear end swing and a maximum bucket capacity of 0,02 m3. The largest machine in the range, the E50.2 SR is a 32 kW, 4,87 tonne machine. Rear end swing is 0,98 m and maximum bucket capacity is 0,18 m3.
Caterpillar's mini range of excavators currently extends to seven models - 301.5, 301.6, 301.8, 302.5, 303-CR, 304-CR and 305-CR. The smallest machine, the 301.5, weighs 1,5 tonnes and is rated at 13 kW. The largest machine, the 4,9 tonne 305-CR is rated at 31,3 kW.
Skid-Steer Loaders
Like mini excavators, skid steer loaders have undergone an interesting design re-think in recent years. Many manufacturers now offer tracked loaders, which are essentially their skid-steer models mounted on a dozer-like undercarriage, rather than wheels. This improves traction and reduces bearing pressure, with the machines'weight spread over a bigger ground contact area, improving 'floatation'in poor ground conditions. The downside to such loaders is their slower travel speed due to the inherently slower-moving tracked undercarriage.
Gehl, Caterpillar, Bobcat and Komatsu are among the companies that offer such machines at the moment, and it seems likely that more will follow, thanks to the relatively quick acceptance of the concept.
Traditional skid steer loaders remain popular in most European markets, and there are plenty of new models on the market this year as testament to this. Case has renewed its range recently, with the machines like the 440 being seen for the first time at this spring's SMOPyC and Samoter exhibitions.
Sister brand New Holland, which was launched at the start of the year, has a slightly larger line up of six wheeled skid steer loaders - LS140, 150, 160, 170, 180.B and 185.B. Engine capacity is from 22 to 54 kW, while operating loads range from 630 kg to 1,1 tonnes.
Another new name to skid steer loader buyers is Hyundai, which signed an agreement at the start of the year to sell Canada-based Thomas equipment's full range of skid steers under the Hyundai brand.
Mustang's three new models, the 2066, 2076 and 2086, are all powered by Cummins Stage 2/Tier II compliant engines. Rated operating loads are 908 kg, 1 tonne and 1,2 tonne, respectively.
The first two machines will replace the company's existing 2064 and 2074 models, and Mustang has also taken the opportunity to completely redesign the operator's compartment for greater comfort and efficiency.
New from JCB is the Robot 180T skid steer loader. It has an operating load of 820 kg and features a Stage 2/Tier II compliant, 44,7 kW turbo charged engine.
The 180T's track system uses a simple three-roller track pod design with a low number of moving parts. The new design allows easier cleaning and improved protection of hydraulic components.
Other features include servo controls for the loader and the machine's transmission, plus a high flow pump flow of 115 litres/minute at 205 bar. Its narrow dimensions - 1,68 m wide and a turning radius of 2,06 m - allow it to operate on extremely cramped sites.
New skid steers from Bobcat include the T140 and the S205. The 2,92 tonne T140 has a bucket width of only 1,42 m and a height of less than 2 m. Equipped with radial lift boom arms, it has a rated operating load of 658 kg and a tipping load of 1879 kg and is powered by a Stage 2/Tier II compliant 34,3 kW Kubota V2203 direct-injection diesel engine.
The quick-change Bob-Tach attachment mounting frame comes as standard. However, customers can choose the optional Power Bob-Tach system to change non-hydraulic attachments simply by flipping a switch inside the cab.
An easy to read instrumentation is arranged in two groups in convenient locations at the front of the cab, one in the top left hand corner and the other in the top right. Other options include Gehl's 4640 has a 45 kW engine and an operating weight of 3,3 tonnes.
Advanced Hand Controls (AHC) and the Advanced Control System (ACS) for foot or hand control of lift and tilt functions and a back-up alarm.
Bobcat's new S205 loader, which has a rated operating load of 930 kg and a tipping load of 1860 kg, is based on the S185 skid-steer, but with more power and operating capacity. The 2,8 tonne S205 is at the top end of the medium frame range. Power is provided by a 45 kW Kubota V2403T Stage 2/Tier II diesel engine.
A vertical lift path skid-steer, with multiple-linkage boom arms, the S205 combines a reach of 0,75 m with a lift height of 3 m. The dual tilt cylinder design on the boom arms provides increased roll back power for digging and loading applications.
Able to use 45 attachments it is available in two versions; standard flow (62 litres/minute) and optional high-flow (97 litres/minute).
Wheeled Loaders
Compact wheeled loaders are especially popular with two groups in Europe; small German building contractors and French urban rental houses. In 2001 7849 units were sold in Western Europe. This fell to 6491 in 2002 and 6420 in 2003 before rising again in 2004 to 7180.
"To the delight of those who like to see an economic cycle at work, both markets came back in 2004. A +10% rise in Germany may not seem to compare with the +53% that happened in France, but both brought roughly the same amount of extra machines down the assembly lines,"said OHR's Mr Philips.
New to the compact wheeled loader category are Komatsu's additions to its Dash-5 line, the 41 kW WA65-5 and the 61 hp (45,5 kW) WA70-5. Weighing in at 4676 kg and 5035 kg respectively, the WA65-5 has a breakout force of 8162 lb (3705 kg) and the WA70-5 a breakout force of 8008 lb (3668 kg).
Equipped with a delta boom to provide maximum visibility from the cab, the machines offer a high dumping height of 2,44 m and long bucket reach.
Caterpillar's newly launched compact wheeled loader, the 904B (39 kW) replaces the 902. The 4,4 tonne machine has a breakout force of 35,6 kN and a dump height of 3,7 m.
The Z-bar linkage, cab and body have all been designed to provide the maximum of visibility for the driver when in use. Pilot hydraulics are used for the joystick implement control, with proportional electro-hydraulics on the auxiliary circuit.
Another compact wheeled loader is JCB's 407 ZX. The 4,8 tonne, 50,2 kW Stage 2/Tier II compliant machine features portal axles mounted directly on the main frame ensuring excellent stability and ground clearance. Other features include self-limiting slip differentials in the front and rear axles for efficient power transfer to each wheel for good grip even on slippery surfaces.
The 407 ZX is equipped with a 0,8 m3 bucket and Z-kinematics. An integrated hydraulic quick hitch device allows fast switching from bucket to pallet fork, street cleaning machine or other work attachments.
Coming Next Year?
Past experience has shown that the introduction of new models often coincides with the introduction of new engine exhaust emissions laws. Next year will see the introduction of Europe's new Stage IIIA laws for 25 to 50 kW and 175 to 750 kW engines, and this first powerband is particularly relevant to the compact sector.
Engines rated from 25 to 50 kW are generally found in machines of about 2,5 to 8 tonnes operating weight, so this will encompass a huge section of the compact equipment market. The implications for machine buyers and users will be significant, assuming there are lots of new models due to hit the market early next year.
Machines with more sophisticated Stage IIIA engines may prove to be more productive than their Stage II counterparts, so there may be an opportunity to gain competitive advantage. On the other hand, Stage IIIA machines will doubtless be more expensive because of this sophistication, and there may be 'end of line'bargains to be had on the last of the Stage II models.
The exact situation will doubtless become clearer at the Intermat exhibition in Paris, France next April, where manufacturers are likely to introduce any new models.